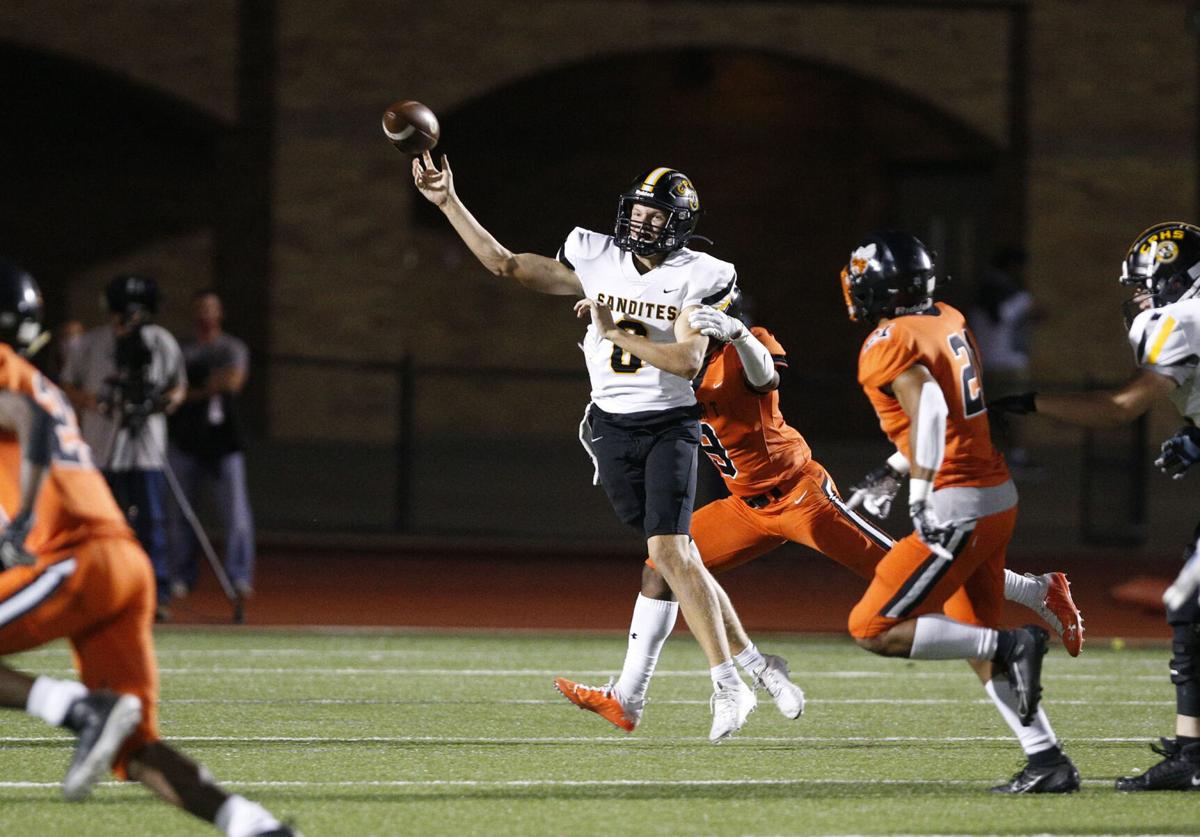 Sand Springs quarterback Ty Pennington and defensive end Landon Hendricks are candidates in the 2021 All-World Preseason Football Contest that is underway, giving readers the chance throughout the summer to select the best high school football players in the Tulsa area.
A total of 80 players — 10 at each of eight positions — have been selected as candidates.
Pennington accounted for 2,868 yards and 28 touchdowns last season. Hendricks had 81 tackles, six sacks and five fumble recoveries in 2020.
Nominees were picked on the basis of past performance, projected 2021 accomplishments and college potential. Players from all grades are eligible and may only be selected at one position.
Go to OKPrepsExtra.com for weekly voting updates, as well as unbeatable high school sports coverage from the Tulsa World.
ALL-WORLD PRESEASON FOOTBALL 2021QUARTERBACKS
Wyatt Austin, Summit Christian
Max Brown, Lincoln Christian
Andrew Carney, Collinsville
Triton Chandler, Victory Christian
Kirk Francis, Metro Christian
Ty Pennington, Sand Springs
Brayden Gilkey, Collinsville
Maurion Horn, Broken Arrow
Antonio "Junior" Smith, Union
Oscar Hammond, Collinsville
RJ Spears-Jennings, Broken Arrow
Micah Tease, B.T. Washington
Ridge Brewington, Bartlesville
Cannon Howard, Collinsville
Cash Hudson, Bishop Kelley
Maddox Perrier, Bartlesville
Dempsey Gillman, Metro Christian
Landon Hendricks, Sand Springs
Lesharo Wildcat, Pawhuska
Tyler Johnson, Lincoln Christian
Zane Woodham, Holland Hall
Nunu Campbell, Holland Hall
Jaden King, B.T. Washington
Brandon Ramsey Jr., Owasso
Ethan Roush, Holland Hall
Noah Smallwood, Claremore
Magnus Lepak, Holland Hall
Jackson Marsh, B.T. Washington
Ethan Muehlenweg, Wagoner
Jaxson Whittiker, Hilldale
Rushton Williams, Verdigris