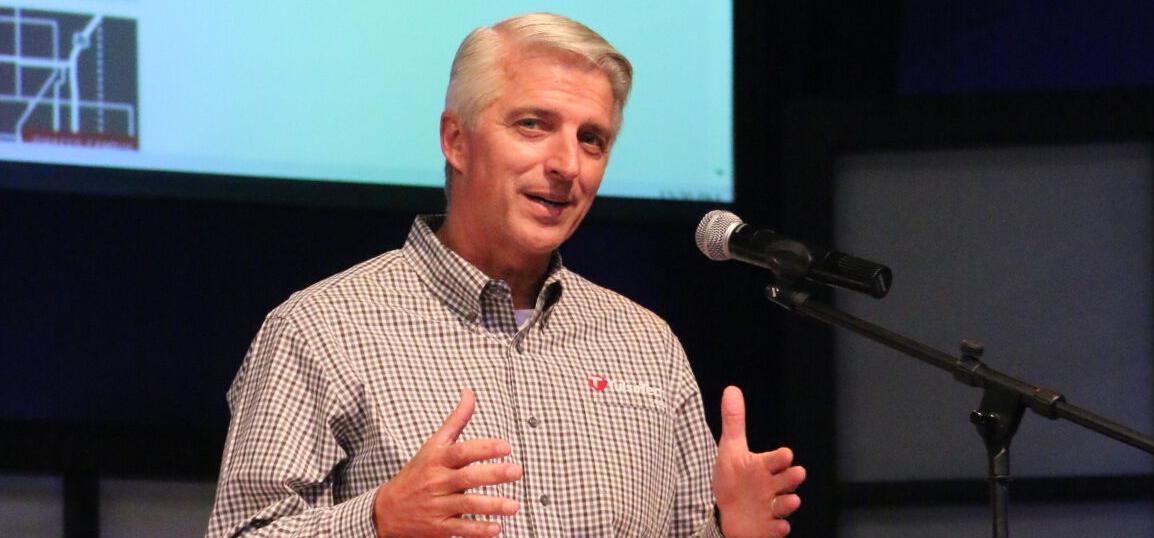 The Sand Springs Rotary Club meeting focused on the Tulsa Technology Center, and Dr. Robert Franklin discussed what the technology center means to Sand Springs and the surrounding areas.
Dr. Franklin spoke to the Rotary Club during its weekly meeting Friday, Sept. 18 at HillSpring Church, and nearly everyone wore masks and practiced social distancing.
Although the meeting was about the Tulsa Technology Center, Dr. Franklin was able to briefly discuss his passion – Make Promises Happen, a camp for individuals with disabilities.
Located in Guthrie, Okla., the program serves individuals, ages 6 and older, with any physical or intellectual disability. Through the support of volunteer counselors, campers leave limitations behind and enjoy fishing, boating, arts and crafts, swimming, archery, dances, talent shows and much more during MPH camp events.
"We've recruited your kids and your grand kids to be volunteers for us, and it's been amazing. It's been a really big part of Charles Page High School. Mr. (Kirk) McCracken's son (Paige McCracken) has been one of our great, great emerging leaders that we lean on. It's just fun to watch people that start with us as volunteers at 14 or 15 (years old) and then now they're nurses, physical therapists, physicians, pharmacists, and it's really cool to see how all of this happens at a program called Make Promises Happen," Franklin said.
Dr. Franklin joined Tulsa Tech in January 2010 and currently serves as associate superintendent for Student Affairs. He has been an educator since his start as a special education teacher at Sand Springs' Hissom Memorial Center in 1981, and he held teaching and leadership positions, including principal, at Sand Springs Schools, where he worked for 29 years before leaving for Tulsa Tech.
"I started out at Hissom long ago and I'm very proud to be a Sand Springs teacher. I've been a Sandite for a really long time," he said.
Dr. Franklin is also involved in a number of community advancement and outreach projects including serving as a board member of Junior Achievement Tulsa and he serves as a state trustee to the Oklahoma Education Technology Trust.
Tulsa Tech is educating people for success in the workplace, and not all high school students want to further their education in college. TTC fills that need, offering numerous skills that will translate into full-time jobs.
"Instead of being a tax consumer you will be a tax contributor," Franklin said.
The COVID-19 pandemic has caused some issues, but Dr. Franklin said they are at 90% capacity and students are wearing masks and practicing social distancing. He also said the students really want to go to school and the pandemic has made that a bit harder.
TTC works closely with schools, including Sand Springs, and has campuses all over the Tulsa Metro area – Sand Springs, Owasso, Broken Arrow, and several Tulsa locations.
Dr. Franklin said 1-in-6 upperclassmen (juniors and seniors) in their sending schools enroll in a Tulsa Tech program. They offer classes in Advanced Manufacturing and Fabrication, Aerospace, Computer Information Systems, Construction trades, Emergency Response and Public Safety, health Care, Leadership and Soft Skills, Safety, Transportation and much more.
kirk.mccracken@
918-850-1805