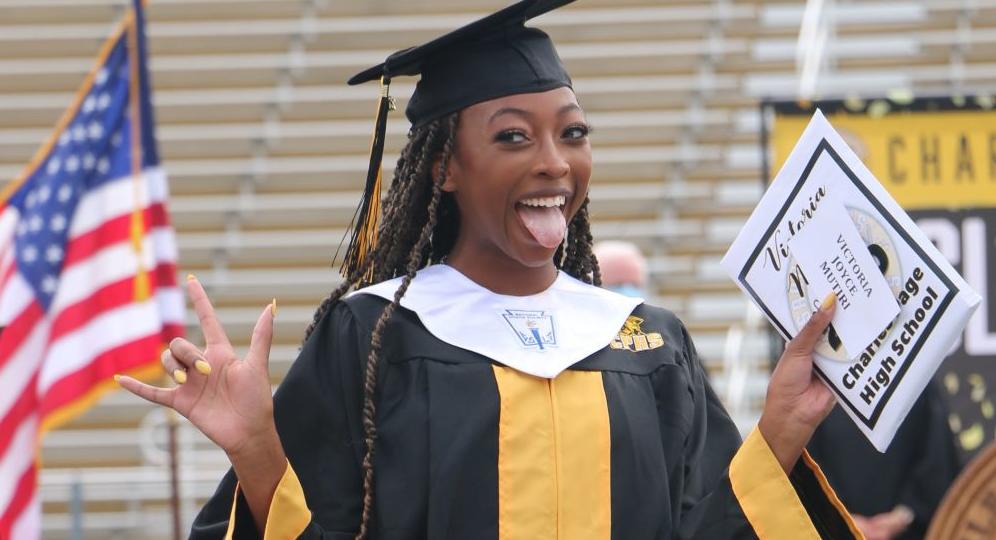 "These seniors will have a story to tell their children and grandchildren," Charles Page High School Principal Stan Trout said at graduation.
The seniors of 2020 have dealt with a lot during their high school careers. As sophomores, they dealt with a teacher walkout, and as juniors there was an epic flood in Sand Springs. As seniors, the class of 2020 had their senior year shortened by the COVID-19 pandemic.
On Saturday, June 27, Charles Page High School held three ceremonies at Memorial Stadium due to social distancing rules.
"Congratulations, graduates. You are a class for the ages, and none of us will ever forget any of you," Trout said.
According to Trout, of the 435 members of the graduating class, 423 students completed a senior capstone experience by earning college credit through concurrent enrollment, advanced placement exams, advanced technical training, or an internship.
"These guys are ready for the world ahead of them and almost all of them have taken the first bold steps in the world of college and careers," Trout said.
Trout also said that CPHS has 30 Oklahoma Academic Scholars and numerous honor graduates. CPHS does not recognize a valedictorian or salutatorian and honor graduate is the highest academic honor.
Sand Springs Superintendent of Schools, Sherry Durkee, told the seniors her career as superintendent began when they were freshmen and listed the disasters they experienced and overcame together in the past four years.
"I commend you for your strength, your tenacity, your courage, your perseverance, and your positive spirit through it all," she said. "There's no doubt that you are ready for what's to come. There will be more challenges in your life. What you have learned beyond the curriculum in the classroom will serve you well."
Honor graduates, Erica and Victoria Baker, and Emily Schlehuber also addressed their classmates.
Schlehuber answered the question, "What is a Sandite? It's the person you want to be."
She also said, "The first characteristic that comes to mind when I think about the kind of person you want to be is someone that cares for others more than themselves… Another quality of a Sandite is someone who is kind. They see the needs of others and meet them often without having to be asked or getting anything in return."
Schlehuber also announced that the school raised $17,000 for GOLD WEEK, a week of fundraising and philanthropy that benefits a local organization each year.
At one point in the ceremony, there was a medical emergency in the audience and an ambulance was called. While the individual was being cared for, senior Morgan Poletek walked up to the stage and prayed for healing.
Each year history teacher Frank Cooper reads from the book "Love you Forever" by Robert Munsch, changing the names in the book to that of graduating seniors. "I'll love you forever, I'll like you for always, as long as I'm living my baby you'll be."
Due to COVID-19, Sand Springs Schools decided to hold three different graduation ceremonies with around 50 seniors in each ceremony.
"Always be proud of where you've come from. Be proud of being a Sandite. Live joyfully and completely explore the wide world that lies before you," Trout said.
Kirk McCracken 918-581-8315