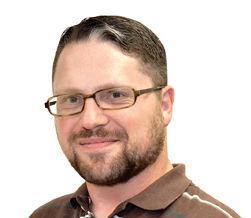 A little more than seven years ago, I could not have found a better place or opportunity to make a return to sports writing.
I had spent several years in Kansas and another in Enid earning my stripes in the business. But in late 2008 my wife, who was my fiancée at the time, and I were looking to move to the Tulsa area, where she had grown up. Unable to find a suitable newspaper job, I expanded my search and was able to land an opportunity in industrial sales.
That job got us back to Tulsa. Two years later, on the final day of 2010, I got back into newspaper but on the advertising side as a marketing consultant with the Broken Arrow Ledger. Working on the "other side of the aisle" helped give me a better understanding of the business. But I still had an eye on returning to the editorial side at some point.
I was attending an out-of-state sales retreat in late July 2013 when I saw a vacancy for the sports editor with the Sand Springs Leader. While I was staying within the company, the move from sales to editorial in the publishing business is not one many chose but I was immediately intrigued.
I applied soon after and started at the Leader just prior to the start of the football season. Being the new guy with virtually no local connections, I was welcomed with open arms. People around the community were very gracious to me with their time. As I had been told beforehand, Sand Springs had a special bond with the Leader. There was no doubt this was true.
A little more than a year later, I was moved to cover sports for another newspaper due to some reshuffling within the company. I've been shuffled around five other times since then.
Who knew when Greek philosopher Heraclitus said "change is the only constant" he was referring to my career in journalism.
The final move came last September when I got the call I was getting the opportunity to run my own newspaper, both news and sports, with the Leader.
I was both nervous and excited.
Once again the Sand Springs community has opened their arms to me, for which I am forever grateful.
But one of the hazards of living the life of a journalist is unpredictable hours, which often places family time on the backburner.
That is why Friday, Jan. 15 will be my last day at the Leader. I have accepted a public relations and marketing position in the healthcare industry. I am excited for my new venture and the opportunity to have a more normal schedule.
Ironically, I am writing this to you while in quarantine after testing positive for COVID-19 last week. I will try to reach out to as many of you as I can to say 'thank you' over the phone. But for those I am unable to reach, I truly appreciate your time and support. Covering Sand Springs and getting to build so many special relationships has been a sincere pleasure of mine and will remain as some of my fondest memories from a journalism career that began more than 20 years ago.
You are one of a kind and to quote the great Ron Burgundy, "Stay classy, Sand Springs."