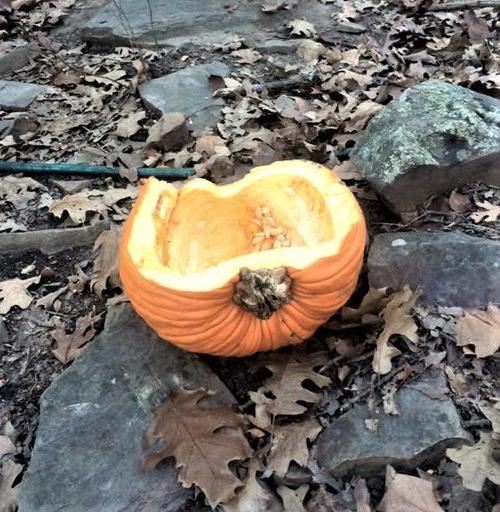 Pumpkins are great. Whether we carve them up with scary faces for Halloween or stack them decoratively on bales of hay, nothing says fall quite like those colorful gourds.
Whether you're the type to wait on Christmas decorating until after the wishbone from the Thanksgiving turkey has been snapped or you're putting up the tree while the kids still have chocolate from trick-or-treating on their faces, the fact is, pumpkins tend to overstay their welcome.
That doesn't mean they're unwanted or unappreciated, though. There are at least a couple of good solutions for disposing of those quickly shriveling shapes.
Wildlife rehabilitators encourage keeping the pumpkins in the food supply, albeit not for humans.
"The flesh and seeds of pumpkins are eaten by all kinds of wildlife mammals, such as squirrels, raccoons, deer and foxes," said Kathy Locker of WING IT, the Wildlife in Need Group in Tulsa. "And as a bonus, the seeds are a natural dewormer."
The key is to create easy access for the critters to the goods inside the gourds.
"Pumpkins can be cut in pieces, or they can be chucked over your head and onto the hard ground, where they bust open, and the animals can get to the insides," Locker said. "That's the fun way.
"Birds also enjoy pumpkin," she said. "For birds, you can cut the pumpkin into a bowl and put bird seed in it, as well as the pumpkin seeds."
For feeding pumpkin seeds to the birds, you'll want to dry them out first, Locker said.
"Even late-season butterflies and insects will enjoy the juices from pumpkins," she added.
And while feeding wildlife is almost always a bad idea, because it can acclimate them to humans and make them dependent on us, this is one time to ignore the rules.
"Pumpkins are a once a year treat — not something regular," Locker said. "And it's best to choose a wild location far away from people.
"As the weather gets colder, food is harder to come by for the animals, so this is very welcomed."
What isn't welcome, even by animal standards, is a pumpkin past its prime or a toxic treasure.
"If they're super squishy and moldy, it would be best to compost them," Locker said. "You also don't want to offer them to wildlife if the pumpkins have been painted or washed with bleach due to toxicity."
So what do you do with pumpkins that even the critters can't eat?
The Metropolitan Environmental Trust would be happy to take them.
During the month of November, the MET and Full Sun Composting are partnering for the Fourth Annual Great Pumpkin Rescue to collect holiday gourds, squash and pumpkins and keep them out of the trash.
Pumpkins can be dropped off for free at any of the seven participating MET recycling center locations, which are in Sand Springs at 105 E. Morrow Road; central and east Tulsa; Bixby; Broken Arrow; Coweta and Owasso.
Donors are asked to remove all decorations, such as candles, plastics or stickers. All pumpkins will be composted by Full Sun Composting.
For more information, call the MET at 918-584-0584 or send an email to met@metrecycle.com.
For more information about helping wildlife in the Tulsa area, follow WING IT's Facebook page at facebook.com/wingintulsa.