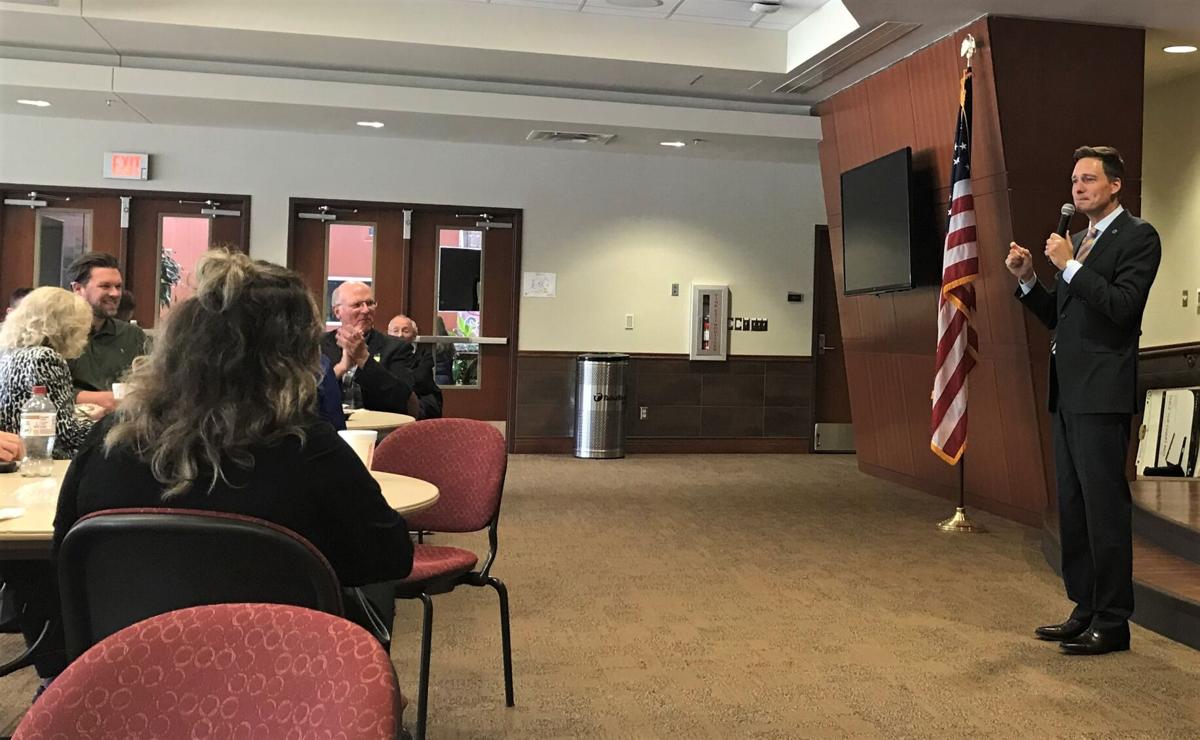 As Oklahoma's lieutenant governor, Matt Pinnell wears a number of different hats.
Speaking to the Sand Springs Chamber of Commerce this week, he noted that he is the state's secretary of tourism.
"That is not a normal thing that the lieutenant governor signs up for," he said. "But I wanted that role.
"I have seen all the amazing tourism assets we have as a state, and I just didn't feel like we were leaning into that enough, that we were talking about this tourism industry enough."
That's not a mistake Pinnell wishes to repeat.
He recalled having spoken to the chamber during his 2018 lieutenant governor campaign and added, "I can tell you, the things I stood up here and told you exactly why I was running for office, I now have almost full authority over those areas.
"That does not happen that often, but it's what really keeps me fired up, and it's why we're running again, because we actually believe we're making a difference."
Pinnell noted that he grew up in the Tulsa area and is the first lieutenant governor from Tulsa.
But frankly, little else of what he had to say for the next 40 or so minutes sounded anything like a campaign speech — unless Oklahoma's state parks and other tourist attractions are on the ballot.
"The great Oklahoma outdoors is alive and well in this part of the state," he said, referencing the nearby Keystone Ancient Forest and noting that most state parks are in eastern Oklahoma. "We've got to take advantage of that."
Pinnell said interest in parks and other outdoor tourism has exploded, a movement "fueled over the last two years because of this thing called COVID and the global pandemic that we've all dealt with."
"It's been tough on everybody," he said. "But sometimes there are a few advantages that come out of crises and global pandemics.
"One of them is you've got a whole lot more people in the great Oklahoma outdoors today."
Pinnell noted that the state parks have not closed during the COVID-19 pandemic.
"We shut down the lodges, but you could still go into the woods and go walking. A lot of people needed that from a mental health perspective during COVID," he said.
"And because of that, we had 2 million more people visit our state parks system during COVID than the year before. That's a whole lot more people coming to Oklahoma and seeing that this is not a dust bowl."
Pinnell, who spoke later in his speech Monday about commerce and workforce development, explained that tourism can be an easy gateway through which a state can show off the rest of its attributes.
"I would argue (that) the best tool in our toolbox from an economic development perspective is our tourism industry, because it gets people here to actually see this is a wonderful place," he said.
"The tourism industry that we have in Oklahoma — from Route 66 to the Chisholm Trail to our Native American history to these great, very diverse Oklahoma outdoors that we have, (including) 12 different ecosystems inside the state of Oklahoma — is a differentiator for us over other states."
Pinnell said the recent visitor explosion led officials to take their own tour of the state's parks, "and we discovered very quickly that our facilities were not up to par."
"So for the last, really, 12 to 16 months, we've been turning over dirt in pretty much every state park," he said, adding restrooms, opening new restaurants in lodges and upgrading trail systems.
"We can't put RV pads in our state parks fast enough," he said, noting that "RV sales are at an all-time high in this country."
Oklahomans have been a bit myopic, taking the state's great natural resources for granted, Pinnell said. Residents know about the attractions but don't talk about them, and the state hasn't been putting advertising dollars behind them.
"What do we have that no other state has? Let's focus on that," he said.
For Pinnell, a huge tourism opportunity is just coming over the horizon.
The centennial of Route 66, the Mother Road, which will occur in five years, is a prime target to introduce a new generation of Americans to the Sooner State, he said.
"We've been very spoiled growing up in Oklahoma," he said. "We see that Route 66 sign all the time, but really, what does it mean?
"It means a lot of money, first off. It means a lot of international tourists," he said. "It means — now — a lot of tourists around America who are doing this great American road trip.
"You see what's happening in Tulsa. They're investing millions and millions of dollars, and I give Tulsa credit for it. Now there's private development going on," Pinnell said, referring to Tulsa's Mother Road Market.
"And guess what? It works when you do that," he said, "because again, there is something very magical … about traveling down this winding road, this Main Street of America, and meeting all the different characters."
Pinnell said there's no reason Oklahoma can't lead the way in celebrating America's most-celebrated road.
"We have more miles … of this road than any other state — 400 drivable miles from Erick through Miami," he said. "This isn't something we're re-creating or making up.
"We will be the premiere state when it comes to Route 66," he said. "We're going to make sure that Oklahoma is the center of the universe when it comes to that road."