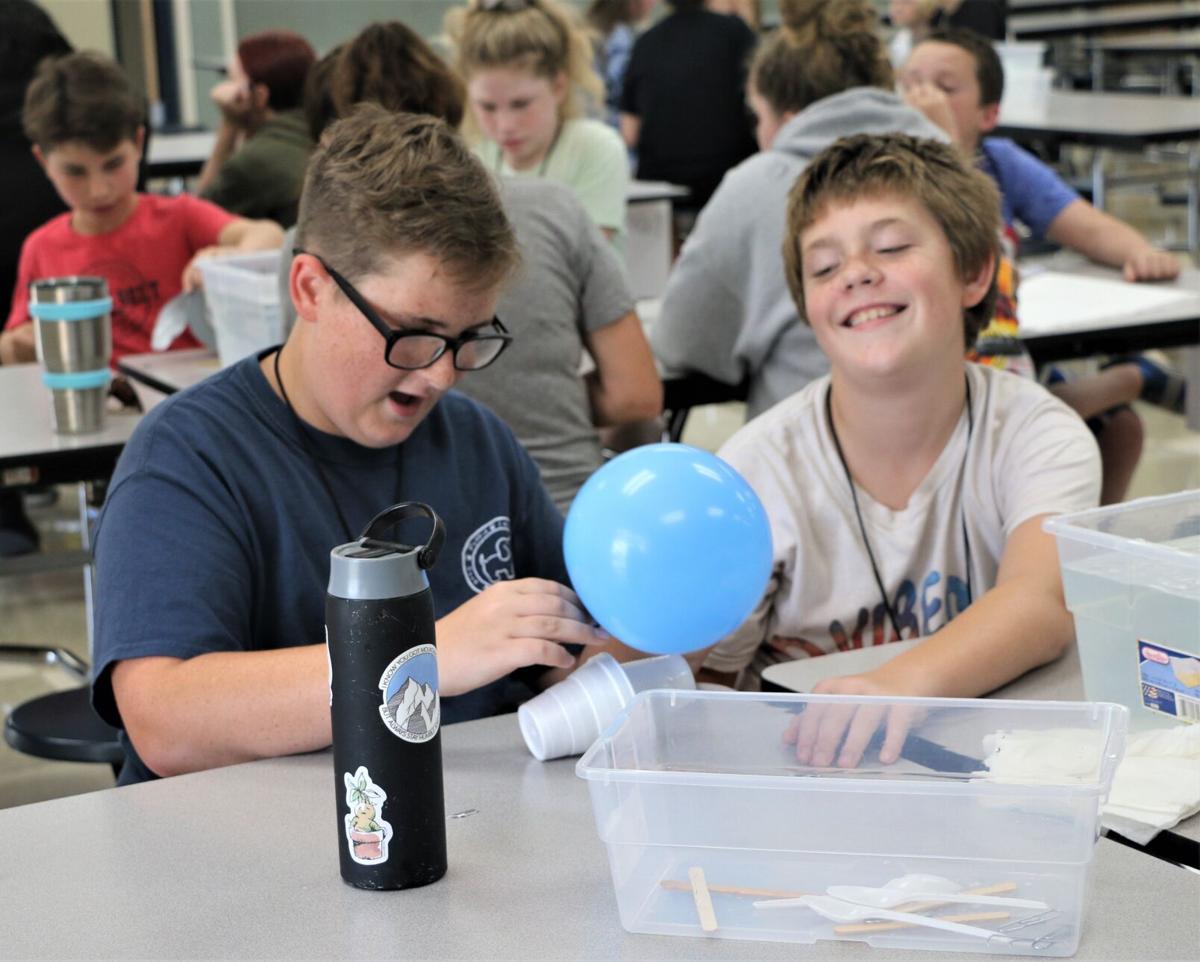 A new partnership between Sand Springs Public Schools and the online crowdfunding platform DonorsChoose will exponentially expand the potential donor base to support classroom projects for teachers in the district.
Many Sand Springs teachers are not new to DonorsChoose; the 501©3 nonprofit reports that the district has raised $221,670 and completed 474 projects through its system with the help of 1,349 unique donors.
But the formal partnership announced last week will allow the school district to have its own page on the website, thereby creating a bigger audience and making some projects eligible for special matching donations.
"We are excited to announce our partnership with DonorsChoose," Superintendent Sherry Durkee said.
"Our district's incredible teachers know their students' unique needs better than anyone. Through DonorsChoose, they can use that knowledge to help fund projects that bolster their vision for high-quality instruction in the classroom.
"We are grateful for this partnership and for the caring donors helping our school communities become stronger, so that Sand Springs Public Schools students can thrive," she said.
As one of 250-plus members of the DonorsChoose District Partnership Program, Sand Springs Public Schools will be able to support teachers fully in the use of the platform, ensure safety and security, and help align efforts and projects with the district's strategic priorities.
The district will be able to monitor all donated materials, and principals will be notified each time a project is funded as well as receive early notification when there are new matched-funding opportunities.
With DonorsChoose, anyone can go to the organization's website and either search for specific teacher projects to help fund or browse from scores of possibilities.
Donors can contribute to as few or as many projects as they wish; they can see how close a specific project is to becoming fully funded; and they're able to tell which projects are eligible for matching donations from charitable foundations or other entities.
Megan Cabe has taught fifth-grade math and science at Limestone Technology Academy for the past 12 years after teaching fourth grade at Limestone during her first two years with the district.
She said she has had more than 20 projects for her classroom funded through DonorsChoose.
"I've done a lot of math and science manipulatives and some different games," she said.
Cabe then ticked off a list of other funded items, including iPads and Otterboxes, flexible seating, incentives, prizes, crafts, furniture including tables, some basic supplies and digital resources that have really helped during the pandemic.
"We do what we have to do to get what we need for our students, and DonorsChoose makes that easy to do," she said.
Cabe said it's exciting to see which projects or needs resonate with potential donors.
"Early on, I was just shocked at the willingness of people to donate," she said, adding that she doesn't recall ever submitting a project that wasn't funded.
"People want to help, and they know that public education needs help, so this is a way for them to do that no matter the distance," she said.
Cabe said the staff at DonorsChoose will help teachers tweak submissions to make it very clear to donors what is needed and what would be done with the materials.
"They make the process very easy," she said. "They've streamlined it for us."
Cabe said she doesn't have any current projects awaiting funding because she has "been a little greedy" the past few years, but she said she will encourage her fellow teachers to take advantage of whatever is available.
She said the new partnership will be a good complement to the district's necessary creativity for funding classroom needs, pointing out that public education "hasn't always been the easiest environment for the past decade or so."
"The biggest part of DonorsChoose that I appreciate is that getting a project funded just gives you a little encouragement and puts a little bit of enthusiasm in there — a little motivation to keep going," Cabe said.
DonorsChoose was founded in 2000 by a high school teacher in the Bronx.
More than 5 million people and partners have contributed $1.17 billion to support more than 2 million teacher requests for learning resources and experiences, according to the organization.
It says 663,372 teachers at 85,120 schools have been supported, including with more than 7.45 million books and 28,725 class trips.
DonorsChoose vets each request, ships the funded resources directly to the classroom and then provides follow-up reporting to donors and school leaders.
CharityWatch, Charity Navigator and GuideStar have all awarded DonorsChoose their highest ratings for transparency and accountability.



For projects specifically from Sand Springs Public Schools seeking funding through DonorsChoose, visit donorschoose.org/sandites.