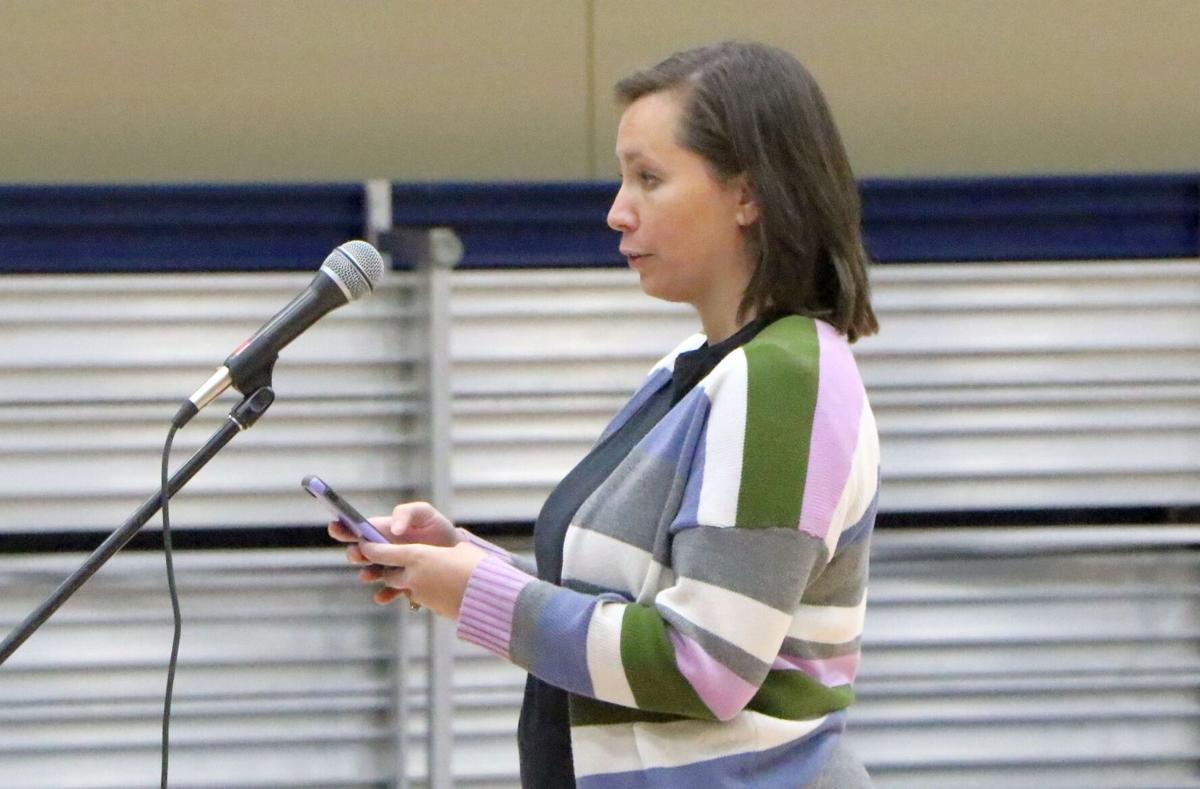 Sand Springs City Council discussed additional steps to take in order to combat the rising number of as COVID-19 cases locally during its monthly meeting Monday night.
Ultimately, the council passed a motion for a special meeting where they could decide to take action, including a possible citywide mask mandate. The special meeting is set for 6 p.m. Nov. 23.
The setting of Monday's monthly council meeting shifted to the Case Community Center gymnasium for social distancing as council members discussed the topic.
Police Chief Mike Carter, who has also served as the city's COVID-19 coordinator during the pandemic, reported Sand Springs has seen a 256% increase in positive cases since Oct. 29 and, with 214 active cases, added the city has the third-highest infection rate per capita around the Tulsa metropolitan area.
"With this rate of increase, I think we need to do something to break the trend," Carter said. "Obviously mask mandates are the hot and heavy topic. There are people that are very passionate against it. I get why. In any other circumstance, I would share that. But I am at a loss to what we have the power to do or authority to do that would break this cycle and get us back down to a normal level that we can cope with. Our goal needs to be to mitigate this problem until we get to a vaccine."
Earlier on Monday, Gov. Kevin Stitt announced Oklahoma bars and restaurants must have all tables spaced six feet apart and close in-person service by 11 p.m., the first such statewide restrictions since businesses opened back up in May.
Carter said he realizes a mask mandate will draw criticism from those around the community but does believe such a move be beneficial for Sand Springs.
"I'm willing to go with you on that and agree with you on that because I don't like masks," Carter said. "But what should we do? It's easy to talk about what we don't want to do. Let's hear what we should do. I'm open to suggestions. I am not an infectious disease expert. But I have listened to the people who are. The guidance we are getting from the White House, the guidance we're getting from the CDC, the guidance we're getting from state health and especially Dr. (Bruce) Dart with the (Tulsa Health Department) is that masks are the most effective thing outside of social distancing and other things like that … We have to do everything we can to fight this until we can get a vaccine.
"To be clear, masks are not the cure for this. Masks will not, in and of themselves, make us go to zero. We should never believe that they are a magic answer for this. But I do believe they have a mitigating effect that we should look at."
Seven Sand Springs residents weighed in on the topic. Five were opposed to a mask mandate while were in favor.
Sand Springs United Methodist Church Senior Pastor Stephen Cagle was one of those in favor of a mandate.
"The buck has to stop somewhere," Cagle said. "Someone has to make a decision because we are at a tipping point. Our hospitals are beyond overloaded. Our way of life has been significantly disrupted and may never be the same again. This is a shame because we are so close to a usable vaccine. Will you stand up and do the right thing?"
CrossFit business owner Rose Tavaglione said she did not believe a mask mandate would be the answer to the pandemic.
"We need to be proactive," Tavaglione said. "We do, I think, need to be careful of who we're around. If it's somebody who might be unhealthy, please keep your distance. Don't cough on them. Let's do this. But putting a mask on me is going to cause more damage than good."
In other agenda items, council approved a resolution to request Transportation Alternative Program Urbanized Area funds for the Highway 97 Trail Extension project. The concrete trail, approximately a mile long, would run along the east side of the highway between 41st Street and 51st Street. The cost of the project is estimated around $1.2 million, 80% of which would be covered by a TAP grant with the other 20% coming from local sales tax.
The council also approved funds for hiring a new full-time employee at Keystone Ancient Forest. The employee will be running the day-to-day operations for the soon-to-be KAF Visitors Center. The council approved a supplemental appropriation of $25,988 for the position.
Council approved the purchase of four police pursuit units from Bob Howard Dodge in the amount of $92,063. Other items included the approval of an Elgin Whirlwind 1 Vacuum Street Sweeper from J&R Equipment LLC in the amount of $299,314 for the City of Sand Springs Street Department as well as a resolution endorsing the Tulsa Regional Chamber OneVoice Regional Legislative Agenda for 2021.
Be the first to know
Get local news delivered to your inbox!