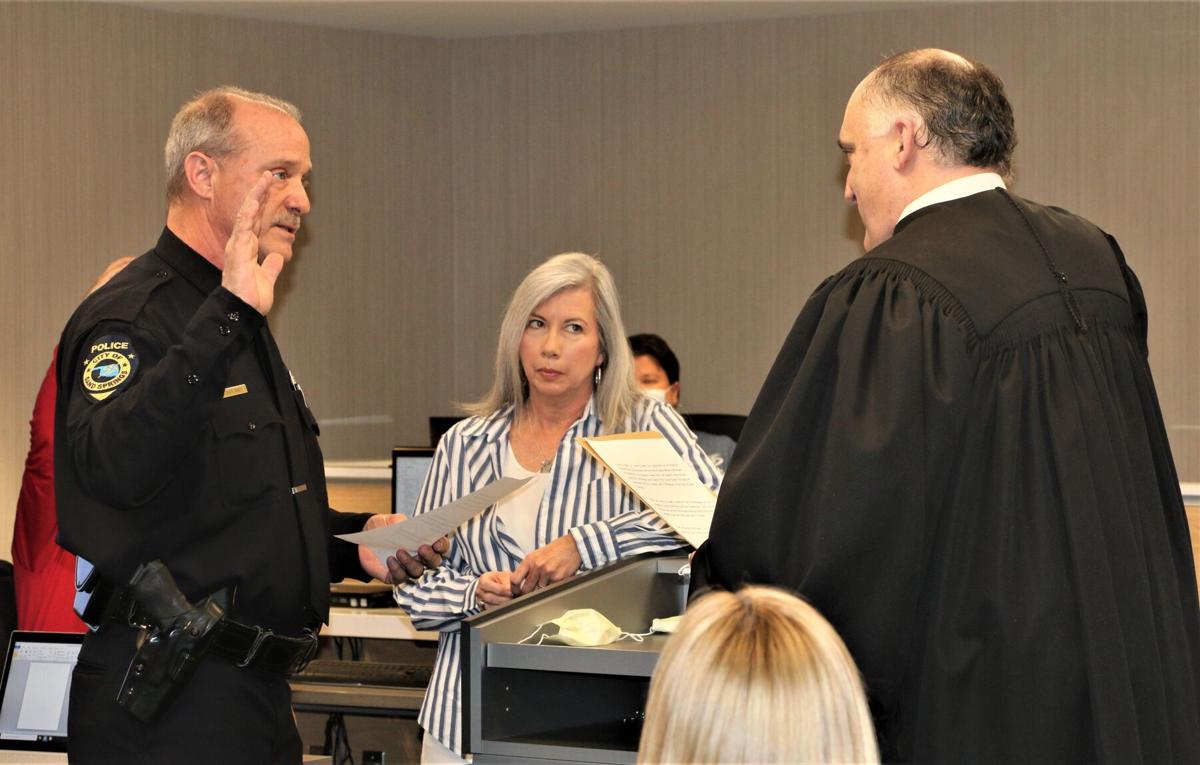 Police Chief John Mars was formally sworn into office at the City Council's April 26 meeting, and then he got right to work, informing councilors of the first item on his agenda as chief: to gain accreditation for the Sand Springs Police Department.
The program, administered through the Oklahoma Association of Chiefs of Police, is called OLEAP, or the Oklahoma Law Enforcement Accreditation Program.
It gives law enforcement agencies in the state a way to show that they meet commonly accepted minimum standards and best practices for efficient and effective operations.
Mars read aloud the Police Department's mission statement, which emphasizes the protection of constitutional rights, the protection of lives, the reduction of criminal activity and the fostering of community partnerships.
"Every officer has that mission statement," he said. "And they carry it in their heart for every call on every shift and for the duration of their service in our city."
Mars vowed to continue community policing and other successful policies but said it is important to take the next step toward accreditation.
"It's a long process," he said. "It's designed to measure, evaluate and update commonly accepted professional standards."
Mars said the Police Department will begin the on-site part of the process in June, when a review team "will come in and take a look at our operation, our policies, … everything."
The OLEAP program is endorsed by the Council on Law Enforcement Education and Training, or CLEET, as well as by the Oklahoma Municipal League. Since its inception in 2001, 16 agencies have been accredited and five more have been certified.
City Manager Mike Carter — Mars' predecessor as police chief — hailed the action.
"In our previous policing plans, accreditation has been one of our goals for the future, and I am glad to see that Chief Mars is pressing forward with this program," he said.
"I think the major reason we want to see accreditation is our promise to our public that we will keep striving to improve the professionalism of our department in all aspects; we can never be satisfied in this regard and rest on our laurels.
"In most professions, you have minimal standards that are reflected in your licensure, and then you have higher levels of proficiency that are reflected in accreditation," Carter said. "This is also a way that we can demonstrate this on an agency level.
"The Sand Springs Police Department is already known for its commitment to community policing, but accreditation is verification from an unbiased organization that can verify the level of proficiency as an organization culture."
Carter said the city administration and City Council will play a role in the accreditation process, as well, primarily through public meetings, funding and individual input.
He is hopeful that residents will step up to the task, too.
"Citizens should want the most professional and transparent policing possible," he said. "These values that the Sand Springs Police Department already embraces, we feel, is the direct reason you have seen a lack of complaints, litigation and use-of force-issues by our officers."
Carter added: "It is easy to be proud of our officers and employees. The level of proficiency, dedication and willingness to put our citizens first has led to the public confidence we enjoy today."
Mars expressed confidence that the department will be accredited.
"The roadway to accreditation has already been paved for us" by former Police Chiefs Daniel Bradley and Mike Carter, he told councilors. "Now we will meet with people outside or independent of us to verify that we meet these standards."