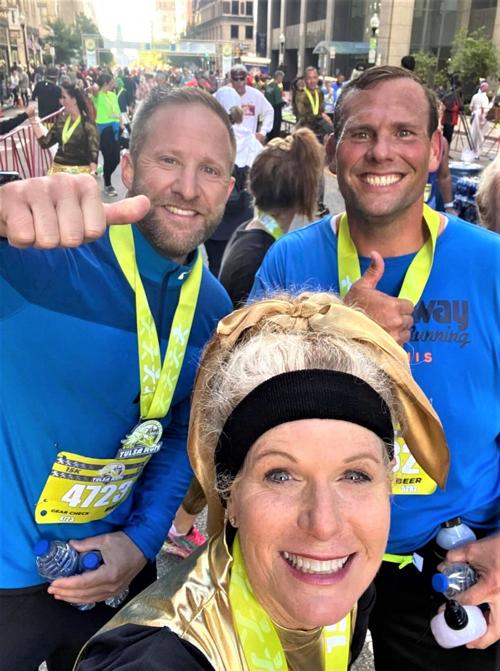 All that Halloween candy was just a warmup.
With the true "season of eating" set to start just hours from now and last a good five to six weeks, anyone agonizing over holiday helpings knows what a minefield this time of year can be.
Whether for a diet, health reasons or even triathlon training, avoiding all of those dastardly calories disguised as cookies and pies or nogs and toddies can make anyone a bit of a Grinch.
But Jeff Edwards might have an unfair advantage.
"Hate me for this: My metabolism is still relatively high, and I've been known to eat like a teenage boy and not suffer any consequences from it," he said.
Edwards, the city Parks and Recreation Department director who's training for Ironman Tulsa 2022 and letting the Sand Springs Leader tag along for the ride, said he's not a snack eater and doesn't often splurge with unhealthy choices.
"Hate to say it, but I plan to just eat like I always would and let the chips fall where they may."
Chips, too? Don't say chips.
The Edwards family's Thanksgiving traditions sound pretty, well, traditional.
"Our typical Thanksgiving consists of me cooking a few birds on the Hasty Bake and fixing my 'don't count the calories' green beans early in the morning," Edwards said.
"We gather as a family at the grandparents' house knowing we'll gain a few pounds while the Thanksgiving Day parade and dog show play in the background.
"After visiting with extended family, we'll make the daunting two-mile drive back home, where we hang out with our girls and kick off the Christmas season with one of our favorite Christmas movies," he said.
"The gals typically do some form of Black Friday shopping. I usually stay at home."
Edwards is fortunate not to be too tempted by the "yummy but awful for you" foods.
"I'm a meat-and-potatoes guy, anyway, and don't branch out far from that even with all the holiday selections," he said. "My plate is always overflowing with meat, followed with a few veggies and mashed potatoes. I don't expect to deviate from that, as it's working well for me right now.
"I'm not comforted with food or desserts," he said. "Activity is more of a comforting action for me."
Thursdays typically are Edwards' running day, and he said he might take a quick break from Thanksgiving festivities to go for a short run before returning to the family fun. But if not, that's OK, too.
Edwards, Parks Operations Manager Joe Medlin and Public Works Department Director Derek Campbell are all training for Ironman Tulsa 2022 as first-time competitors and are in Week 27 of a 52-week training plan.
"We have just finished the six-month base-building fitness level plan and are moving into the long-distance training plan," Edwards said.
"We have three weeks between now and the start of that plan where we are planning to just 'maintain' our base level with several easy disciplines. Although unplanned, this works out perfectly during this time of year.
"I feel like we've established a good enough base that I can skip a few workouts here and there," he said. "With the changing weather and precipitation, I've missed a few here and there already, but I typically make up the distance on the weekend disciplines.
"With this three-week 'maintain' stage, I don't necessarily have a plan I'm sticking to, so the timing is great around this holiday season."
Meanwhile, Edwards recently completed his first sanctioned race, the 15k (9.3-mile) Tulsa Run.
"I don't care much for running, but I'm hooked" on races, he said. "When (Sand Springs Leader triathlon expert) Jana (Rugg) talks about racing day being the reward of all the hard work you put forth in training, I experienced this in the Tulsa Run."
Being a "newbie," Edwards said he "started out a bit fast, which hurt my last mile of the run," but overall, he set personal records at the 1-mile, 5k, 10k and 15k marks.
His goal was to complete the race in 90 minutes, and he "crossed the finish line in one hour and 18 minutes," he said. "I was more than pleased."
On Sunday, Edwards competed in the Route 66 Marathon's half-marathon distance of 13.1 miles, and his goal was to finish in less than two hours.
He completed the race with more than four minutes to spare, at 1:55:57.
Edwards is currently running 20 miles a week, cycling 70 to 90 miles each week and swimming 3.5 miles each week, although he, Medlin and Campbell have halted their open-water swimming at Keystone Lake for the year.
"We've transitioned to the pool exclusively," he said. "I've started working on some sprint swimming, which I hope will help with muscle buildup and speed when we return to open water early next spring."
Aside from the swimming change, weather fluctuations still aren't bothering Edwards much.
"Actually, I prefer the cooler mornings for running," he said. "The cooler weather has helped us to stay hydrated without sweating out all the nutrition we took in for the day."