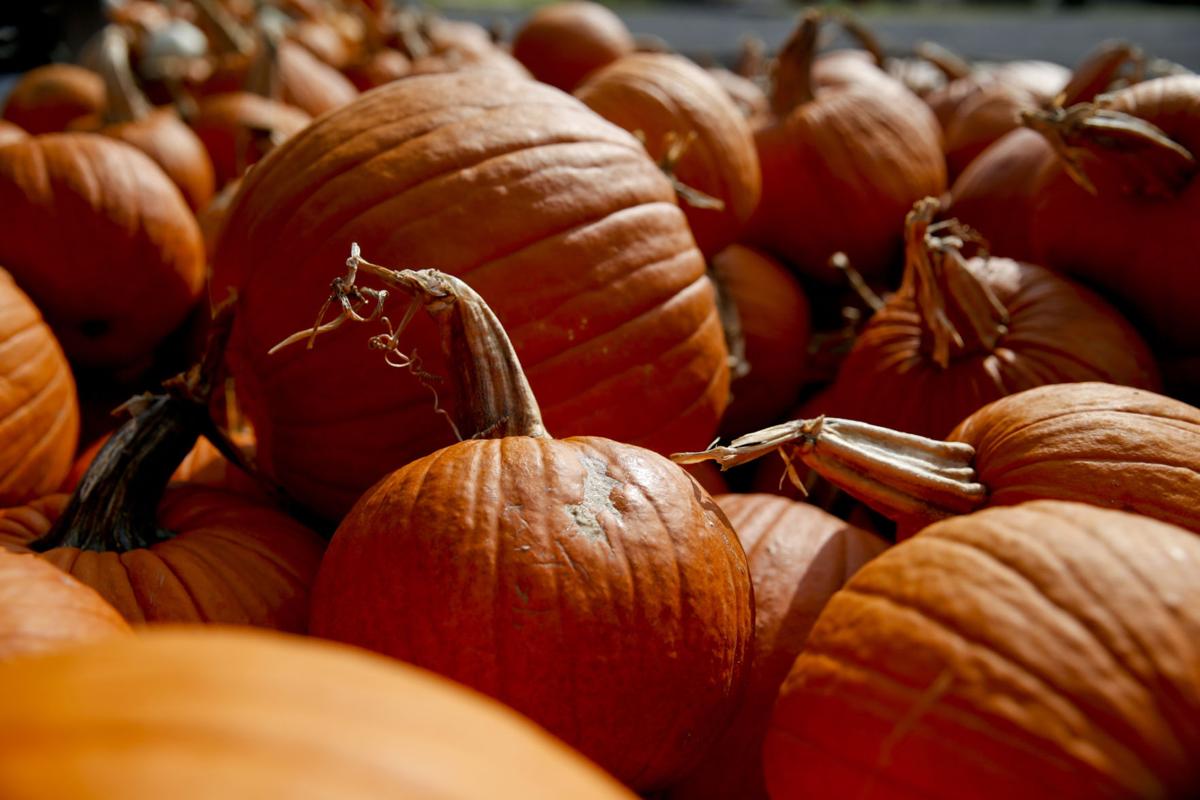 The COVID-19 pandemic caused the cancellation or postponement of many events in 2020, but scary and family-friendly attractions are forging ahead with safety measures in place during the Halloween season.
Masks, advance ticket purchases and limited ticket sales are among steps some venues are taking out of an abundance of caution. Check with attractions in advance to get details before visiting.
Among new haunted attractions in 2020 is a Haunted Trails experience at Turkey Mountain Urban Wilderness Area. The River Parks Authority and WSA Soccer are partners in the venture. Proceeds will benefit the organizations.
Brookside's annual BooHaHa Halloween event will not take place in 2020.
Take your pick of scary or fun seasonal attractions:
Pleasant Valley Farms 22350 W. 71st St. South, Sand Springs; 918-248-5647
Activities at Pleasant Valley Farms include pumpkin chuckin', hayrides, a 20-acre corn maze, a kiddie corn maze, duck races, games and slides. There's an 18-hole mini golf course on site. The 10th annual Pleasant Valley Farms Winter Squash and Pumpkin Festival is Oct. 17-18.
Hours are 9 a.m. to 7 p.m. daily in October. Admission is free. Prices vary for activities
The Patch(One pumpkin patch, two locations); 918-640-1869
Sand Springs: Hwy 412 and 177th W. Ave.
Glenpool: Hwy 75 South at 179th St.
What started out as a small, fall experience in 2011 has grown into two locations, now known as "The Patch." Open daily in October, hours are 10 a.m. to 7 p.m. Monday through Saturday and noon to 7 p.m. on Sunday.
Turkey Mountain Haunted TrailTurkey Mountain Urban Wilderness Area, 6850 South Elwood Avenue, Tulsa
Turkey Mountain Haunted Trail is a trail (three-fourths of a mile long) full of twisted cedar, cobwebs, creepy crawly buggs, gnarled oaks. Guests will encounter live actors, fun special effects and ghastly scenes while walking the trail,
The experience is not recommended for children under 12, the faint of heart or those with mobility issues.
The trail will begin Friday, Oct. 23 and will continue 7 p.m. to 11 p.m. nightly through Halloween. Tours last approximately 30 minutes and begin at Turkey Mountain's main parking lot.
Trail guides will take groups of 8-10 people at a time through 10-12 scare stations that, according to a news release, will "focus on creating an extremely eerie and spooky atmosphere rather than the blood and guts shock scaring" of indoor haunted houses.
Tour spaces are limited and tickets should be purchased in advance at www.turkeymountainhauntedtrail.com. Tours are $7, plus service fees. All guests and staff must wear masks or face shields.
Youth tours (age 12 and under) will take place from 6 p.m. to 7 p.m. from Oct. 23 through Halloween. Parents can walk with children in a safe environment that is "almost scary," but is intended to create smiles instead of screams.
Hex House/Westside Grim/Rise of the Living Dead5610 W. Skelly Drive, Tulsa
Three haunted attractions are housed in one location. The Hex House is inspired by a true story from Tulsa's past. The Hex House, Westside Grim and Rise of the Living Dead are multi-element dark attractions. They are not recommended for children younger than 13, pregnant women or people with back, neck or heart problems or any other medical condition.
Remaining dates are Oct. 9-10, 15-17, 22-25 and 30-31. Doors open at 7 p.m. The box office is open from 7 p.m.-11 p.m. Three-haunt combo passes ($27) can be purchased in advance at tulsahexhouse. Add a speed pass and the total is $32 ($42 at door).
304 W. Cherokee Ave., Nowata
Oklahoma Asylum is an isolated experience in a 1940's-era sanitarium where you and friends are admitted right as other patients break free and take over. Navigate your way through the facility and try to avoid getting caught by the one thing they fear: whatever they locked up downstairs.
The attraction is open Oct. 9-11, then all remaining Thursdays, Fridays, Saturdays and Sundays in October, plus Nov. 7.
Tickets range in price from $20 (standard pass) to $35 (fast pass). Tickets can be purchased in advance at okasylum.com.
The Asylum is considered an extreme haunt so the admission of children will be up to parents' discretion.
Haunted Castle Halloween Festival
Castle of Muskogee, 3400 W. Fern Mountain Road, Muskogee
The festival is open Fridays and Saturdays through Halloween. Festival hours are 6 p.m. to and ticket sales end at 10 p.m. There are multiple spooky attractions. Among them are Trail of Blood, Dark Tower Zombie Hunt, Casa Morte and Domus Horrificus. A skull rating system is used to rank the attractions for frights. A Halloween Train is part of the family fun pack.
Parking and admission are free, but tickets must be purchased for each attraction. Advance tickets can be purchased at okcastle.com. To preserve a family-friendly environment, unaccompanied minors younger than 18 must have a photo ID to enter. Minors younger than 16 must be in attendance with a responsible adult.
Psycho Path1517 E. 106th St. North, Sperry
Psycho Path, built on 40 acres, takes the haunted attraction experience outdoors for a unique fright. There's also a Shadow Box haunted house. The Shadow Box is only available with purchase of a combo ticket. The attraction is open Fridays and Saturdays in October, plus Thursday, Oct. 29.
Ticket are only available online. One person dark ride is $35. One-person combo is $45, two-person combo is $75, eight-person combo is $240. Tickets are $20 for the Dark Ride and $20 for the Shadow Box.
HallowMarineOklahoma Aquarium, 300 Aquarium Drive, Jenks; 918-296-3474
Oklahoma Aquarium will host indoor trick-or-treating from 6 p.m. to 8:30 p.m. Oct. 16-18, 23-25 and 29-31.
Guests can follow a trick-or-treat trail and see marine life in surrounding exhibits. Wear a costume for a chance to win prizes and interact with some of the ocean's most curious creatures. Admission is limited, but you can reserve your spot in advance. Early-bird discounts are available for those who purchase by Oct. 9.
The 2020 event will include new protocols to ensure the health and safety of our guests, vendors, staff and volunteers. Safety measures include nightly admission limits, mask requirements and glove requirements for vendors.
HallowZOOeenTulsa Zoo, 6421 E. 36th St. North, Tulsa; 918-669-6600
The Tulsa Zoo is hosting its annual Halloween trick-or-treat event for the entire family. Dates are Oct. 16-18, 23-25 and 29-31. Explore the zoo and see your favorite animals while in costume. Attractions include a Burger King Royal Castle (can you find the dragon and navigate the hay maze), Insurica Pumpkin Patch Playroom (moved to the front of the zoo to make it easier to carry mini pumpkins home) and QuikTrip Pirate Island (the ship and crew are returning for a fall party). Train and carousel rides come at an additional cost. There will be a limited number of attendees each day and reservations are required. Member cost is $7 and general admission cost is $17, which includes admission to the zoo PLUS HallowZOOeen activities. Tickets allow entry to the zoo from 2 p.m. to 5 p.m. Visitors can remain until the zoo closes at 6 p.m.
6060 S. Garnett Road, Tulsa; 918-605-1185
Open through Nov. 1, Pumpkin Town's family activities include a corn maze, petting zoo, grain train, slides, face-painting and games, plus pony and camel rides.
Hours are 10 a.m. to 8 p.m. Sunday-Thursday and 10 a.m. to 10 p.m. Friday and Saturday
Fun passes are $10.99. Kids 2-and-younger are free. Ultimate pass $16.99 and $19.99 weekends. Season pass $30. Amazing pass $35.99. Cost for a scary on-site attraction, Insanity Farms, is $25.
39232 E. 231st St. South, Porter; 918-483-2102
Livesay Orchards is a kid-friendly, nonscary farm and pumpkin patch. Visit the orchard's Pumpkin Playland to enjoy a hayride to the pumpkin patch, where you can pick your own pumpkin. A children's play area includes a hay bale maze, farm-related learning centers, pumpkin games and more.
Market hours are 8 a.m. to 6 p.m. Pumpkin patch playland and corn maze hours are 10 a.m. to 6 p.m. Saturdays and 1-6 p.m. Sundays. Saturday hours also apply to the Thursday and Friday of fall break.
Combo admission with hayride to pumpkin patch and apple orchard $9 online in advance or $10 in person. Apple orchard admission $2 online in advance or $3 in person. Corn maze $5 online in advance or $6 in person.
Carmichael's Pumpkin Patch17137 S. Mingo Road, Bixby; 918-366-4728
Carmichael's Pumpkin Patch includes a cane maze, pony rides, an animal farm and a wide variety of pumpkins and gourds.
Hours are 10 a.m. to 7 p.m. Sunday and 9 a.m. to 7 p.m. Monday-Saturday
There is no admission. Climbing on pumpkin mounds and running the dark maze is free. Paid activities include wagon ride ($2 per kid; adults ride free), cane maze ($3), camel rides ($6), pony rides ($6) and a parakeet encounter ($3). You can buy $1 bags to feed animals.
Info: Carmichael's Pumpkin Patch Facebook page
Pumpkin Festival at Shepherd's Cross
16792 E. 450 Road, Claremore; 918-342-5911
More than 60 activities are listed on the attraction's online site. Sheep wagon rides are new this year.
Hours are 9 a.m. to 6:30 p.m. Tuesday through Saturday. Closed Sunday and Monday except for Monday, Oct. 26.
Free Admission to walk through pumpkin patch, farm museum, four-floor silo and petting zoo, but donations are accepted. Costs vary for walk-through and drive-through pumpkin patch packages.
Halloween Night at the Museum
Will Rogers Memorial Museum, 1720 W. Will Rogers Blvd., Claremore
Halloween Night at the Museum, scheduled 6 p.m. to 8 p.m. on Halloween, is a free event that draws costumed visitors to the Will Rogers Memorial Museum in Claremore. Trick-or-treating will be combined with an opportunity to visit the museum.
First United Methodist Church of Owasso Pumpkin Patch13800 E. 106th St. North, Owasso; 918-272-5731
The church's annual pumpkin patch is open noon to 7 p.m. every day from Oct. 16 through Halloween.
Info: Pumpkin Patch for Mission Facebook page.
St. Stephen's United Methodist Church Pumpkin Patch400 W. New Orleans St., Broken Arrow; 918-455-4202
The pumpkin patch runs through Halloween. Hours are 1 p.m. to 7 p.m. weekdays, 9 a.m. to 7 p.m. Saturdays and 11 a.m. to 7 p.m. Sundays. Hours may be extended for fall break and dates closer to Halloween.
444584 E. 110 Road, Welch
Opened in 2010, Annabelle's Fun Farm features multiple attractions, including a corn maze. One-day passes are $14.95. Season passes are $24.95. Military and seniors are $12.95. Kids 2-under free. Some attractions require an additional fee.
Annabelle's Fun Farm is open through Halloween on Fridays (1 p.m. to 6 p.m.), Saturdays, (10 a.m. to 6 p.m.) and Sundays (10 a.m. to 6 p.m.).
Jimmie Tramel
918-581-8389
Twitter: @JimmieTramel
Be the first to know
Get local news delivered to your inbox!