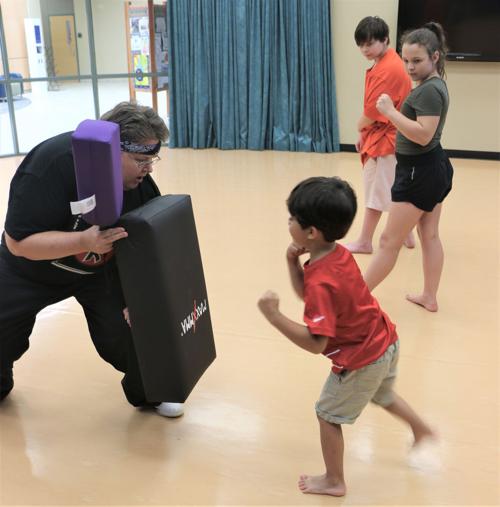 A local couple's new martial arts venture is intended to be an educational experience for both the couple and the community.
Joy and Tammey Johnson's new business is called Sand Springs Chinese Kempo, and they're offering free classes twice each week at the Case Community Center.
Joy Johnson said Kempo is "basically like Chinese boxing."
"Our style incorporates a little bit of kung fu and a little bit of karate," she said. "We try to use our opponents' energy against them."
Joy Johnson, a second-degree black belt in Chinese Kempo who has been practicing martial arts for more than 24 years, is the sifu, or instructor, in her dojo, or training hall.
Tammey Johnson said Kempo is easier than some other forms of martial arts to adapt for individuals who have disabilities.
"You're using your momentum," she said. "You don't have to be this super strong person to take somebody down."
Joy Johnson said the stretching that is a part of Kempo "helps tremendously in terms of keeping you limber. It also gives you self-confidence. You feel better about yourself and the fact that, 'OK, I can do this.'"
That's how she got interested in martial arts to begin with, she said.
"I'm originally from California, and I saw a woman at a street fair who was heavy like me, and she was older, and she was doing stuff that was amazing," she said. "And I thought, 'If she can do it, I can do it.'"
The self-confidence and assertiveness they've learned from Kempo has helped both women in their "day jobs," as well.
Joy Johnson works as a nurse in a nursing home, and Tammey Johnson works for Springs Inc. helping people with developmental disabilities in their homes.
Joy Johnson said she hopes that offering free classes will create some interest in the practice and will help her get some teaching experience under her belt.
"As a new instructor, it wouldn't be fair to charge until I had some experience," she said. "But there is a need and there is a want out there."
Tammey Johnson said they would offer free classes at least through the end of the year to build up the school and then reevaluate.
"We don't have to pay the community center as long as we keep it free," she said, adding that "lots of people have struggled, what with COVID or other things. We want to offer something that can help."
Joy Johnson said this is their way of giving back to the community where they have made their home for nearly five years.
The all-ages classes are held from 4 to 5 p.m. each Friday and from 2 to 3 p.m. each Sunday at the Case Community Center, 1050 W. Wekiwa Road.
New students are welcome to join at any point, Joy Johnson said. Participants should wear comfortable clothes, such as shorts and T-shirts, and wear tight shoes that will tie, not dress shoes or flip-flops.
Disposable masks are available for those who want them, and social distancing is practiced. Joy Johnson said class members aren't sparring right now to help mitigate COVID-19 transmission.
For more information, call or text 918-960-4419 or 918-960-4469.