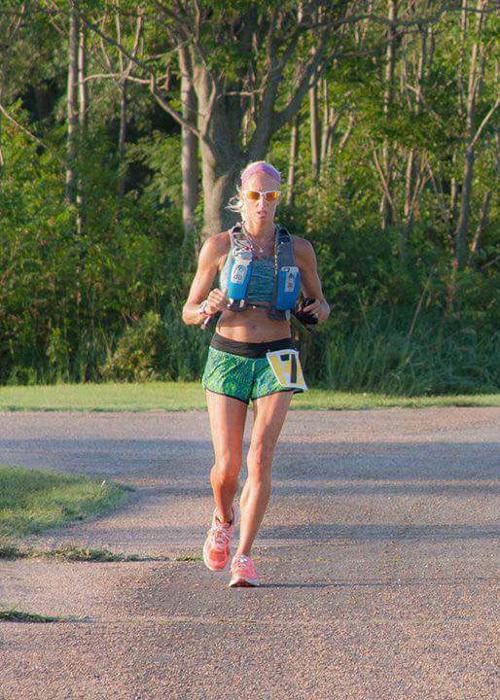 Heather (Holland) Blake has never been afraid to blaze her own trail, a trait she continues even to this day.
The 1997 Owasso graduate and mother of three still challenges herself athletically. Blake is a veteran marathon runner and has completed a couple of Ironman distance competitions. Her most recent accomplishments have included running a series of 100-mile races and, a couple of years ago, even competed in a 200-mile run at Centennial Park.
"I just get bored with stuff so I like the challenge," Blake said about her motivation for her athletic ventures. "For the 100 mile, you can be in the best shape of your life and be mentally ready. But then when you get to mile 50, you have to gut it out. At that point it's like 'how bad do you want it?'"
Blake's love of running blossomed during her high school days. She was a four-time state qualifier in cross country and competed in the state track meet in the 400 and 800 meter events as well as the 4x400 and 4x800 relays.
Along with her success as a runner, Blake was pretty strong with her aerial and tuck while stunting as she entertained Ram fans during football, basketball and wrestling events. Blake was part of Owasso Varsity Cheer prior to graduation, then went on to cheer in college at Oklahoma State.
Blake was one of the first Owasso alums to earn a Division I scholarship in cheer and will be the first from OVC to be inducted into the Owasso Athletic Hall of Fame.
"I was very, very humbled and very, very excited. There were no words," Blake recalled her reaction when Owasso HOF committee member Steve Parker informed her of the honor. "It's exciting because cheer, a lot of times, isn't known as a sport. It's very exciting to know that cheer is working in that direction."
Blake cheered for both the JV and varsity squads at Owasso. Kira Kelsey, principal at the Owasso 6th Grace Center, served as Blake's coach at the time.
"She's a great kid, a hard worker," Kelsey gushed of the former homecoming queen. "You knew that she loved the cheerleading aspect of it and just being with the girls the bond and friendship aspect. She wanted to be really good. She wanted to have fun, but you knew when the time came she worked hard and wanted Owasso to look good."
A Mr. Mac Scholarship award winner, Blake went on to cheer at Trinity Valley (Texas) Community College and was part of two national runner-up squads at the Athens, Texas-based school located just southeast of the Dallas area. But cheering at the collegiate level required a greater level of dedication from Blake, who recalled the four-hour practice on a daily basis on top of school work.
"That's your whole life for two years," Blake said. "You just cheer, cheer, cheer. You want to be your best because only the best cheer on the mat … It was insane. I was just in shock."
Following her two years at Trinity Valley, she moved back closer to home and became a member of OSU Cheer. Blake said cheering in front of a packed Boone Pickens Stadium or Gallagher-Iba Arena were some of her favorite memories in orange and black.
Blake returned to Owasso after graduation and soon began teaching at Owasso Public Schools. She will begin her 18th year at OPS this fall and 15th year at Ator Elementary as a physical education teacher.
Since coming back, Blake also spent 10 years as Owasso Varity Cheer and wrestling cheer coach. She helped Owasso earn a state-runner up finish.
"I absolutely loved it," Blake said of her experience as a coach. "It was super fun. I loved the girls and just love coaching as a whole."
With her experience in cheer and later as a coach, Blake said she has seen a tremendous evolution in the sport.
"It's just grown with the dynamic of gymnastics and stunting," Blake said. "Cheer has just taken off, especially in the all-star programs. Back when I was in gymnastics, we tumbled on a gym floor. Now there is a whole different dynamic. We didn't bring out mats in practice like they do now."
These days Blake spends her time watching the next generation in cheer. Her daughter, Jaycee, is a sophomore on the OVC squad.
"I take my children to the game now," Blake recalled. "I grew up going to Owasso games at Ator. It's been a really, really good experience."
As for Blake's induction, Kelsey hopes Blake will be the first of others in cheer who will be someday part of the Owasso Athletic HOF.
"Cheerleading takes a little bit of flack, or it used to," Kelsey said. "People say cheerleading is not a sport. But they work so hard at what they're accomplishing. You can't just be willy-nilly. You're playing with somebody's life when you're holding them up there with one leg in the air. It's a legitimate sport as far as I'm concerned. And they deserve to be recognized for what all they bring to the games and the crowd."
Be the first to know
Get local news delivered to your inbox!