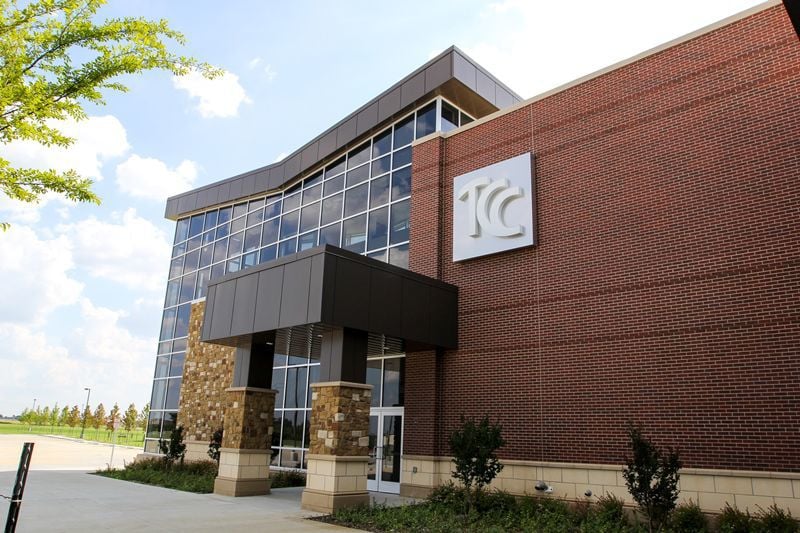 Several hundred Owasso and Collinsville students have been named to honor rolls at Tulsa Community College.
A total of 554 Owasso students and 258 Collinsville students made the distinct lists for their outstanding efforts during the spring 2018 semester.
From Owasso, 230 were named to the President's Honor Roll by achieving a 4.0 GPA, and 324 were named to the Dean's Honor Roll by achieving a 3.99 to 3.0 GPA.
From Collinsville, 107 were named to the President's Honor Roll by achieving a 4.0 GPA, and 151 were named to the Dean's Honor Roll by achieving a 3.99 to 3.0 GPA.
Owasso students: Gary Alexander, Xoey Alexander, Hailey Allen, Jennifer Allison, Esvheiry Alvarez, Hannah Anderson, Camden Andrews, Sarah Ashcroft, Joseph Ashford, John Atkinson, Fransisca Avila, Allison Baalman, Justine Bailey, Kyndal Baker, Meghan Baker, Jessie Ballard, Steven Barber, Kaylie Barnard, Abigail Barnett, Grace Barrett, Karen Barros, Keith Bassham, Tess Batchelor, Julie Baublit, Katie Beaird, Douglas Beck, Ryan Belinski, Jason Bell, Deirdre Benedict, Malia Bird, Abigail Blackburn, Natalya Bocharov, Madeline Booth, Ashley Brooks, Laurel Broughton, Rachel Brown, Crystal Buchanan, Alecia Bunch, Kendall Burnett, Leslie Burwell, Ashley Buttress, Nick Byrne, Jean Cai, Mary Callan, Jarred Carey, Avery Carnahan, Allison Carter, Kevin Cathcart, Brian Chamberlain, Cassidy Clark, Tyler Cleveland, Austin Coburn, Lauren Collins, Paige Condren, Jillian Cordray, Thomas Craig, Andrea Davis, Harrison Davis, Maythel DeBella, Lincoln Denny, Madison Dishman, Mason Downs, Cheyanne Drake, Erica DuBuc, Jackson Due, Ashlyn Dunn, Jeffrey Dutton, Austin Endress, Daulton Esmeyer, Mario Estrada, Justin Evans, Natalie Evans, Kelley Fadok, Michael Farwell, Katy Fischer, Dianna Fly, Christopher Fogg, Ashlyn Forest, Michal Freeman, Maggie Freeny, Alyssa Garrison, Chad Gill, Emily Gilliss, Meghan Goertz, Jesse Gomez, Marleitta Grammer, Joseph Granger, Haley Gray, Chloe Griffin, Haylee Hancock, Karlie Hanson, Riley Hasselvander, Ryan Hauptmann, Danielle Haury, Alyssa Hawk, Kristina Hayes, Sarah Hayes, Wang Her, Rogelio Hernandez, Rosalind Hobbs, Hunter Hoffman, Parker Hoffman, Shelby Hoffman, Fred Hoke, Ryan Holsapple, Taylor Honeycutt, Ashley Horn, Sidney Horne, Lauren Housh, Leslie Howell, Jackson Hughes, Rachel Hunt, Tyler Hunt, Morgan Hutchins, Ravyn Jarreau, Allie Johnson, Candace Johnson, Derek Johnson, Summer Johnson, Erica Jones, Luke Jones, Megan Jones, Rachel Jones, Abbey Jordan, Payton Keitges, Neil Kelly, Laura Kelshaw, Mary Kemp, Caleb Kirk, Katherine Koscelny, Jackson Kourtis, Seth Kuhn, Norbert Kunz, Jacob Lackey, Emily Leading Fox, Holly Leitru, Alex Livingston, Kalee Long, Shauna Lynch, Sheryl Mansard, Cassidy Marsh, Ryan McCann, Alexandra McCarty, Mikayla McCarty, Mercede Mcclure, Aaron McConnell, Caitlin McCormick, Emily McCraw, Abigail Mckinney, Bailey McVey, Jessica Merritt, Krystal Moore, Madison Moore, Julia Moriarty, Sean Moser, Ashley Mueller, Max Murdock, Aarti Narotam, Cristian Negru, Ciera Nepote, Taylor Neuss, Noah Newman, Kelsey Nicklas, Cassidy Nunn, Madison O'Dell, Abigail Ours, Kathy Palamara, Alexander Pellecchia, Alicia Perkins, Emilie Peters, Megan Phillips, Brian Poulin, Christina Pruss, Stephanie Quiroz, Brian Rawlinson, Tanner Ray, Hannah Rice, Samantha Rice, Jared Richardson, Taylor Rogers, Addie Rose, Michael Ross, Noah Sanders, Gabriela Sandoval, William Schwalk, Kaylee Simmons, Brooc Simpson, Melanie Smith, Justin Snyder, Anthony Spataro, Tabitha Spataro, Dustin Springer, Michael Staggs, Anne Stankeivicz, Presley Stephens, Cheyenne Stokes, Tyler Stolhand, Ryan Styles, Alexa Sullivan, Lakan Suntken, Dylan Tadrus, Mylyssia Tate, Ashley Terry, Sean Tetzlaff, Malinda Thao, Jacob Thomas, Mary Thrailkill, Joseph Tindle, Grace Trimble, Kaitlyn Tucker, Jake Tuttle, Jude Urban, Liesel Urban, Kofi Wallace, Brian Walls, Sara Walton, Kelly Webber, Anna Welborn, Sandi Welch, Laurel Wethington, Alyssa Whan, Steven Wilburn, Nichelle Wilson, Kathleen Wingfield, Lainee Winton, Belle Wood, Tiffani Wood, Amanda Worrell, Kimberly Wysong, Salem Xavier and Griffin Yarbrough.
Collinsville students: Cassandra Ainsworth, Timothy Aman, Abigail Anderson, Tatum Andres, Terra Atkins, Mia Bowers, Heather Brandow, Kaylyn Branen, Regan Brewer, April Brightmire, Jake Brillhart, Megan Brillhart, Kathleen Britt, Tricia Brock, Jonah Brown, Hope Bryan, Kyle Burch, Nickolas Campbell, Halie Chambers, Alexander Coburn, Tyler Cole, Damia Collis, Kaylee Coughran, Kristine Criss, Janene Dainty, Joshua Dallas, Joshua Davis, Reagan Dowden, Lexi Draper, Allie Dugger, Rachel Edwards, Brooke Eigenheer, Kelsey Elswick, Loren Falling, Gage Gerlach, Emily Giddens, Megan Giddens, Jakeb Glaus, Danielle Goodnight, William Gougler, John Griffin, Annie Haught, Nicole Hayes, Hailey Henderson, Laishen Her, Kelli Himebaugh, Christina Horn, Ryan Horn, Amanda Johndrow, June Johnson, Alyssa Johnston, Talita Kamletz, Matthew Kirk, Nicole Kowena, Irene Leandro, Pa Houa Lee, Brayden Little, Marie Louisjuste, Christopher Malon, Jenna Mandel, Danielle Marquette, Brooke Mayhugh, Lida McGee, Veronika McMonigle, Faith Melton, Jeremy Million, Steven Moran, Adam O'Connor, Rachel O'Connor, Spencer Oslin, Abigail Oxford, Suzanna Palyzayia, Tyler Peters, Lyndee Pitchlynn, Hope Pratt, Tiffany Quiring, Kristina Reed, Molly Rhames, Sydni Richett, Melodie Royall, Sarah Schaefer, Kaitlyn Schaffitzel, Nicole Schrag, Heather Slutz Coderre, Meredith Sneed, Natalie Stafford, Shannon Starkey, Philip Steeves, Adam Steidley, Ethan Stoots, Brooke Sullivan, Amanda Tully, Hailey Tyler, Sergio Valles-Palacios, Alisha Vang, Sheena Vang, Jason Walker, Trinity Warder, Madison Watson, Katlynn Wheeler, Deryn Wilfong, Rachel Williams, Paige Wilson, Madalyn Wright, Thati Xiong, Elijah Yang, Matthew Young and Remington Young.
Owasso students: Kendall Acklin, Matt Alexander, Courtney Allen, Logan Allen, Shannon Allen, Ana Alvarez, Hannah Alwert, Eli Anderson, Jessica Anderson, Jessica Arnold, Landon Ashinhurst, Michelle Averill, Sara Avery-Murray, Janeau Bailey, Brooke Baker, Chase Baker, Russell Baker, Skylar Barnes, Brendon Barnett, Kellie Barros, Katherine Baublit, Lauren Bell, Rebecca Bennett, Gregory Berkley, Alice Bernabe, Jordan Biggs, Seth Black, Stevie Bonebrake, Macie Bonham, Shannon Brasher, Holly Brassfield, Julie Brewer, Ryan Bright, Allison Brown, Cobey Brown, Joshua Brown, Shelbi Brown, Ashley Bryan, Connor Bryant, Drake Buchanan, Morgan Burcham, Ashli Buswell, Karon Cain, Brockton Calhoun, Jessie Carlisle, Charles Carnagey, Erika Carter, Luke Carter, Pamela Carter, Brendan Catlett, Eva Cevallos Jalil, Stephen Chambers, Aaron Champ, Kong Chang, Xing Chang, Ashlie Clark, Sierra Clay, Christina Connell, Gabrielle Cortes, Lauren Craig, Sharon Crawford, Anna Crimarco, Emily Crowley, Cheryl Cruz, Avery Culbertson, Gina Davis, Kaylee Davis, Carrie Davis-King, Jack Dehnhardt, Cierra Denton, Dalton Dickens, Chelse DiMarco, Sawyer Dixon, Drew Dozier, Kaeli Drury, Carson Dubose, Danielle Duncan, Darcee Duncan, Seth Eddington, Dylan Edney, Kimberly Eklund, Nicholas Elliott, Payton Esmeyer, Noah Evers, Lauren Farris, Nicholas Fields, Emma Fike, Jocelyn Forrest, Amanda Foster, Nikki Freeman, Agustin Garcia, Vanessa Garcia-Millan, Ashley Gardner, Lauren Gary, Kevin Gaylord, Kaitlyn Giles, Whitney Gilley, Elizabeth Gilmer, Kaylee Gilmore, Trent Gleason, Kennedy Goins, Mojave Gomez, Lisette Gonzalez, Paris Goodwin, Ashlee Graham, Alivia Grahlen, Gabriel Green, Reggie Greenhaw, Ashton Greer, Kindred Grinter, Darby Grissom, Shaylee Gunter, Trevor Haley, Kimberly Hamilton, Jacob Hammond, Kamyn Hammond, Leslie Hansford, Briana Harper, Nathan Harrison, Lauren Harshfield, Michael Haygood, Casey Haynie, Anna Henkaline, Lyndsey Henson, Joselin Herrera, Gavin Herrin, Tina Hess, James Higgins, Mackenzie Hill, Nicholas Hodge, Jennifer Hoffman, Hagan Holsapple, Abigail Hopkins, Cameron Houghton, Jeffrey Houston, Nataliya Houtman, Charles Hubbard, Meghen Hull, Lydia Humphrey, Ryan Humphrey, Terrell Humphrey, Alyssa Huneryager, William Hunt, Angel Jamison, Tyler Jent, Gage Johnson, Justin Johnson, Madison Johnson, Mason Johnson, Alicia Jones, Morgan Jones, Ryan Kamm, Kyle Kangas, Jorden Kasemodel, Nathan Keiner, Craig Keirsey, Tara Keith, Wade Keys, Michaela Kile, Andrew King, Leah Knight, Josiah Krispense, Matthew Lafitte, Aaron Lanier, Michael Lanphier, Madeleine Lauritsen, Cory Lawlis, Edward Lawrence, Jamie Layman, Andy Lee, Janis Lee, Paula Lenaburg, Bailey Lewis, Breck Lindsey, Ryan Livolsi, Miranda Lopez, Sea Lor, Courtney Lorett, Jayda Love, Hannah Lovell, Madison Lovell, Meghan Low, and Yolanda Lucero, Francisco Magana, Abigail Marquette, Addison Martin, Kelli Mayor, Christina McBroom-Hammons, Keith McClain, Kaylee McDaniel, Shawnda McHenry, Noah McKee, Christi McLarty, Madelyn Mcmurray, Bryanna Messer, Chloe Meydag, Kaitlyn Meyer, Nolan Miller, Zachary Miller, Keigan Moody, Natalie Moriarty, Harrison Moseby, Logan Mullins, Alexis Murray, Tabitha Neary, Heather Nitz, Carli Nundahl, Brittany Orrick, Lanae Oswald, Savannah Owczarski, Ryan Parrish, Cristal Parvin, Jacob Patrick, Kyle Patton, Erika Payne, Landon Pearce, Robyn Pelletier, Meagan Pennington, Nicholas Perkins, Jessica Pettie, Caitlynn Phillips, Alexis Pike, Rebecca Pingel, Angela Pinkstaff, Natalie Pitkin, Jordan Plumlee, Colten Poe, Drew Posey, Jennifer Prado, Bobbie Priest, Nolan Proctor, Braden Puckett, Caleb Pudden, Joni-Lynn Quezada, Tristin Ramirez, Joseph Ramirez-Trejo, Shelby Rauh, Ashley Raymond, Breana Redden, Lorraine Reed, William Reedy, Austin Reynolds, Savannah Reynolds, Riley Richmond, Paul Riddle, Michelle Roberts, Vernon Robinson, Aurora Rodriguez, Gabriel Rodriguez, Jacqueline Romero, Jenny Ruano, Jessica Ruder, Valerie Russell, Maria Saiz, Alma Saldivar, Laura Sample, Clayton Sanders, Gerad Sanders, BreAnna Sandoval, Skylar Schisler, Beth Schroeder, Grace Schroeder, Stephanie Schroeder, Logan Scoles, Debra Shaw, Emily Sheets, Chloe Shell, Nathaniel Siana, Rebecca Sommers, Caroline Sparks, Jake Spencer, Hayden Spriggs, Jared St John, Journey Staggs, Melissa Stammer, Stephanie Stanton, Skylar Stickley, Reagan Strickland, Rebecca Tacherra, Brianna Tarver, Clint Taylor, Brenna Tayman, Michael Thomas, Mackenzie Thomason, Holli Thompson, Morgan Thompson, Jack Trost, Dodger Turner, Emma Turner, Charles Unruh, Corbin Vaughan, Aubrey Vestal, Cailin Victor, Jaime Vrska, Scott Vue, Xee Vue, Clay Walker, Brandy Walton, Kelsey Ward, Katie Watson, David Welborn, Ashley Welch, Barrett Wellborn, Morgan Westerman, Melaina Whittaker, Abigail Wilbins, Kayla Wilkerson, Shilah Williams, Cassidy Wilson, Jewelle Wilson, Ocean Winfrey, Lance Woodall, Britney Woods, Rachel Worden, Tristan Wright, Mee Xiong, Pajntawd Xiong, Valorie Xiong, Xay Xiong, Lee Yang, Zong Yang, Grace Zaferes, Jaden Zaragoza, Nicholas Zeng and Deborah Zombro.
Collinsville students: Karlee Ansley, Isvara Aquino, Brittany Armitage, Bryan Armitage, Alex Austin, Amber Lynn Balbas, Vanessa Baldeon, Lauren Barricks, Chelsey Barton, Jack Bell, Emma Bellamy, Megan Bosch, Rebecca Bradley, Scot Bradley, Christopher Brimer, Amanda Brown, McKenna Brown, Kaylie Byrom, Kevin Callis, Jordan Caruthers, Joshua Carver, Bridgette Castleberry, Guadalupe Cervantes, Amber Chadwick, Kara Chambers, Rachel Chambers, Don Compston, Tamara Conner, Rebekah Coombs, Meagan Cooper, Kalleigh Cox, Kathleen Craig, Victoria Crider, Preston Crocker, Rachel Cummings, Taylor Cummings, Tanner Curtis, April Davis, Cameron Davis, Elisa Davis, Michael Davis, Kelly Dawson, Kyle Deck, Matthew Downing, Rachael Driver, Danny Eicher, Amy Fair, Jessica Fosburg, Hayden Fry, Josetta Gootee, Rosa Gorham, Kailey Graham, Joshua Granquist, Colton Griffin, Josiah Griffin, Macy Hair, Brittney Hamby, Jada Hamilton, Molly Handrick, Taylor Hardison, Jordan Hayden, Alexa Hennessee, Arianna Hernandez, Ryan Hiatt, Jordan Hillyard, Emma Hilsheimer, Mindy Himebaugh, Kevin Hrdlicka, Grant Hutchinson, Allison Jackson, Jeannine Jackson, Rachel Jacoby, Michael Joines, Charles Jones, Casey Kellogg, Tatum Kerl, Nicole Khalil, Kaylee Klinetobe, Lija Kolosha, Michael Labs, Macy Laing, Kaitlyn Lewis, Ntxawm Lo, McKenzie Loffer, Elizabeth Lor, Devyn Lyon, Sean Marcum, Caleb Mashburn, Stacy Mason, Rylie Matye, Aidry Mitchell, Russell Morris, David Moua, Kia Moua, Richard Moua, Bryson Pahukoa, Brenna Palmer, Taylor Pate, Emma Pfeffer, Joseph Pitts, Kasandra Pollard, Jillian Poplin, Joshua Porter, Elizabeth Randolph, Christifer Ray, Jamie Ray, Nolan Renfro, Megan Rice, Hannah Richardson, Brandon Richett, Debbie Richett, Austin Roberts, Johnny Roberts, Logan Robertson, Mackenzie Rowden, Camille Rutherford, Grant Shafer, Jeremy Shipman, Lynzee Simpson, Clinton Smith, Kathleen Smith, Keri Smith, Tyler Smith, Kaylee Stealer, Shelby Stickles, Ricci Strickler, Dakota Sunday, Abigail Sylvester, Scott Tairent, Brooke Teehee, Morgan Thomason, Hudson Thompson, Lisa Thor, Summer Thulin, Courtney Thune, Melissa Torbett, Quannee Tripp, Rosanna Vigueras, Cortney Vo, Dalton Walker, Emily Wallace, John Walsh, Hayden West, Connor Westerman, Sterling White, Kylie Whitlock, Connor Williams, Donovan Wilson, Tara Wood, Lalee Xiong, Sultana Xiong and Sunshine Yang.