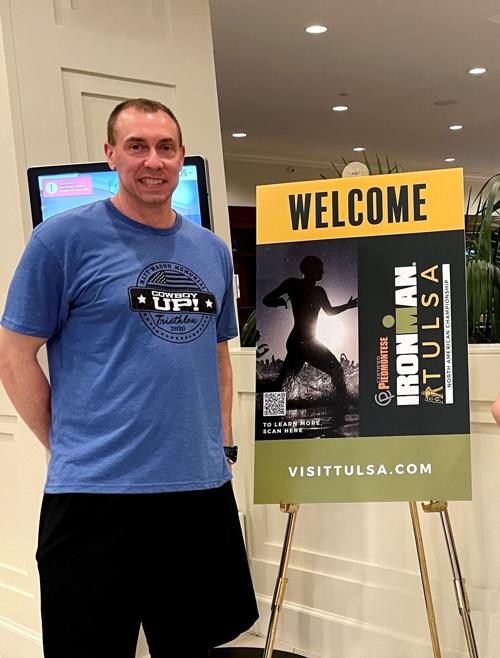 For David Bratcher, crossing the finish line of an intense 140-mile obstacle course in a day's time was a notable accomplishment.
Bratcher checked off the longtime bucket list item after participating in Tulsa's inaugural Certified Piedmontese IRONMAN triathlon on May 23.
The 45-year-old Owasso resident was among 2,000 athletes to brave the 2.4-mile swim in Keystone Lake, followed by a 112-mile bicycle ride through Osage and Tulsa counties and a 26.2-mile marathon ending in downtown Tulsa.
"It was a great experience," said Bratcher, an IT manager at BOK Financial. "You truly find out how mentally and physically tough you are."
Last month's event served as Bratcher's first IRONMAN experience, but the long hours spent indoors behind a desk hasn't hindered him from staying physically fit outside the workplace over the last several years.
"I played baseball in college, and after that stayed active with lifting, running and recreational sports," Bratcher said. "I started with doing my first 5K, then it went on to 10K, 15K, half a marathon, marathon, Warrior Dash events, then triathlons."
IRONMAN Tulsa was originally scheduled for May 31, 2020, but was postponed a year later due to the COVID-19 pandemic.
The long-overdue debut of May's competition gave contenders like Bratcher a renewed sense of hope and achievement, especially after enduring an extended period of conditioning during the unexpected hiatus.
"I had been training for 25 weeks already (before the coronavirus)," he said. "So then I continued training through the summer until November when it was time to start another 30-week program for 2021."
To say that the devoted Owasso husband and father of two was prepared for IRONMAN is an understatement. Bratcher's "why" for taking on the 140-mile journey, however, ultimately transcended his peak physical state.
Not only did he tackle the triathlon to prove to himself, along with his wife and children, that it was possible, but to honor a former close friend and fallen Navy SEAL, Matt Mason, who was killed in action while deployed to Afghanistan in 2011.
"He (Matt) is the reason I challenged myself to do my first triathlon," Bratcher said. "Matt was driven; that is evident in him reaching the pinnacle of military special operations forces. If he could go through all that he did in his training and combat career, then why couldn't I do a simple one-day race?"
Bratcher, who now regularly partakes in the annual Matt Masson Memorial Cowboy Up! Triathlon in Missouri with his 16-year-old son, held nothing back when it came time to pay tribute to Mason on Tulsa's terrain.
Of course, Bratcher's efforts were greeted with encouragement from his friends and family, who could be seen on the sidelines waving signs and cheering him on throughout the day.
"Even though I had great feelings of accomplishment, adversity, pride, happiness," he said, "nothing was greater than the love and support I, and every other participant in the race that day, experienced."
Whether it was swimming, running or cycling, Bratcher's motivation for participating in — and persevering through — IRONMAN was, indeed, ironclad.
"God has given me a gift of life, and each and every day I try to live it to the fullest," he said. "In your toughest moments when you feel like quitting, you fall back onto your 'why': your family, God and all the great and wonderful support out on the race course."