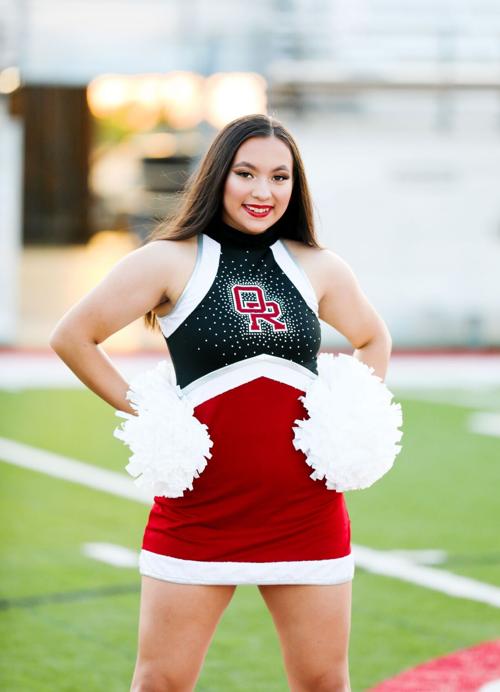 What is your favorite type of dance you do as a pom girl?
What motivates you to compete in virtual competitions?
I'm motivated because it's my last year to dance with my team. I want to make them and myself proud. I didn't want to cut our year short just because of the circumstances, especially when were given the opportunity to dance still, even if it is virtually.
What is your favorite dance from this season so far?
My favorite dance that we have performed this season would have to be either "Seven Nation Army" (kick) or "Zum's Pom."
What is your best memory during your High School pom career?
There are way too many to count, but a few are taking our crazy bus rides, enjoying team dinners and getting to surprise my littles as their big during pom camp!
What has being on pom taught you?
It has taught me how to be part of a team. I've learned to do things for others not just myself, meaning I'm not improving for just myself, but also my teammates. Each year has truly become a second family to me, and every one of them has shown never-ending love and support.
What advice would you give to someone who is just starting pom?
It will be hard, but I promise you will get through it! Everything will be new and different and maybe even a bit awkward, but that will change with time. To actually get through it and put in all of the hard work to get there is one of the most rewarding feelings.
Besides pom, what other outside interests or hobbies do you enjoy?
I bowl in a league and I do tournaments. I also go to tech and will be pursuing a career in the medical field.
What's your favorite food?
Either chicken or a cheeseburger.
What's your favorite book or movie?
My favorite movie is "Real Steel."
Do you have a nickname? If so, what is it?
I have many: Sel, Selly, Celine Dion (Becky calls me this), just to name a few.
What is a fun or surprising fact that not many people know about you?
I was born in California. It's not necessarily that not many people know; it's just that nobody asks.
What's the furthest place you have traveled?
What are your plans after graduation?
To go to college. I might do TCC for a few years, but I plan on going to OSU after.
What do you think you will remember most about this school year?
My team and how weird it was. But I will also know that I was a part of history. I've lived through a major event, and I think that is pretty cool.