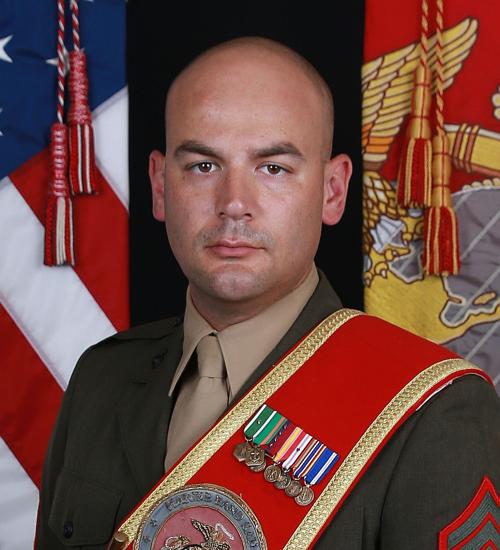 A local alumnus made a special appearance in the 2022 Rose Parade in Pasadena, California, on New Year's Day.
Marine Gunnery Sgt. Ben Hallquist, a 2007 Owasso High School graduate, led the USMC West Coast Composite Band down the 5 ½-mile stretch of Colorado Boulevard during the 133rd annual procession.
Hallquist took point for the Composite's three participating members — Marine Band San Diego, where he is currently stationed, along with 1st Marine Division Band and 3rd Marine Aircraft Wing Band — as part of the nationally televised event.
"I just happened to be stationed here at the right time to where the responsibility fell on me," Hallquist said. "It's awesome to have that exposure and share the Marine Corps essentially with the world. It was a great experience."
Hallquist, 33, picked up a pair of drumsticks at an early age growing up in Owasso, and found his musical niche behind a set of cymbals and snares. It wasn't long until a he joined the sixth-grade band and carried his passion for percussion through high school into his current role as a drum major.
His appearance on the big screen came two years after the Pride of Owasso graced the national spotlight when it performed in the popular parade for the sixth time in Jan. 2020.
Chris Barber, fine arts administrator for Owasso Public Schools, taught Hallquist throughout his middle and high school career, and was excited to see him step up to the task in front of thousands of viewers.
"It's been quite an honor to see him grow from a 12-year-old beginning band student to an all-state musician to a Marine," Barber said, "and now to leading one of the finest music ensembles in the world on one of the world's biggest stages.
"He was always a great student (a little ornery at times, but I think that is a good prerequisite for a future Marine), a solid leader and hard worker. Those of us who taught him are not surprised of any of his accomplishments."
Marching onward — with his mace firmly grasped for the road ahead — Hallquist said he's looking forward to continue serving in the military, ultimately leaving a lasting legacy as a patriotic percussionist.
"I want to serve my country to the best of my ability because my name is associated to it," Hallquist said. "That's why I've pursued the career goals that I have is because I want to increase my sphere of influence on others and continue making better Marines."