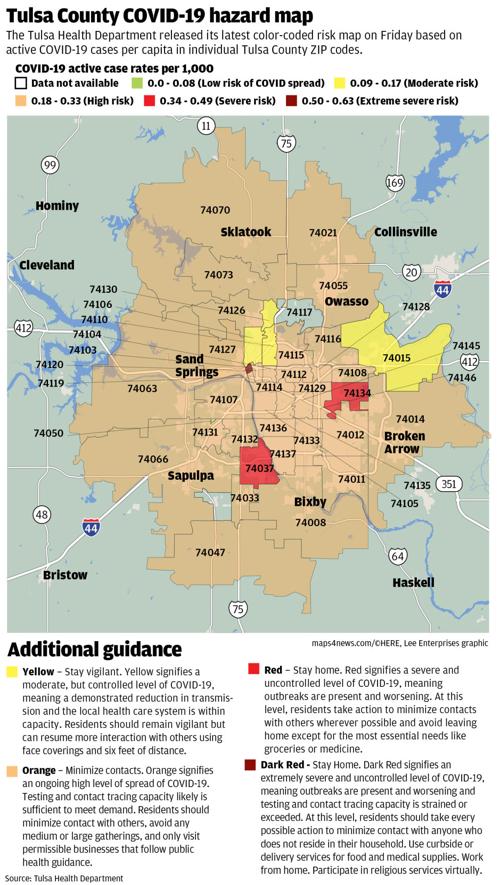 For the first time since early November, the Tulsa Health Department's COVID-19 risk map featured more orange ZIP codes than red in the latest version published Friday, Feb. 19.
There were 34 of 42 ZIP codes in orange, which represents high levels of spread. There were two ZIP codes in red for severe spread, and one in dark red for extreme severe spread. Both Owasso and Collinsville were decreased to orange.
Two were yellow for moderate, while one was green for low risk. There hasn't been a green ZIP code since mid-November.
Even with the recent deep freeze Tulsa and Oklahoma have been in perhaps affecting the number of tests performed, the map's downward trend has been sustained since mid-January.
Monica Rogers, THD's division chief of data and technology, on Monday called the trend "very encouraging" and said it's reflective of reduced transmission after the January spike likely driven by the holiday season.
"There's reason to be optimistic that this is grounded in reality because we have been seeing it decline for the last several weeks," Rogers said.
"But it's hard for the Tulsa Health Department to know how much of the lower case rates is due to a reduced testing volume because ... the Tulsa Health Department only gets positive cases reported to us, not negative. So we don't know how much — if there was one at all — a reduction in testing."
At its bleakest, the THD map on Jan. 15 had 36 of its 42 ZIP codes in dark red, with only one orange.
Rogers noted that hospital admissions are trending downward, also lending support that the drop depicted in the map is a closer reflection of reality than not.
Looking ahead through March, she said THD is optimistic the decline in transmission will continue — especially as more people become vaccinated.
"We're not expecting there to be a big spike, particularly because in the short-term there are no other upcoming holidays that tend to promote large gatherings like we had around the holidays in December," Rogers said.
The ZIP code map uses the 14-day average of active cases per 1,000 population and is based on Johns Hopkins University methodology. The interactive map is updated each Friday on THD's website and offers guidance specific to each risk level.