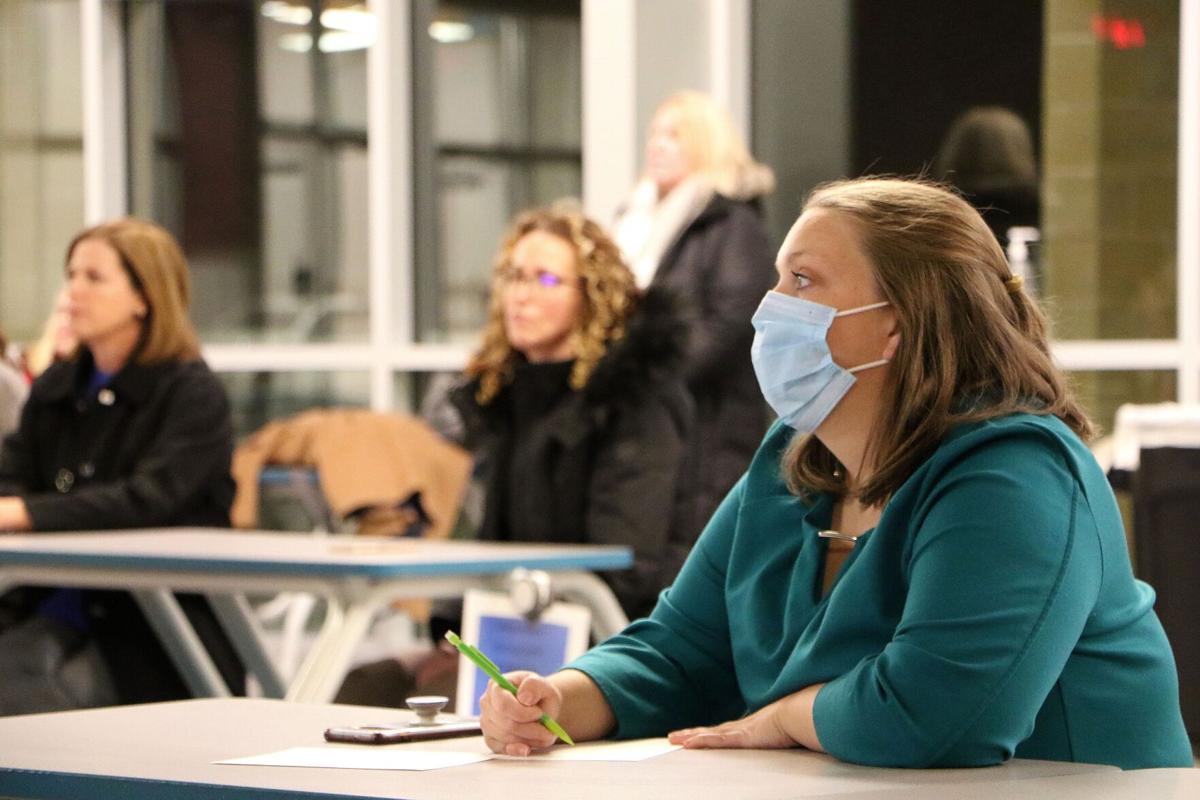 The Owasso school board is eyeing an approval in the coming weeks to send the district's next bond issue to the ballots.
Owasso Public Schools' next major funding measure — set to go before voters in the April 5 nonpartisan general election — includes two resolutions that total nearly $84 million to support several enhancements for the district over the next five years.
Dollars from bonds help schools pay for operational expenses outside of their general funds, which are used for teacher and staff salaries. The bonds also give schools more flexibility to maintain and upgrade their resources and facilities.
Voters will have the opportunity to greenlight the five-year proposal, which includes an estimated $42.8 million for district services, $18.9 million for technology, $11.8 million for instruction, $7.7 million for student activities and $3.6 million for transportation.
District administrators, including Owasso's newly appointed interim superintendent, Margaret Coates, were on hand during two public meetings, Jan. 6 and Jan. 11, to inform attendees and answer their questions ahead of the April election.
"Community feedback is vital to ensure that we have an excellent school system, and also that we're providing, really, the resources necessary for our students," Coates said. "Also, it's an opportunity for us to educate our families in our community on what a bond is."
Megan Cox, who has a seventh-grade son enrolled in Owasso, attended the district's first forum and gained some further insight into the overall process.
"I was interested to hear what issues the district has identified and what the proposal's going to include, and just wanted to learn more about the process," Cox said. "I felt tonight (Jan. 6) was really informative."
Joe Stewart also attended the same meeting "for accountability for the school district, money not being wasted," he said. "It's such a large bond proposal."
OPS's last bond issue, totaling $11.3 million, passed in Feb. 2020 and went toward uniforms and equipment for fine arts and athletics; new flooring and equipment for the Wellness Center; instructional and resource materials; new computers and software; and upgraded roofs, parking lots, HVAC units, flooring, lighting and more.
The district also passed a historic $57 million bond issue in Oct. 2017, which gave staff the nod to proceed with 13 critical developments, including the now erect Morrow Elementary, High School West Science Wing and Dale C. Johnson Education Service Center.
OPS has passed every bond issue over the last 12 years. The district's passage rate has averaged over 70% and reached its peak of 84% with the approval of its $23 million bond issue in 2015.
Collinsville voters also passed a $10.4 million school bond issue in September to allocate funds toward constructing, equipping, repairing and remodeling school buildings; acquiring school furniture, fixtures and equipment; and improving school sites overall.
CPS's previous bond issue, which passed in Feb. 2018, allocated $7.5 million toward similar projects.