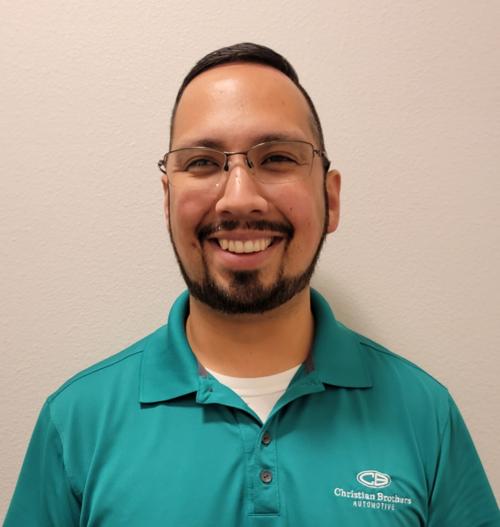 1. What do you do in your role at Christian Brothers?
I'm the service manager, so I do a lot of behind-the-scenes work, from directing workload for the technicians, tracking down hard-to-find parts and solving difficult situations for vehicle repairs, to tracking inventory for the business, keeping good relationships with vendors and interacting with customers.
2. What do you enjoy the most about your job?
I enjoy helping people, especially within our local community. I always enjoyed being a people person and a problem solver.
3. What do you do for fun outside of work?
My two big things: spending time with my family and working on cars.
4. What's a unique bucket list item you've always wanted to check off?
I always thought it would be fun to race a Formula-One race car.
5. What's your favorite TV show?
I don't get to watch much TV anymore; however, when I get some time, I usually watch a Marvel show or movie.
6. If you could travel anywhere across the globe for a vacation, where would it be?
7. Tell us about your family.
I'm married to my high school sweetheart, Kendall. We both grew up and graduated in Owasso, so we knew we wanted to stay close and start our family around here. We have two beautiful daughters, Adleigh and Alaina. They are our little soccer and basketball players. We also have a big puppy that we adopted last year named Birdie.
8. How often do you think you pick up your phone every day?
Way too many times to count, but in my defense it's over 90% business.
9. What's your biggest pet peeve?
Not giving full attention to someone you are in a conversation with.
10. What do you enjoy about the Owasso area?
My family and I moved here in 1995, so we have seen a lot of growth and change. During those times, you still feel like you are in a safe town. It's nice being able to still run into people you went to school with or usually just see at church, while at the same time having opportunities to meet so many more people and start new relationships.
11. What was the best advice you've ever received or given to someone?
Always value the time God has given you. He is the one that knows when it's your time. Cherish the time with your family and friends.
12. What's your favorite meal?
I love Mexico City Tacos from El Fogon.
13. Do you have an unusual or hidden talent?
I wouldn't say it's a talent, but I can usually get most little kids to like me pretty quickly when I'm watching the toddlers at church.
14. What are three things you couldn't live without?
Trying to think outside the box, but that's a hard one to see differently. My main things are God, family and love.
15. Why did the chicken cross the road?
Because the road was too long to walk around!