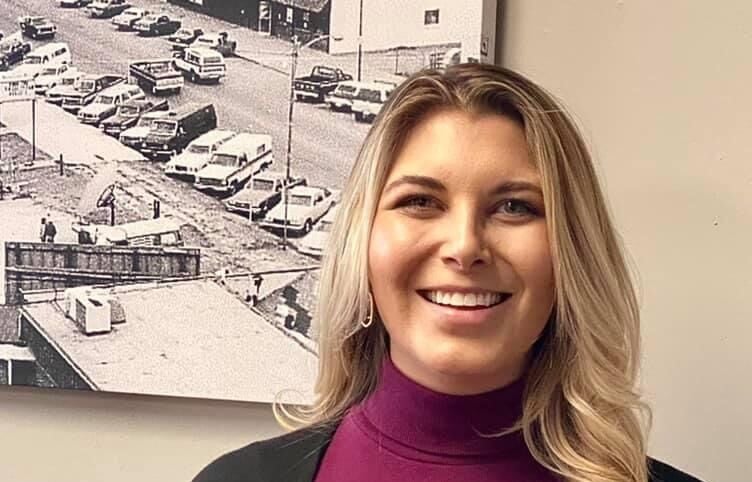 1. What do you do at the City of Collinsville?
As the new city planner, I am responsible for overseeing all current planning and long-range planning project activities. I work with the Planning Commission and City Council to process subdivision plats, hear zoning cases and address other land uses as submitted by local developers and citizens and works with the Board of Adjustment.
2. What do you enjoy the most about what you do?
I truly love working with people — specifically, large groups of people. I am looking forward to holding my first community workshop, so I may finally hear first-hand the input of the people who call Collinsville home. I love engaging with people and learning about their life in their hometown.
3. What do you do for fun outside of work?
My favorite thing to do in my free time is anything crafty. I love working in the shop behind my house. My dad dabbled in carpentry and was also quite crafty. I would spend time with him as a kid building bird houses or whatever new project he was onto in the barn. The apple doesn't fall far from the tree, because making saw dust is my favorite way to spend my free time now.
4. What's a unique bucket list item you've always wanted to check off?
To travel throughout Italy would be a dream. Honestly, visiting any European country would be an experience of a lifetime, but Italy in particular is on my bucket list for the architecture.
5. What's your favorite TV show?
The one TV show I have watched repetitively is "New Girl." I relate to the character, Jess, on a deep level.
6. If you could travel anywhere across the globe for a vacation, where would it be?
Since I claimed Italy as my bucket list item, I would also want to visit Scotland, since that is where my ancestors lived before coming to America.
7. Tell us about your family.
My mom and dad are adventurers who travel the United States coast to coast by RV. My brother, like me, is also a graduate of the College of Architecture at OU. In my own home, I have my rescue dog, Sirius. He is a very empathetic boy who follows me everywhere I go.
8. How often do you think you pick up your phone every day?
Fairly often now that I am working as the city planner. I try to keep myself as accessible to the people of Collinsville as possible, so I use my personal cellphone regularly for issues related to community.
9. What's your biggest pet peeve?
I do feel very passionate about protecting our environment, so when I see anyone deliberately doing something harmful to our planet, I get pretty annoyed.
10. What do you enjoy about the Owasso/Collinsville area?
The people here are wonderful! They're friendly, hardworking and full of life. There are certainly smaller cities throughout our state that are uniquely charming and filled with interesting people. I believe Collinsville is one of these unique places that has a great and unfinished story.
11. What was the best advice you've ever received or given to someone?
My dad would regularly share "the timeline speech" with me as I was growing up. It was very thoughtful and served as a great reminder to make the most of your life. He would draw a long line on a piece of paper and point to one end of the line and say, "Remember, this point of the line is the day you were born." He would then point to the other end of the line and say, "And this is the day your life ends." I am a very visual person, so this diagram stuck with me forever.
12. What's your favorite meal?
Beyond Burger sandwiches with my homemade vegan queso is my favorite home-cooked meal! My favorite place to eat out is The Local Bison in downtown Tulsa.
13. Do you have an unusual or hidden talent?
I cheered and danced most of life, which led to unforgettable opportunities throughout my twenties, like coaching hundreds of middle and high school cheerleaders across Oklahoma, staffing cheerleaders from all over the U.S. during their performance at the Macy's Thanksgiving Day Parade, and meeting magnificent people who invited me to walk in a few New York Fashion Week shows.
14. What are three things you couldn't live without?
The three things I couldn't live without are music, dancing and exercise.
15. How are you best handling the COVID-19 pandemic?
Meditation is an important part of my life, especially when I am experiencing stress, such as that brought on by the global pandemic. Embracing my community is also vital when I am experiencing unfamiliar conditions out of my control. Turning to loved ones for support has been incredibly helpful.