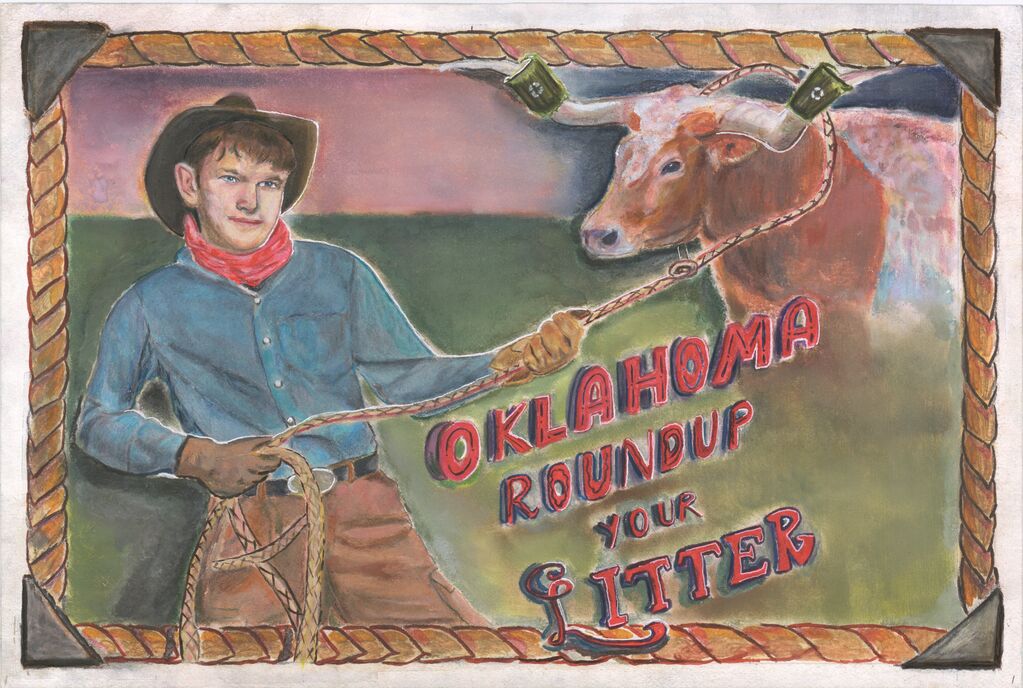 Fourteen Oklahoma students have the opportunity to promote anti-litter messaging in the state's 2022 Trash Poster Contest calendar.
The annual contest, sponsored by the Oklahoma Department of Transportation and its partners, highlights the original work of kindergarten through 12th-grade students about the consequences and negative impacts of littering.
This year, 14 students — including a senior from Collinsville — were named winners of the program for their talents in conveying ODOT's environmentally friendly message through the use of art, catchphrases and puns.
"We continue to be amazed by the quality of art we receive from our state's gifted students and their passion for a healthy, cleaner environment," said Melody Johnson, ODOT beautification coordinator. "Their work continues to inspire us in our mission to end littering across Oklahoma. Thank you to all the students for their submissions and to their wonderful teachers for including this important public messaging in their classrooms."
Brock Bailey, a 12th-grade homeschooler from Collinsville, submitted his self-portrait, titled "OKLAHOMA ROUNDUP YOUR LITTER," and won the category of 2021 TPC Promotional Poster of the Year.
Bailey was the only student from Tulsa County to be named a winner of the contest, which garners several thousand entries from students across the state every year.
The Collinsville native, along with the other winners, will receive a monetary award, T-shirt and face mask with their design, a poster board and laminated copy of their poster and a state legislative citation of congratulations.
Likewise, the teachers of the winning students (Brock's father, Jeff Bailey) will receive a monetary award for classroom supplies, and a two-day stay voucher to an Oklahoma state park courtesy of the Oklahoma Department of Tourism and Recreation.
In addition to nabbing top honors in ODOT's contest, Bailey was among 12 students who placed in the Oklahoma Aeronautics Commission's 2020 International Aviation & Aerospace Art Contest last February. He finished first in the Senior Division for his work depicting an aviator from the early years of flight set in front of a sky with three different aircraft.
ODOT will provide its 2022 Trash Poster calendar for free, expected to be distributed to state agencies, businesses and schools statewide in December. Bailey's Promotional Poster of the Year will be printed in large format for the public to use in displays to spread the word that litter is harmful to our state and needs to immediately end.
Owasso High School sophomore Mackenzie Adams was also named a state winner of ODOT's Trash Poster Contest in 2018.
ODOT spends nearly $6 million in taxpayer dollars annually to combat litter along state highways and interstates, while the Oklahoma Turnpike Authority spends $1.5 million annually to clean along toll roads. Those totals do not include the hundreds of volunteer hours spent fighting litter across the state through events like ODOT's annual TRASH-OFF and the national Great American Cleanup, sponsored by Keep Oklahoma Beautiful.
Owasso Reporter Editor Art Haddaway contributed to this story.