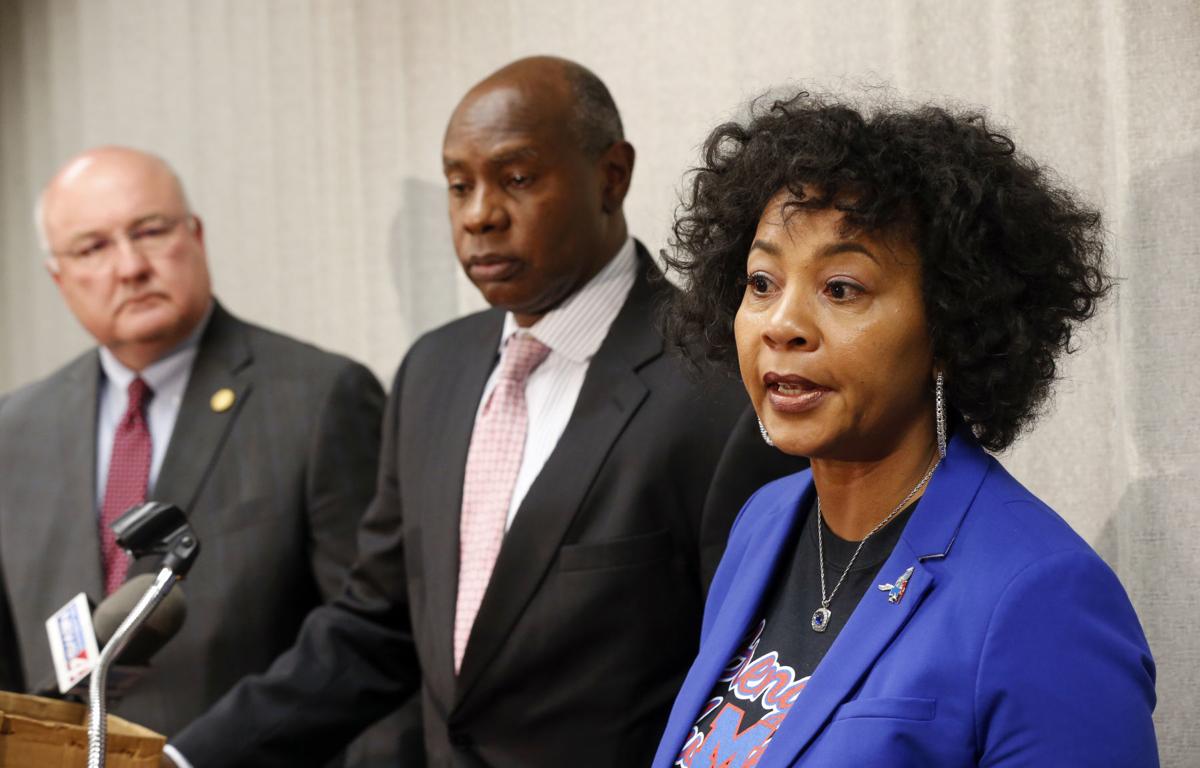 Things can return to normal for high school sports in Oklahoma. 
The Oklahoma Secondary School Activities Association board of directors rejected the organization's proposed plan with guidelines for COVID-19 during a special board meeting Friday. The motion to approve the plan failed, 7-6.
With the failed motion, which would have set guidelines starting June 1 until at least the next meeting June 9, high school sports summer activities will follow its normal rules when returning. This means camps and clinics are allowed. 
OSSAA Executive Director David Jackson said after the meeting that districts can start summer activities immediately if wanted, rather than the June 1 start date that was suggested in the proposed plan. 
The proposed plan, which a revised version of was sent out about an hour before the meeting, would have put in place precautions for COVID-19 for all schools when they returned to offseason activities June 1.
"It seems like it's something that we have worked on for the last two weeks, and that's the only thing we've worked on," Jackson said at the start of the meeting. "We haven't done anything else but gathering information from different medical experts, other government agencies, national governing bodies of sports. We've tried to gather as much information to develop a summer plan that, again, would allow some interaction, but at the same time, help us to stay safe."
Phase 1 of the plan would have been in place June 1-28 and was the biggest argument of the meeting among board of director members. The phase would not have allowed any team practices, only one-on-one instruction. Strength and conditioning would have also been allowed.
Other requirements from Phase 1 included everyone getting their temperature checked, hands washed or sanitized before touching equipment, and equipment, including weights, balls and bats, would have to be disinfected between each user.
Members of the board suggested shortening Phase 1, or skipping it and starting with Phase 2 on June 1. Phase 2 still would not have allowed camps, clinics and leagues. Football practice would have been non-contact. Intrasquad scrimmages would have been permitted.
Overall, the plan included three phases, with Phase 3 scheduled to start Aug. 1. That phase would have continued practice for cheer, cross country, fall baseball, fastpitch softball, volleyball and other nonathletic activities, such as band. 
"We want our kids and our coaches, especially, to have some time together, as they've been shut down for a long time," Jackson said before the plan was rejected. "But probably even more important than that is we want to do everything that we can to keep our kids and our coaches safe so that we can have fall activities.
"We don't, as a staff, and I know you don't want as a board, want to have to tell any more kids that you can't have your season, that you can't have your state tournament. We hope we never have to do that again. So that was kind of our guide as we've worked through this."
Friday's ruling leaves more decisions up to school districts, from when to return, to any extra precautions they may want to take.  
"It's unfortunate that our governing body couldn't come to an agreement," Wagoner football coach Dale Condict said. "OSSAA member schools need consistent guidance through this difficult time, and it looks like we may not get that. It makes a difficult decision even harder to navigate." 
Local school districts had to immediately start creating plans after the OSSAA board of director's vote. Those plans will likely start being announced in the next few days.
"We are in the process of working with local health experts and district leaders to design a district plan that will be highly responsible and meet the needs of our student-athletes," Bixby football coach Loren Montgomery said. "Our coaches are excited to begin working with our student-athletes." 
Tulsa Public Schools Executive Director of Athletics Gil Cloud did not respond to the Tulsa World's request for comment. 
---
Oklahoma's best: This year's top-10 high school football recruits
Dekota Gregory
918-581-8355
Twitter: @dekotagregory
Be the first to know
Get local news delivered to your inbox!