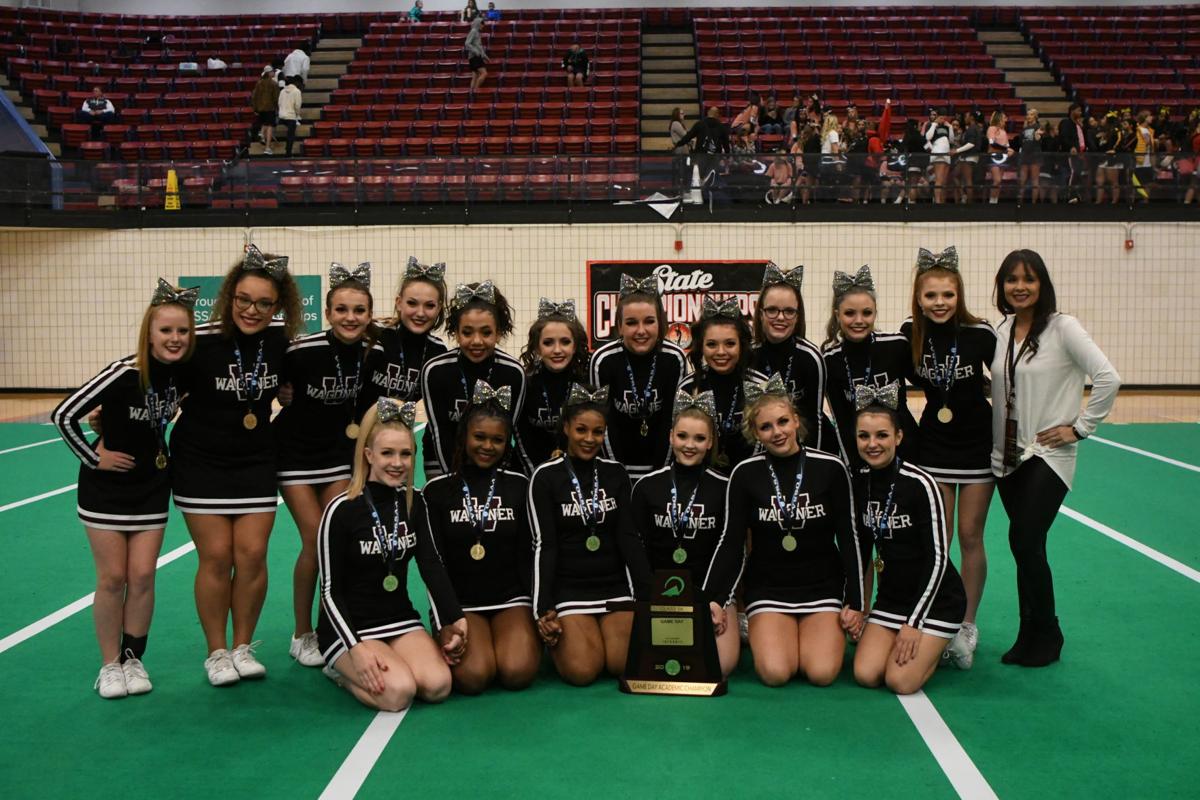 On any given night of the week for nine months a year, Wagoner High School varsity cheerleaders can be found in sports venues cheering on the Bulldogs.
Yet beyond their evident school spirit and contagious enthusiasm is a desire to excel in the classroom. That's exactly what the cheer team has been recognized for as the 5A Academic State Champion Cheer Team for 2019.
Seventeen young women comprising the team have a cumulative grade point average of 3.82 on a 4.0 scale. In fact, many individually have a perfect 4.0 GPA.
The award was presented during the Game Day State Championships held Saturday, Nov. 2 at Moore High School. Proudly accepting the trophy were Emily Morris, Taizja Tottress, Chloe Scott, Rachael Johnson, Kyara Swanson, Caylee Gilreath, Whitney Smith, Britley Butler, Whitnie Owens, Caitlyn Henson, Brekka Watkins, Trinity Kelly, Gracie Rowe, Nicole Ross, Natalie Grant, Reagan Peet and Kammi Chandler.
"Being a State champion in academics has been one of our goals since I took over the varsity team in April of 2018," Coach Jeannette Lockwood said. "This time in high school is such a small blip in life. This is confirmation that they are able to carry good grades, be active and involved in so many things and be successful at it. It's not easy, not in this world."
Lockwood said her athletes are very self-disciplined. Any time they go to an activity that requires them to leave school, they are quick to grab their homework and study materials to take with them. Accountability and responsibility are on them.
"This means more to me than anything because it's based 100 percent off of what they are doing. There is no coaching (with academics), it's all on them," the cheer coach said.
Judging for the award was based on the girls' grades the previous semester, or the winter/spring of 2019.
"Second semester is our busiest time of the year with going to wrestling meets and basketball games. We were gone a lot," Lockwood noted. "It speaks volumes of what amazing athletes they are and well rounded children."
"This is the first cheerleading squad from Wagoner to academically receive this honor," she continued with pride. "This is also our first time to compete in a long time."
At Game Day, Wagoner Cheer competed in the Fight Song (157 points), Crowd Leading (219 points)and Band Dance (132 points) categories. Among 18 teams competing in the preliminary round, the girls finished in 8th place — just two away from advancing to the finals.
"It was absolutely amazing for their first experience! Other teams were telling us we should have been in the finals," Lockwood noted. "We were two spots away from making it to the finals, but this is a starting point for this program. It's been eight years since the last WHS cheer squad has competed, so we grow from here."
Lockwood applauded the overwhelming support Wagoner fans provided for the cheerleaders from the stands, calling them the "loudest 5A fans in the stands." She said their support was not only amazing but impactful.
"I am humbled, honored and blessed to coach these athletes and have the support of their amazing parents and families. Our cheer village is awesome!" the coach exclaimed. "Watch out 5A, we will be back and ready to earn a State championship. But for now, we will enjoy being 5A Game Day Academic State Champions."
Be the first to know
Get local news delivered to your inbox!