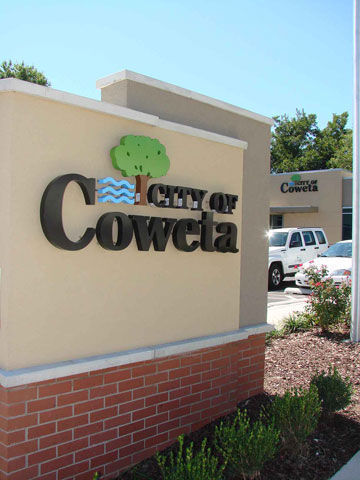 The City of Coweta has issued a shelter in place order for community residents effective from Tuesday, April 7 at 11:59 p.m. until Thursday, April 30 at 11:59 a.m. unless rescinded earlier or extended. The board action came Monday during a teleconference meeting of the Coweta City Council.
City Manager Roger Kolman said people must remain in their homes and only go out for essential health and welfare purposes or for going to and from work in an essential business. Other than that, he said to "stay home".
"The president, CDC and governor's office have come out and said the next two weeks are going to be the worst for us," Kolman said. "It's best to have people stay home to avoid infecting or re-infecting other people.
"It's hard to ask people to stay home and avoid commerce, but this is the only way we can control the spread of this thing. If it's an essential thing, go and get it. But don't take risks you do not need to take. We need to take this seriously and work together to save lives."
Kolman said there will be no curfew attached with this order; however, police will be on the lookout for people who are congregating at parks and other locations as doing so is prohibited. He added police can issue citations to residents who break the order.
The city manager urges Cowetians to practice good social distancing, wear facial masks in accordance to CDC guidelines, wash their hands and do not touch their faces.
"People need to start doing these things right now!" he stressed.
Kolman said Coweta emergency responders have all masked up for their daily operations. Their supply of personal protection equipment has been bolstered by supplies from Wagoner County Emergency Management.
Employees at city hall are working behind glass and using gloves when they take money.
"We are not closing city hall at this time, but if the governor orders it, we will," Kolman said. "We do prefer people to pay their bills over the telephone, on the city website or through the drop box, but if they need to come in person, we are available."
The following verbiage comes directly from the resolution declaring a State of Civil Emergency:
Section 5: All in-person gatherings of more than ten (10) people for social, spiritual and recreational purposes, including but not limited to community, civic, public, leisure, faith-based, or sporting events, concerts, festivals, conventions, fundraisers, and similar activities are prohibited until the expiration of this civil emergency.
Section 6. All businesses identified as being within a Critical Infrastructure Sector by the U.S. Department of Homeland Security and businesses identified as being Essential by the Oklahoma Department of Commerce through the use of the North American Industry Classification System (NAICS) are strongly encouraged to remain open to provide necessary services to citizens during the term of this civil emergency.
These Critical Infrastructure Sector and Essential businesses are to follow the latest guidance of the CDC, the Oklahoma State Department of Health and Governor Stitt's Executive Orders pertaining to this civil emergency to help maintain the health and safety of the public while utilizing these services.
Section 7. Commercial establishments, service providers and other public gathering places not identified as Critical Infrastructure Sector facilities by the U.S. Department of Homeland Security or identified as being Essential by the Oklahoma Department of Commerce through the uses of the North American Industry Classification System (NAICS) are Ordered to close to the public.
Section 8. Itinerant Vendors, as defined in Part 9 of the Coweta City Code, whether possessing a valid permit issued by the City of Coweta, Oklahoma or not, are specifically Ordered to cease and desist all activities that entail the passage or traversing upon residential or commercial properties in the City of Coweta, Oklahoma without the specific invitation of the person in charge of said property.
Section 9. Effective at 11:59 p.m. on April 7, 2020 all citizens living in the City of Coweta, Oklahoma or within a five (5) mile radius of the City of Coweta, Oklahoma, are ordered to shelter at their place of residence until 11:59 p.m. on April 30, 2020. For the purposes of this Order, residences include a single-family home, an apartment unit, a condominium unit, a hotel room, shared rentals, and similar facilities and accommodations.
All persons may leave their residences only for Essential Activities as defined herein and for duties related to service at a Critical Infrastructure Sector facility or Essential business:
1) For purposes of this Order, individuals may leave their residence only to perform any of the following "Essential Activities":
a) To engage in activities, perform tasks, or obtain supplies essential to the health, safety, or welfare of the individual, their family, others residing in the residence, or pets.
b) To engage in outdoor activities for exercise, provided that individuals not residing together maintain social distancing guidelines while doing so.
Concerned about COVID-19?
Sign up now to get the most recent coronavirus headlines and other important local and national news sent to your email inbox daily.