Dear Students, Parents, Guardians, and Staff:
Thank you in advance for your support, understanding, and patience as we enter this difficult and unprecedented school year. This version of the Sperry Return to Learn Plan was finalized after receiving updated guidance from the State Board of Education on July 23. The purpose of this plan is to facilitate the safe opening of school by outlining actions to help mitigate the spread of COVID-19.
Our goal is to create and maintain the safest environment possible for students and staff; however, to say there will not be risks associated with returning to school would not be accurate. For example, there is no practical way to maintain social distancing 100 percent of the time in many school settings such as hallways, restrooms, buses, and classrooms. However, we are going to do what we can to implement social distancing and/or require the use of face coverings, and reduce activities where social distancing is not possible.
Consequently, the initial level of operation for resuming school identified in this plan is Yellow; however, the level of operation may soon change as more discouraging data trends become available. In fact, considering the recent and continuing record high number of COVID-19 cases in Tulsa County, students, parents, and teachers should prepare to resume school in Level Orange 2 or Level Red. Accordingly, the district may 1) move to a mixed/cohort format of instruction where half of the students are assigned to virtual/distance learning while the other half continues on-campus instruction for two days a week with all students receiving virtual/distance learning on Wednesdays, or 2) suspend all in-person activities and move all students to virtual/distance learning. Believe me, we share the concerns and frustrations regarding the unknowns caused by this pandemic, and we realize there are many levels of justified anxiety, worry, and concern about returning to school. Our goal is to be a stabilizing influence for our students and to provide them with a quality education in the safest manner possible.
Thank you in advance for helping us provide a safe, quality education for all of our students.
Superintendent of Schools
Using the Oklahoma State Department of Education's Return to Learn Oklahoma framework as a guide, the Sperry Return to Learn Committee developed a community-wide survey and collected data to determine the needs and preferences of stakeholders concerning the coming school year. In preparation for the uncertainty of COVID-19's potential effect on the 2020-2021 school year, the team reviewed and considered a range of possible instructional avenues.
On July 23, the State Board of Education adopted a set of recommendations for school attendance and mask use during the pandemic. Using the Oklahoma State Department of Health's color coding system and the SDE recommendations, Sperry will implement the following mitigation recommendations: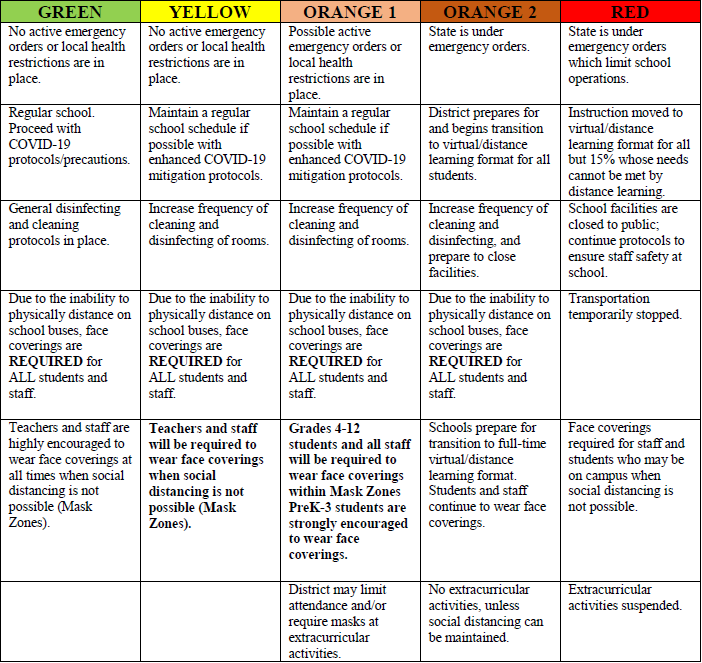 Sperry Public Schools will abide by these guidelines and has incorporated them into the district and site plans.
The district has established five levels of operation. Level Green is the traditional concept of "normal" school instruction without any of the COVID-19 requirements in place. It is unlikely that the district will move to the green level until the pandemic is officially declared over and the Oklahoma State Department of Health returns activities to normal.
Level Yellow is the starting point for instruction at Sperry while the pandemic continues. With a range of safety protocols in place, Level Yellow is as close to opening the year as "normal" as can be reasonably accomplished. Included in this level are options for instructional delivery that students and parents will choose prior to the start of the school year and may change once per semester at the nine-week interval.
In Level Orange 1, the district will continue instruction with face coverings being required for staff and visitors and students in grades 4-12 when social distancing is not possible. Face coverings are strongly recommended for students in PreK-3 grades. In addition, the district may limit attendance at extracurricular activities, require the use of masks, and/or cancel or postpone activities as necessary. During this time, district administration, teachers, and technology personnel will be preparing for a transition to all virtual/distance learning. If the number of COVID-19 cases continues to rise, the district may move to Level Orange 2 to prepare for ending instruction on campus for most students and further limiting extracurricular activities.
The final level of instruction is Level Red, where all instruction is provided in a virtual/distance format with the exception of permitting 15% of the students to receive instruction on campus during this level, which will be restricted to students with IEPs for whom virtual/distance learning is not a feasible option.
The State Department of Health will update its county designations map each week, so the district will be prepared to move from one level of operation to another as required.
Therefore, in preparation for the possibility of advancing to Orange 2 or even Red, the district plans to practice "Virtual/Distance Learning Days" while in the traditional setting. On the practice Virtual/Distance Learning Days, students will work from school either via computer or using learning activity packets provided by classroom teachers. These practice Virtual/Distance Learning Days will provide teachers valuable information to improve their virtual/distance instructional skills should all instruction have to be provided in that manner at some point in the school year.
In almost all grades and most subjects, some aspect of online learning will be taking place. With 1:1 Chromebook technology, students can utilize a wide range of online programs and documents to enhance their classroom learning experience. The district has used Success Maker, IXL, Star Reading, Star Math, Google Docs, Google Forms, and other programs as online resources to enhance student learning activities in the classroom. This year, the district is adding the online learning management system Canvas to more effectively support online learning.
We have included the full document and detailed explanations of all levels online at skiatookjournal.com.