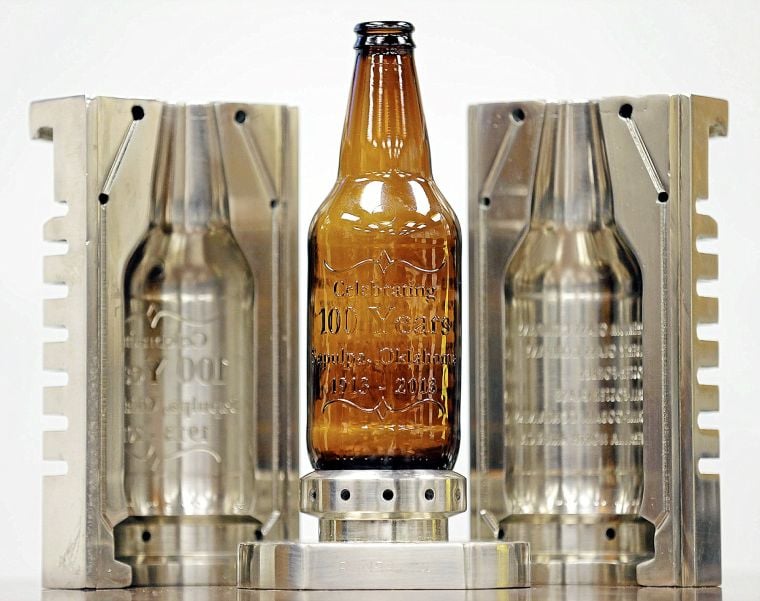 Correction: A Tuesday Tulsa World Business photo caption misspelled the name of Verallia North America, a company that owns a glass plant in Sapulpa. This story has been corrected.
---
SAPULPA —- Beer drinkers who prefer their brew from a bottle could likely sip from a container manufactured in Sapulpa.
The Sapulpa glass plant — now Verallia North America — began its second century of operation last year as a major producer of beer bottles.
"The primary markets we serve are Anheuser-Busch, Boulevard Brewing of Kansas City, Lagunitis Brewing of California and then mainly the soda markets," plant manager Steve Cedoz said.
"We are about 85 percent beer bottles."
Verallia has gone through several name changes and endured ups and downs over the past century. It employs 220 people. The 740,000-square-foot plant produces 2.3 million to 3.3 million glass bottles per day, company officials said.
The average American is consuming more beer, according to industry statistics. However, apparently those who imbibe the standard brands are leaning slightly more toward cans.
That reduction in demand for glass containers impacts the Sapulpa plant and others like it. In September, Verallia shut down one of its furnaces, which resulted in a reduction of more than 100 employees from the 350 working then, according to reports.
"The demand for beer in glass bottles is reduced. There are a lot of theories out there, but all we know is the market is down for beer in bottles — and the exact reason for it is not known," Cedoz said.
The plant is ready to adapt into other bottling opportunities if needed, he said. The challenge is finding the market.
"It's always a possibility we will find another customer for our glass, but we have other manufacturing facilities that produce food containers — jellies, pickles, etc. We're looking at that, but there is not a high enough demand through even the food or wine markets," Cedoz said.
The Sapulpa plant is one of 13 owned by Muncie, Ind.-based Verallia, itself a subsidiary of French food-packaging and bottling giant Saint-Gobain. The French company bought control of Verallia forerunner Ball Foster Glass in 1995.
The Sapulpa plant's original owner was Premium Glass Co. Construction began in 1912 with glass production commencing four months later.
The plant made lamp chimneys, lantern globes, jelly glasses, tumblers and goblets.
In 1918 — when it became Liberty Glass — it made milk and beverage bottles and a patented glass mailbox during World War II, glass knobs for cabinet doors and drawers, and home doorknobs still in use in the Tulsa area.
The Sapulpa plant began focusing on the soft-drink market in 1980, says the company website. Its primary products were 16-ounce bottles for Lipton Tea and Snapple.
The Liberty Glass Co. plant was later acquired by Foster-Forbes of Marion, Ind., becoming its ninth plant.
In 1995, Saint-Gobain obtained a foothold in the U.S. with a 58 percent stake in Ball Foster Glass, a company created from the merger of the glass packaging divisions of Ball Glass Corp, Foster Forbes and Pechiney International — a joint venture competing in the beer and beverage markets. In 1996, Saint-Gobain bought Ball's interest in the joint venture, making Ball-Foster a wholly owned subsidiary of Saint-Gobain.
In 2000, it was renamed Saint-Gobain Containers LLC, and in 2001 the name was changed to Saint-Gobain Containers Inc. In 2010, the brand name was changed to Verallia North America, which continues as a leader in the U.S. glass manufacturing industry.
Saint-Gobain dates back to 1665 when the French king Louis XIV established the Royal Glass Works in Paris to challenge Venice's supremacy in Europe's glassmaking industry. Today 10 percent of its holdings are in the U.S., and in 2013 it recorded $58.8 billion in sales, employing 193,000 people in 64 countries.
---
Verallia North America
Address: 1000 N. Mission St., Sapulpa
---
Phil Mulkins 918-699-8888