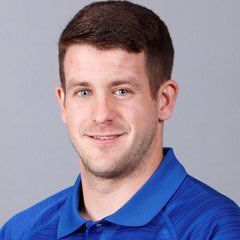 When Paul Cherry Jr. graduated from college, the Kansas native was searching for a landing spot to begin his football coaching career.
Cherry volunteered at a University of Tulsa camp during the summer of 2014, a program led by then head coach Bill Blankenship. That leap of faith enabled him to land a four-year stint with the Golden Hurricane program.
"I was cold calling places and got in touch with a recruiting director at TU," Cherry recalled. "They are always looking for people to work camps. I came down here with a couple of bags of clothes and slept on a friend's couch for a couple of months."
Six years later, Cherry has once again joined Blankenship's staff, this time as an assistant coach for the Rams. Cherry was recently hired to fill the final of five vacancies on the Owasso varsity defensive staff.
"I always had an appreciation for how Coach B and the way he operates," said the 28-year-old Cherry. "I always thought if I got the opportunity to work with Coach B again, it was a no-brainer."
Cherry did not play football in high school or college but served as an equipment manager for the University of Kansas program. His time with the Jayhawks sparked an interest in coaching.
During his first stint at TU, he worked as a graduate assistant and defensive analyst. Cherry learned under longtime defensive coordinators Brent Guy and Bill Young and eventual coordinator Joseph Gillespie.
"I learned to do a lot of things to make myself as valuable as I can," Cherry said.
Cherry was at Tulsa from 2014-18. During that time he also worked with current Owasso defensive coordinator Antonio Graham.
"Coach Graham was one of the guys who took me under his wing," Cherry said. "That was huge. I've always been grateful for him."
In 2018, Cherry took his first high school job as the defensive line coach at Bixby. Following one season, he returned to TU work in quality control with recruiting and special teams.
Cherry, Blankenship and Graham had remained in contact over the past few years and when a spot opened up on the Owasso staff, Cherry jumped at the opportunity.
"I really enjoyed being around the kids (at the high school level) a lot more and being involved more in the coaching aspect," he said.
Cherry will stay on the defensive side of the ball as a linebackers coach along with Graham.
Blankenship said Cherry's football background made him the right fit.
"He's a little bit of a MacGyver," Blankenship said. "He's done a little bit of everything. He's just the right kind of guy. He is absolutely a great coach but he also brings the knowledge base to the table."