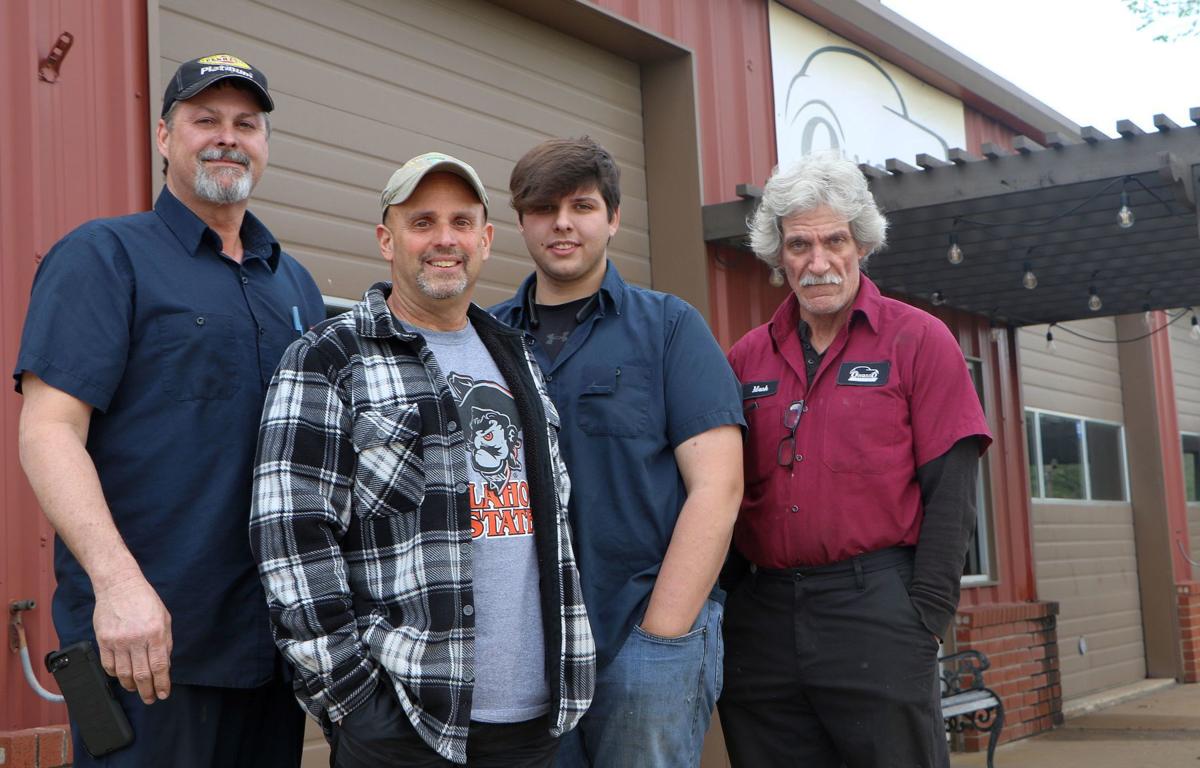 Tim Miller was to the point where he was going to have to make some tough choices. That's when an unexpected lifeline helped the Owasso resident save the business he has worked tirelessly to build up over the past eight years.
"I just feel it's so fortunate," Miller said. "… It just feels like a God thing."
The owner of Owasso Auto Care had seen a drastic downturn in business due to the crippling effect of the coronavirus outbreak, so much so that he and his wife had to dip into savings just make payroll for the past month.
"Because so many people have lost their jobs and things were so uncertain, it killed our business here," Miller said. "We were down 98% since the first of March. And we'd hardly done any business in April … Money was flying out of here faster than they could see it."
Miller, who has owned the business since 2012, believed he only had two options: either temporarily close the shop or seek out a short-term loan from the bank to keep the business afloat. While both choices were on the table, neither was ideal.
"Staying open was essential," Miller said. "If we would have shutdown, people will go somewhere else where they're open and you probably lose them as a customer. It would have been near impossible to reopen.
"Or I could possibly go to my bank and I would need a loan to carry me through. And that just adds another expense. In small business, overhead is a killer. If you have to pay it back, it almost creates more problems."
Looking for another possible solution, Miller did some research online in mid-March and came across a prospective bill in Congress, the U.S. Small Business Administration Paycheck Protection Program loan. Essentially, the PPP would be a federal loan offered to small businesses that would enable them to continue to make payroll and Miller to keep his garage open.
Under what is now known as the CARES Act, not only could businesses continue to pay their employees, but, as long as the terms of the loan are fulfilled over an eight-week period, the PPP loan is forgiven.
On March 27, President Trump signed the bill into law, a piece of legislation that contained $376 billion in relief for American workers and small businesses.
Miller wasted no time in trying to take advantage of the law so he visited First Bank of Owasso. Once he had submitted all of the necessary paperwork on April 2, Miller found out by noon the following day he had been approved for the program. As Owasso Auto Care opened up the ensuing Monday morning, Miller had the necessary funds to keep his business running.
"The stress relief was unbelievable," Miller said. "The bills were still coming in. The mortgage, the insurance and that was just on my business. It really was a blessing … It was incredible. It really was. I have to say it was an absolute blessing."
Owasso Auto Care is believed to be one of the first businesses in Oklahoma to take advantage of the CARES Act. Miller said he has been contacted by national news outlets like CNN and the Washington Post to share his story.
Another well-known entity in Washington weighed in on Owasso Auto Care as well.
"Through the CARES Act, the Small Business Administration secured nearly $350 billion to help small businesses, including Owasso Auto Care, during this unprecedented health crisis," White House Director of Media Affairs Meghan Burris said in a news release. "The SBA and the Treasury Department are working diligently around the clock to ensure America's small business owners like Tim have access to these funds as quickly as possible."
While Miller and his business have drawn acclaim at the federal level, Miller credited the work of First Bank of Owasso for helping him get approved for the PPP loan and getting his business back on stable ground.
"First Bank of Owasso was really instrumental in getting that money to me so quickly," Miller said.
Senior Vice President and Chief Lending Officer Dennis Phillips said since the coronavirus relief bill was rolled out on April 3, First Bank of Owasso has seen the program help hundreds of current and potential clients.
"We have viewed this as a lifeline for so many of our clients," Phillips said. "It has been so critical in helping them with meeting payroll and to keep the doors open. We've done more (loans) in a week than we do in the better part of the year. But those are the neat stories. Our staff has been great about being willing to do whatever it has taken to help people."
Be the first to know
Get local news delivered to your inbox!