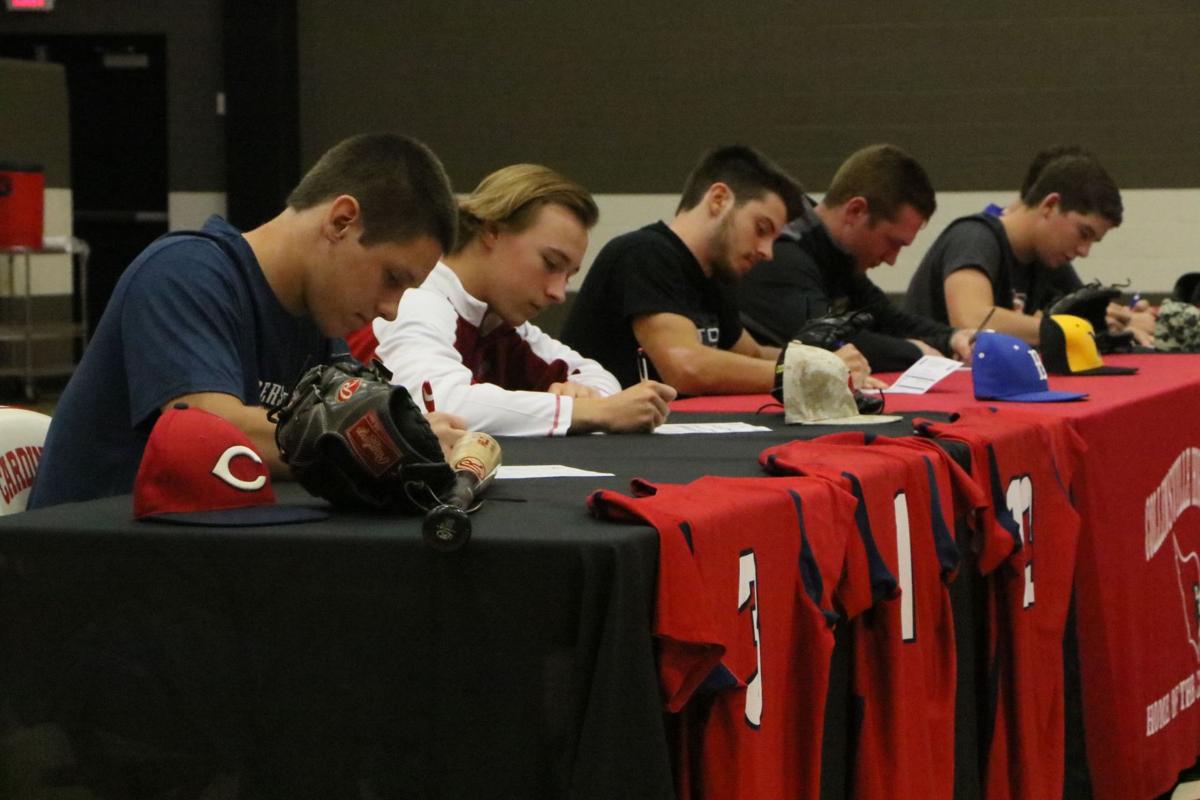 COLLINSVILLE — Picture it as a trailer for a sports film set to release in Spring of 2017.
Six ballplayers take their seats along a row of tables, arranged in a line at midcourt of the high school gymnasium.
The tables are adorned in a long, red sheet with the words Collinsville High School front and center. Each player adjusts the college cap and high school jersey on display in front of him, scans the room for friends and teammates, and holds a subtle smile while cameras flash away.
Six baseball players bound for college programs.
"We've played together since we've been in little league," Blake Burd said. "We have a special bond a lot of teams don't have."
Burd, one of the six senior baseball players to sign a national letter of intent Thursday, said the team is already knee deep in preparation for the spring season.
"I come up here everyday, hitting with Coach Reeder," he said. "Mark Roberts, my summer ball coach, he's been helping me, too. We have a great coaching staff at Collinsville, seems like we have 10 coaches to keep us improving, they catch the mistakes."
The coaches were present Thursday, too, standing behind the seated players and posing for photos that will fill scrapbooks, find a home on refrigerators or maybe get tacked onto a locker.
Dylan Russell, Zach Bess, Brett Erickson, Blake Burd, Brannon Jordan, Cale Crutchfield.
These six seniors will likely be joined by a few others who could sign letters of intent in the coming days. By February, Collinsville could end up with an entire starting lineup of ballplayers who have already been selected by colleges for the next school year.
And they're not the only ones at CHS being rewarded with scholarships for their athletic achievements.
Since the early signing period began a week ago, seven others have signed inside Collinsville's cafeteria — six softball players and a tennis player. Thursday is by no means the end of the cookie cake and signing ceremonies.
"I'm willing to wager that this senior class has won more contests, more games, more championships than any group in a four-year period in the history of the high school," Athletic Director Jim Riley said. "I may be stepping out there, but I don't think so."
Cut to the closing scene, where mothers are fixing their sons' hair and telling them to lift their ball cap for the picture: The gym was full of family Thursday, and Riley said he's thankful for it.
"No wonder we have so many kids that college want to come talk to," Riley said. "These kids are winners — they've got good mammas and daddies, and it shows. They're good kids and we don't have a lot of problems here in Collinsville. Athletics is the lifeblood of this community, and I feel blessed."
Zach Bess, middle infield
Labette Community College
Brett Erickson, middle infield
Cowley County Community College
Northeastern Oklahoma A&M College
Follow me on Twitter @CFavalora