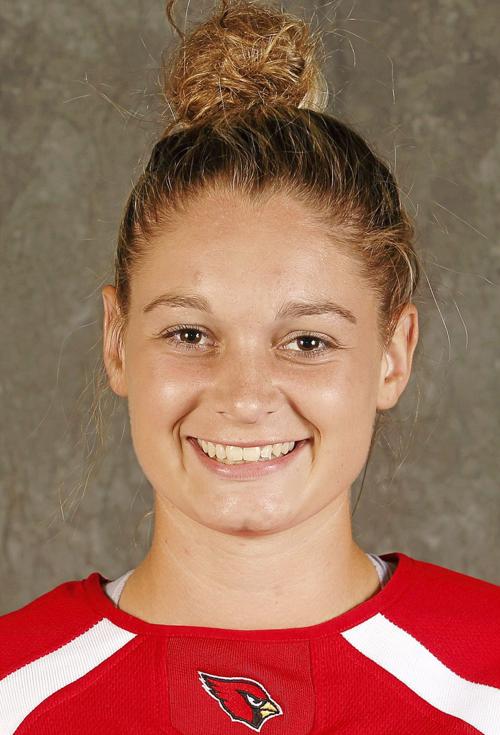 On an experienced Collinsville team, one that made four state championship trips, Makayla Bowman stood out.
Her businesslike approach to batting and reserved demeanor at shortstop looked different.
"I get told I play like a baseball player all the time," Bowman said. "I definitely grew up surrounded by coaches."
Bowman's swing differs from the typical softball swing. It's not brief, she doesn't slap her far shoulder blade with the barrel, she's never caught running out of the box, and she doesn't hit many ground balls.
It's a powerful swing. Prone to pop-ups, sure, but a pretty swing nonetheless.
"I grew up around the slow-pitch fields with my parents, so I was always at the fields," Bowman said. "It just kind of came natural, I guess."
Like her comrade Darci Chester, Bowman said she didn't necessarily get schooled in the game - she lived it.
"It's like you're born into it," she explained with a laugh. "You don't really have a choice, you're playing."
Bowman has given her commitment to join the program at Northeastern Oklahoma State A&M University. Her father Curtis Brummett will have to pass off his little shortstop, and he couldn't be more satisfied with her choice.
"NEO is going to be a good place for her, its going to help her develop the mental side of the game, the inner workings of softball," Brummett said "It's a place where she can for sure improve, and I can;t wait to see what she'll do up there,"
Brummett was encouraged to find NEO's coaches like what Bowman can do.
"Coach Ivy told her, 'If anyone here tries to change your swing, tell me, because I'm gonna fire 'em,'" Brummett said.
As for those pesky pop-ups, Brummett said Bowman's swing will benefit from a few mental adjustments.
"Learning where she's at in the count and just adjusting and expanding the zone or being more selective will go a long way," Brummett said. "I think she'll thrive there. They're a hitting group, they'll help her make the right improvements."
Follow me on Twitter @CFavalora