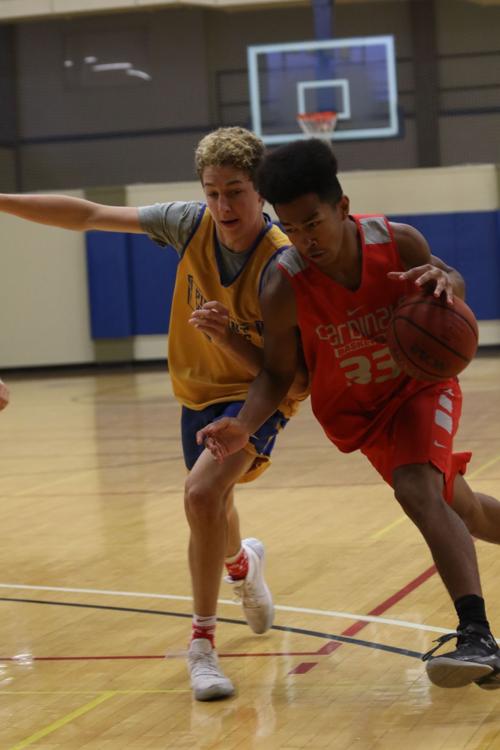 TULSA – Nathaniel Serna is so quick on the soccer field, even with the ball, that his hair doesn't have time to catch up.
Not the most scientific measurement of speed, but not overstated, either.
Serna was a scoring machine for the Cardinals this spring, so folks might be surprised to learn soccer is not his favorite sport. At least, not right now.
"I think, right now I like playing basketball more," he said.
Serna's quickness will be needed on the basketball court, for sure. Collinsville looks ready to play a fast-paced style.
The Cardinals traveled to team camp at Oral Roberts University last week and played nearly a dozen games against local teams. Serna, a sophomore, got a lot of playing time.
He will play mostly as a guard in the corners, where his job in the offense will keep him moving.
Without post player Grayson Boomer, the Cardinals struggled to score inside the lane at ORU, so Serna and Payton Dees and Lincoln Salle often dribbled in hoping to draw a foul or finish a layup.
"I've been working on my free throw a lot, and my jump shot, too," Serna said.
The Cardinals did not finish well at the rim.
Dees and Dominic Ruff did most of the ball handling midway through the tournament while Austin Marler nursed a left leg injury. Caleb Schaeffer also brought the ball up the court.
Marler is the lone returning starter for this Collinsville team. This sophomore class includes Dees, Ruff, Serna, Gage Tacker and Ethan Cole, to name a few.
Collinsville finished 15-12 a year ago with its longest streak of wins (five) coming in the first two weeks of the season. The Cardinals were 9-7 in Metro Lakes Conference games.
Follow me on Twitter @CFavalora