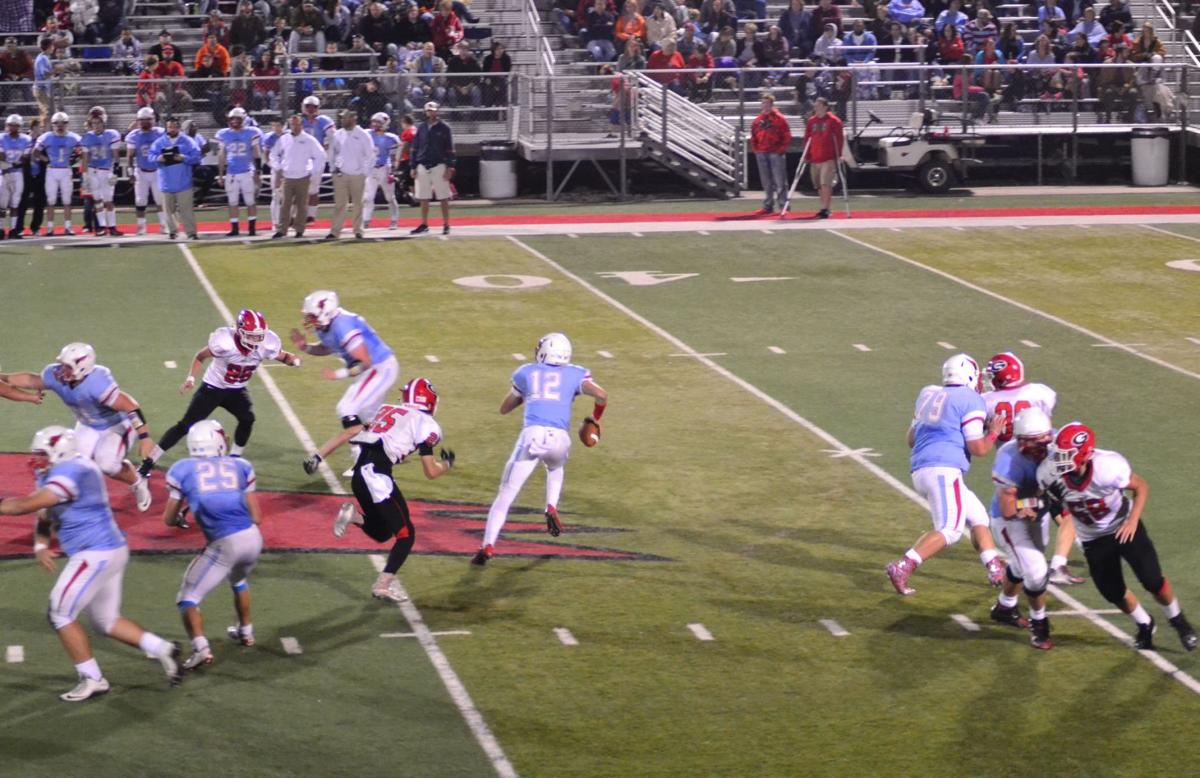 COLLINSVILLE - Roc Robbins ruled the field as homecoming king Friday night and bruised the visiting Ridgerunners for a crucial district 5A-4 victory.
Robbins had a pair of solo quarterback sacks and assisted on another to help Collinsville defend Sallee Field and beat Grove 43-7.
"Good win for us, now we're all about Edison, it's a big game ahead," Collinsville coach Kevin Jones said.
The game started with Collinsville's kickoff, and immediately, the Cardinals defense got busy harassing Grove's backfield.
Robbins, who was named homecoming king before the game, busted through to sack quarterback Wil Amos for an 8-yard loss on the second play, and Grove was forced into its first of eight punts.
"For me, it was more about contain this week," Robbins said. "Don't rush up field too much, don't be too much of a playmaker, just do my job and let everything else go by itself."
Two times, the Collinsville defense stuffed Grove on fourth-down-and-one, including on a goal-line stand with 9:25 left in the fourth quarter.
"We could have easily had 35 points, in the end zone five or six times, but the bottom line is we got whipped up front," Grove coach Mike Loyd said. "We couldn't run the football. If you can't run the football, you're not gonna win any games."
Despite a constant struggle in the running game, Grove held its ground on defense to start the game, forcing Collinsville into a regretfully conservative playbook in the first half.
The Cardinals (3-3 overall, 2-1 in 5A-4) connected on only three pass plays in the first quarter, a rarity under Sallee's lights, and came away from those first few minutes with a slim 10-0 lead.
"We weren't ready, we hadn't seen what they showed us on defense," Jones said. "We were ready to play against zone coverage, everything we had seen prepared us for that, and they came out in man-free. It took us some time to adjust."
Defensive coordinator John Henry Ward made the most of the Ridgerunners' personnel, but Grove (3-2, 0-2) wasn't able to recover from a 23-7 halftime deficit.
Boomer finished 11-of-19 passing for 271 yards and four touchdowns. It was a consistently progressive performance for the young quarterback, who is 24 yards shy of 1,000 passing yards on the season.
He connected with three receivers on touchdowns of 50 yards or more, including a 68-yard barn burner to the ever-speedy Brett Erickson that put the Cardinals up 17-7 in the second quarter.
Blake Burd returned from a shoulder injury suffered in the season opener against Oologah. He carried the ball six times and found the end zone on a 22-yard burst. He also caught a 21-yard touchdown pass from Boomer in the second quarter, returning to top form.