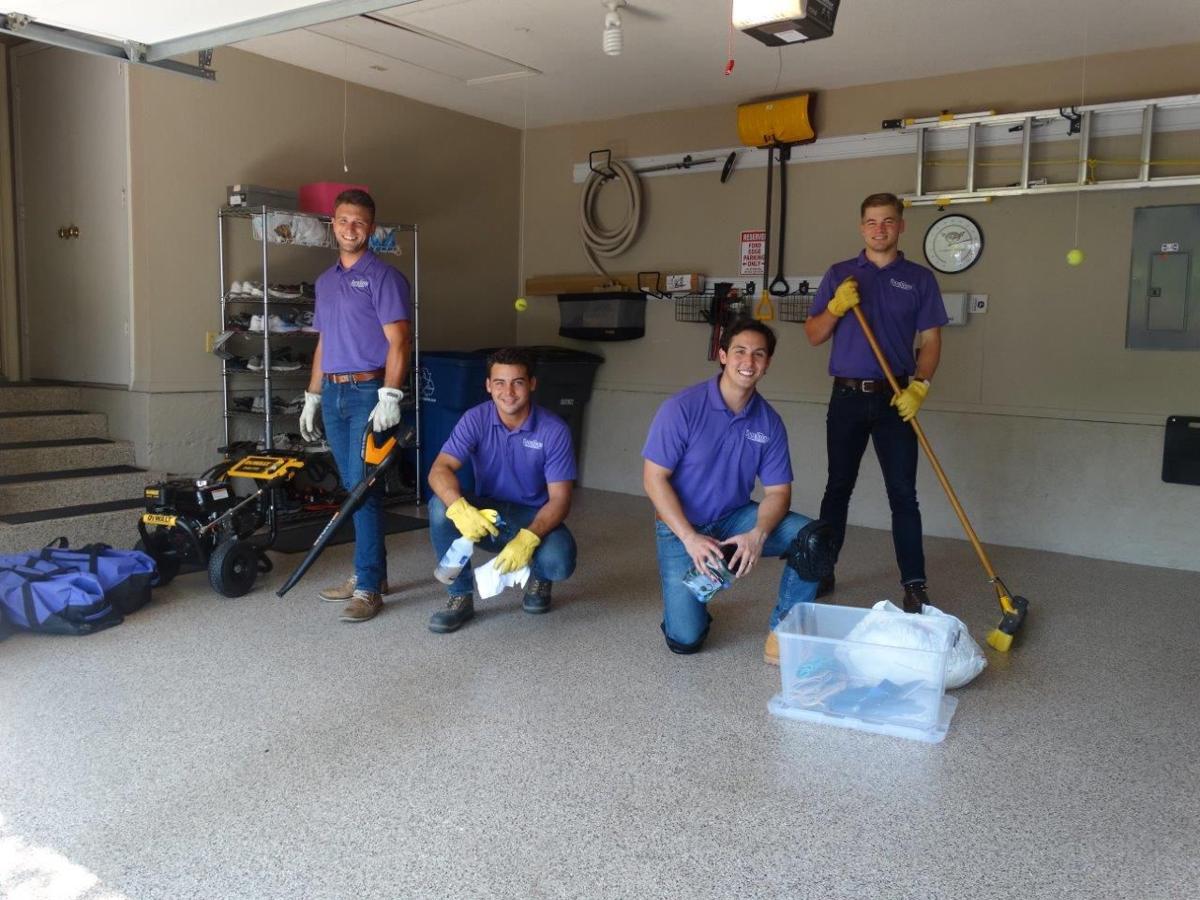 Correction: An earlier version of this story misidentified Jordan Evans. The story has been corrected.
---
Winning the 2009 Oklahoma Class 2A football championship at Lincoln Christian Academy is a bond that Jordan Evans, Seth Lewandowski, Cole Johnson and Christian Barbee will likely share their entire lives.
Yet it was their entrepreneurial spirit and willingness to help a friend that united the former teammates to pursue dreams off the field.
The four remained close after high school and often spoke of owning a business together one day. When Johnson got laid off from his manufacturing job, they decided to follow their vision and also help a friend when the four created what would later become Showroom Garage Services LLC, a company that cleans and organizes homeowners' garages.
"Our objective was to create a system where we could all work together and benefit from each other," Lewandowski said. "We had wanted to start a business in Tulsa and then one of our good, trusted friends got laid off from his job, so it seemed like the perfect time to make something happen."
It did not take them long to come up with a concept.
Evans and Barbee had cleaned garages during college to make some extra cash. Armed with Barbee's pick-up and a modest array of cleaning supplies, the two-man team spent weekends scrubbing and de-cluttering the garages of their friends and family and discovered they could get paid to maintain people's often-neglected garages.
"We were just driving through these neighborhoods, and a good majority of the garages were just filthy," Barbee said. "We were thinking no one wants to spend their entire weekend cleaning them, so we decided to try it and it stuck for a bit.
"A lot of people really liked the idea then, but we didn't pour that much into it back then because we didn't have the time. Now the four us can work together now and make it happen."
That experience led forming the company in May, and the group invested in high-end cleaning equipment and supplies, a pop-up tent and a custom wrap for their commercial sports utility vehicle to get started.
They fine-tuned their services to include a four-step cleaning process known as the Royal Transformation.
Steps include meeting the client to walk them through the process, removing personal items and hauling off trash, cleaning the entire garage — which can include dusting, painting and power washing — and organizing the client's items and adding any final touches to transform the garage from a cluttered space into a showroom.
The Royal Transformation service costs $400 for the average two-car garage and takes about four to six hours to complete. Clients can also subscribe to Royal Sweeps, which is monthly maintenance cleanings at a smaller price, to keep their garages pristine.
"We're really wanting to become the maids of the garage industry where we come in every month and just make sure their garage is always clean, still smells good and is still organized," Evans said.
So far the response has been overwhelmingly positive.
"Eighty-five percent of the people that get the Royal Transformation service end up signing up for our subscription service because they are so amazed at how clean their garage is and they never want to revert back," Evans said.
While the business is solely owned and operated by the four, they hope to expand and eventually turn it into a franchise.
"I would not be involved in spending this much time and effort if I did not see the bigger picture for this business," Lewandowski said. "Based on the feedback that we've gotten from customers, it has kind of made us think that we can take this service that we are providing to people and do it in a way that can be scaleable."
Said Johnson: "We really feel like if we put our minds to it and work as a team that the sky is the limit."
Adam Daigle 918-581-8480
Follow Adam Daigle on Twitter at @adamdaigleTW