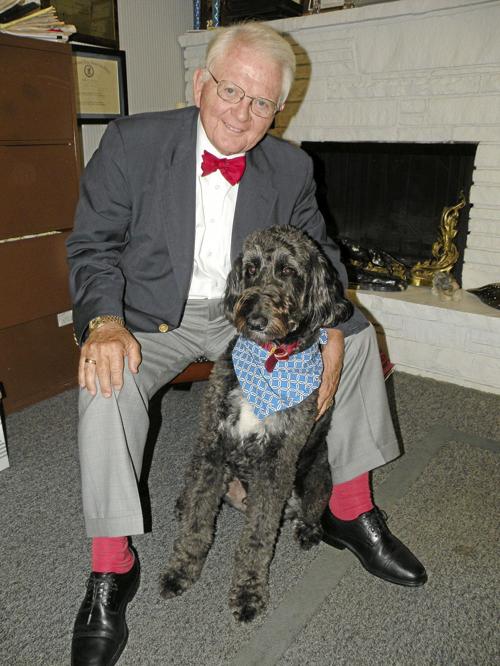 Badger Fry raced toward the law office and quickly entered as the door opened. He was greeted enthusiastically and waited anxiously until Robert G "Hap" Fry Jr. entered moments later.
Badger Fry, a 60 pound Aussiedoodle, has been a constant companion to Fry and at the Fry & Elder Law Firm since 2011.
Badger impatiently waited to begin his morning routine of running up and down the law office hallways, then settled down for a nap while Fry attended to business. He did not get to play until told it was OK.
Badger came into Fry's life shortly after the death of his wife and helped fill a gap after the loss.
It was a challenge for the Tulsa attorney because he was required to dedicate one hour each day for 16 weeks to get to know Badger and for Badger to know him.
Those hours of training bonded the two as they became a family.
Badger doesn't replace Fry's five children and 10 grandchildren, but he does fit well into the attorney's life and family law practice.
Fry recently was recognized as Lawyer of the Year for Family Law in Tulsa by Best Lawyers.
Family law is a practice that he has been involved in for more than four decades. It is a practice that some attorneys avoid because of the difficult emotional issues involved. They refer these clients to the Fry & Elder Law Firm.
These are life-changing cases, Fry explained. There are laws against perpetuity where a person cannot control property for more than 21 years after their death.
Yet, domestic cases do just that, they rewrite a family history that means everyone starts over.
In the past — 30 or 40 years ago — men and women were viewed differently in divorce cases, he said. There was the "Leave It To Beaver" mentality where mom got the home and kids.
The divorce effectively erased the past of a child's life. Yet, the court recognized the need to keep the children in a family setting, a difficult situation because they no longer were together. There was no discussion about the fun things that had been done, the family vacation to Disney Land or Disney World. The family no longer was intact.
Situations became even more complicated when one or both parents remarried and suddenly the children had siblings from blended families.
Enter the attorney, Fry, hired to sort out any assets and represent his client for the most favorable outcome.
Ideally, everything would be divided evenly between the parties, he said. That can be true unless a business is involved and issues become more complicated. Most of the time monetary payments for child support and alimony are based on wages earned. A formula is used to make the determination. Assets and debts are listed. The general rule is the outgo exceeds the income.
The court also looks ahead five years and it generally has been found that the man will be significantly better off than the woman.
The second part of the picture is child support. Men generally have the higher income, and the woman is granted custody of the children and child support payments. The only way to take the child away from a woman was if it could be proved that she was unfit as a mother.
That seemed unfair to Fry, then a young attorney who graduated from the University of Tulsa College of Law in 1967. It was after graduation that his real education in the law began.
Fry clerked for Judge Robert D. Simms, later an Oklahoma Supreme Court Justice. He witnessed trials and watched some "really fine attorneys" practice in the courtroom.
Judge Simms told his young clerk to "always be prepared" when you come into court, and "your word is your bond."
"I deal with other lawyers every day and tell them what I am going to do," Fry said. "I deal in trust and letters follow on the more complicated cases."
Clients are told upfront that if an agreement is reached, they must follow through," Fry said. "If they don't intend to do that, then they need to get another lawyer."
Fry also learned the importance of returning telephone calls from Simms and checked two messages on his desk. He found the calls had been made.
"I just failed to throw them away," he said.
Later, as an assistant public defender, where he earned $300 per month, he was able to additional income because private practice that was allowed at that time.
"I had a small office in a converted cloak room in the Mayo Building," he said. "I had a desk and chair, two chairs for clients and a television set where I could watch programs until clients arrived.
"Dad — Robert G Fry Sr. — had an insurance agency and gave me collection cases," he said.
As a young attorney, Fry tried a variety of cases from felony murder to family law.
Eventually Fry served as chief public defender, a role he held for two years until he was hired by Lawrence Elder, the father of Jim Elder.
He moved out of his closet into the spacious "fantastic" offices, also in the Mayo Building. Others occupied the available space until eventually the law firm required the entire suite. The office space included a law library and the association continued until Lawrence Elder's death three or four years later.
Jim Elder, who joined Hap Fry in 1991, was graduating from law school at that time.
Fry stayed at the 406 E. 16th location until 1983 when he moved to his current office at 906 S. Cheyenne.
The firm will move to larger offices at 1630 S. Main St. in September. The law firm has outgrown its current space and Fry says everyone literally is working on top of each other.
"I got deep into family law in the early 1970s because I thought the laws favoring the woman were unfair," he said. "I knew about the difficulties because my parents had divorced when I was a child in the 1940s."
But that divorce, while a separation of adults, did not have the animosity often found in some of today's cases.
Fry went to the farm each week to be with his father where he learned to shoot a .22-caliber rifle. Those visits eased some of the pain for a child, who as an adult also would find his family split by a divorce. Fry later remarried.
Family law was changing because of Supreme Court decisions and court decisions on the East and West coasts eventually made it to the Midwest and now are the law of the land.
Today, Fry focuses 90 percent of his practice on family law and he has been admitted as a Fellow of the American Academy of Matrimonial Lawyers.
He also presented Continuing Legal Education seminars to the Tulsa County Bar Association on child support guidelines during the 1980s.
Initially there was an effort to get around these guidelines, Fry said. The reality is they really were needed. Women needed the extra financial help and there was no argument against that. The question was the amount that should be awarded.
Some determinations were easy. All the court had to do was look at the W2 income tax form of the wage earner. The self-employed cases were more difficult to determine because company perks, cars, insurance and other benefits had to be factored in.
Then there is the 120-night rule where the noncustodial parent got a discount if the children spent that many nights annually with them.
Fry laughed as he recalled expense claim efforts courts disallowed. One time the court found a $6,000 expense on a MasterCard was invalid, he said. A close examination found the man had taken his girlfriend on a vacation to Bermuda and wanted it to be counted against his debts. The ruse didn't work.
Fry has found issues in difficult cases keep him awake at night.
"I keep a note pad at my bedside and if something occurs to me during the night, I write it down immediately," he said. "That moment at night has made a difference in the case."
He recalled a case that took five years to resolve. The client had a different attorney during the divorce proceedings and made a remark about himself to the lawyer. The lawyer made the report to the court and the man found he had no contact with his child, something that continued for five years.
"My client came to me and explained the situation," Fry said. "I looked at the case and told him that it would take years to resolve.
Eventually the father gained complete custody of his child and the mother lost because of her negative efforts during the proceedings. The mother has had no contact with the child since the case ended.
"It was difficult, but that was one of my most satisfying cases," Fry said.
Fry, despite difficult cases and client situations, finds strength from his Sunday School Class at the First United Methodist Church, which he has been involved in since 1977, and the values he learned as part of his Sigma Chi fraternity.
He compares those roles and values with his faith to a story in the Bible where friends lowered a paralytic through the roof so he would be in front of Jesus so he could be cured.
"My Sunday School class helps me so much," Fry said.
So does Badger Fry who woke from his nap and was ready to play.
Ralph Schaefer
Twitter: @tulsabusiness