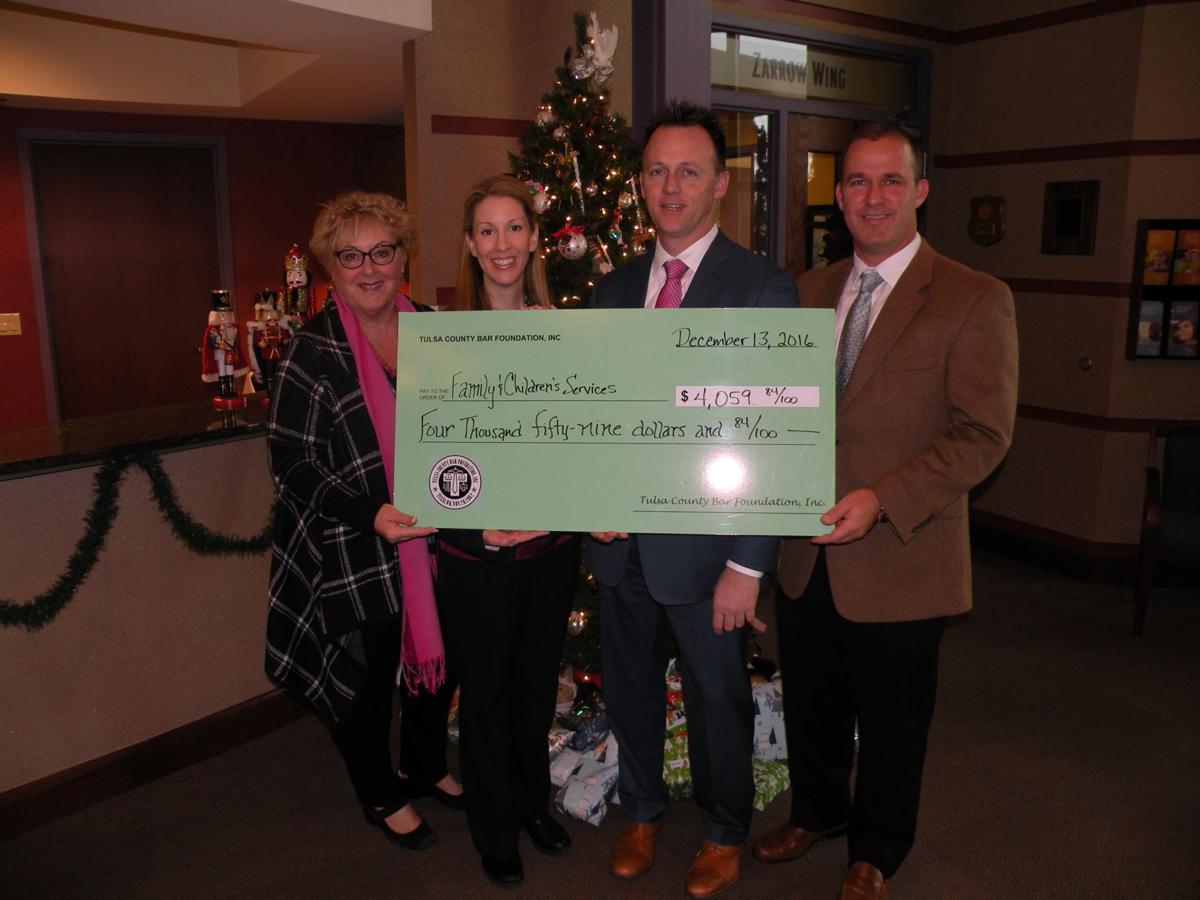 The check amount was increased moments before it was presented, making the Family & Children's Service Holiday Assistance program even brighter.
Gail Lapidus, F&CS chief executive officer, said the money presented by the Children And The Law Committee through the Tulsa County Bar Foundation would make a difference to families that otherwise would not have a Christmas.
The 2016 check totaled $4,059.84, "blowing away the inaugural 2015 campaign when slightly more than $1,500 was raised," said Ann Keele, committee chair. "I hope this can be an ongoing campaign in the future."
Keele, a partner in the Monroe and Keele Law Firm, said 10 families were adopted by teams for the Holiday Assistance program this year compared to three families last year.
Keele had the idea to adopt a family last year when Kevin Cousins, Tulsa County Bar Association executive director, suggested that it be expanded to allow other association members to participate.
And participate they did.
Ten families were adopted, and team members had the opportunity to purchase gifts for them. Keele's team adopted a family that included a mother and six children ages 2 to 17.
"We had about $500 to spend and went to Wal-Mart," she said. Most items were for basic needs, underwear, socks and clothing. Additional requested items were purchased to fill out the family's wish list.
Keele said it took her and committee vice chair Natalie Sears about 3½ hours to complete the shopping trip.
Each team was able to request the family size they wanted to sponsor and were matched by FCS. The donated funds are to be used to purchase gifts for families who were not matched with teams.
"All Holiday Assistance monies are to be used for designated families," Keele continued.
The Children And The Law Committee helps children in the legal system, she said. FCS is involved in many of the cases.
Notice about the effort begins in September, Keele said. F&CS needs that much time to match recipients which is done by the end of October, and participants don't have to be lawyers.
Adam Daigle 918-581-8480
Follow Adam Daigle on Twitter at @adamdaigleTW