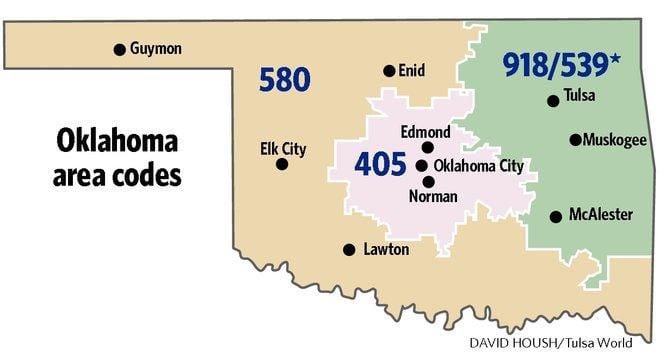 The Oklahoma Corporation Commission on Wednesday approved a second telephone area code for the area using the 405 prefix in central Oklahoma.
Called an "overlay," the plan will add a yet-to-be determined prefix number for 405 telephone users in the Oklahoma City metro and other areas in central Oklahoma.
According to the North American Numbering Plan Administrator (NANPA), the 405 area code is on track to run out of telephone numbers by December 2021. The addition of a new area code will allow for new telephone numbers without a change in existing numbers.
With the addition of the new area code, all local calls will be 10 digits (area code + 7 digit number). There will be no change in the size of the local calling area. Both area codes will apply to the local calling area. Regardless of the area code used, what is currently a local call will remain a local call, the commission said in a news release.
The first overlay plan for Oklahoma was instituted in 2011 to address projected number exhaust for the area served by the 918 area code (including Tulsa). The 539 area code was added and local calling went to the 10-digit format.
NANPA has not yet announced what the new area code for the 405 area will be. That announcement is expected this month.
Estimated schedule for implantation (subject to revision):
January: Announcement of new area code
July: Begin "permissive" 10 digit dialing. (System will accept either 10 digits or 7 digits for local calls). New area code will become available.
January 2021: Mandatory 10 digital dialing begins.
December 2021: Projected exhaust of 405 area code telephone numbers.
The 405 area code includes all or portions of the following counties: Blaine, Caddo, Canadian, Cleveland, Garfield, Garvin, Grady, Hughes, Kingfisher, Lincoln, Logan, McClain, Noble, Okfuskee, Oklahoma, Payne, Pottawatomie, Seminole, and Washita.
The business news you need
With a weekly newsletter looking back at local history.