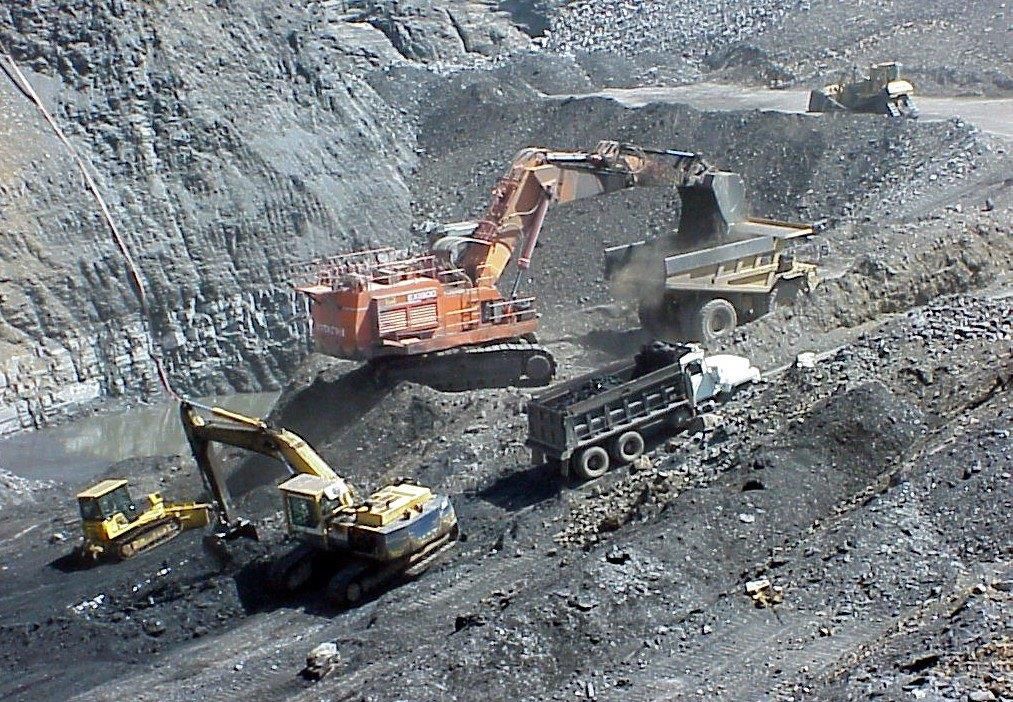 Correction: A Sunday Tulsa World Work & Money graphic incorrectly identified Okmulgee County on a map. It has been corrected.
---
VINITA — "If Hillary Clinton had won, I would have to have shut down," says Clay Hartley, owner of Phoenix Coal Mining in Vinita.
Hartley is in a good mood as he talks, and why not? Business is good. Last year his firm mined 300,000 tons of low sulfur coal worth $60 million. His firm has a payroll of $17 million and 52 employees.
But Hartley, who has been mining since 1983, says he is telling the truth. If Obama administration policies regarding coal had continued, he would have had to shut his doors.
Traditional regulations and environmental safeguards that have been in effect for decades Hartley has no problems with, such as monitoring water quality and reclaiming the land after it has been mined.
"A lot of these are good," says Hartley. "I raise cattle and a lot of times graze them over reclaimed land that I have previously mined."
However, he can point directly to two policies that the Obama administration was pursuing — and the Trump administration has ended — that would have ended coal mining in the U.S. and thus his business: the change in interpreting the navigable waters of the United States and how much of a stream has to be returned to its natural state after an area has been mined.
"Obama's EPA was in the process of changing the definition of navigatable waters to any stream that is emptying waters into a major tributary and thus requiring a federal permit to do any work," complains Hartley. "That's a ditch. It was going to take in the entire U.S. It would have made everything federal and destroyed surface mining in this country."
As for reclamation, the Obama administration was insisting on that for every one foot of stream that a mine disrupts, 20 feet of stream had to be restored.
"They put that in just to kill the coal industry," claims Hartley.
Coal in Oklahoma
Oklahoma coal today is used as steam coal providing energy for power plants and as an additive for cement production. Hartley's Phoenix Mining provides coal mostly to regional cement companies.
Bob Cooper, vice president of Fort Smith, Arkansas-based Farrell-Cooper Mining, which operates two open pit coal mines in Oklahoma with 100 employees, agrees with Hartley.
"It would have been over if Hillary had won," said Cooper. "The bottom line is there is more cooperation. The past administration wouldn't even talk to us. The regulations passed by Congress stayed the same, but the way the Obama administration interpreted those regulations, such as navigation of waterways, would have destroyed us and it was meant to."
Cooper said since entering office Trump has overturned the navigable waters interpretation and the Obama buffer zone rule.
Cooper points to 2010 when he and other mining firms applied for a permit from the Bureau of Land Management to mine coal in Oklahoma. The resource management plan and environment accountability study cost miners $186,000 to complete. In 2013, the Tulsa office of the Bureau of Land Management approved the plan declaring the proposed mining would have no significant impact environmentally and passed it on to their Washington, D.C., office for final approval.
"We waited for them to sign off on it and nothing happened," said Cooper.
Finally Cooper said he flew himself to Washington to meet with the Undersecretary of the Interior, whom he claims told him, "This administration doesn't promote the mining of coal."
In April 2017, Cooper and other miners had a meeting in Washington with Trump officials, who essentially asked how they could help them, says Cooper, a sharp contrast to the Obama administration.
"The ball is rolling now on the new mine," Cooper said.
Cooper underscores the fact that if the Obama policies regarding coal had continued it would have cost the state rural jobs and lost royalties from the state's mines. Fifty percent of royalties paid to the federal government for mining federal coal goes back to the state from where the coal originated. In Oklahoma, those royalties go into the general fund.
Craig Jackson of GCI Mining in Spiro points out that the Trump administration has also taken steps that will also indirectly affect the coal industry. GCI supplies coal for the Shady Point Generation Plant at Panama, Oklahoma.
Jackson points to the repeal of the EPA's Clean Power Plan, a review of the EPA Coal Combustion Residuals rules, reconsideration of rules regarding power plant carbon dioxide admissions, power plant effluent limitation guidelines, the repealing of the Obama administrations regarding the social cost of carbon and the repeal of the Treasury Department's prohibition of U.S. financial support of international coal plants as positives for the coal industry in general.
The jobs Oklahoma keeps
And then there are the power plants themselves.
Lundy Kiger with Virginia-based AES, which operates the Shady Point plant, believes the carbon emission rule under the Obama administration would have closed down his and other power plants that are coal customers.
"The rule put a maximum amount of CO2 for the future that would have killed even the best technical power plants such as AES Shady Point," said Kiger.
Oklahoma's 300-million-year-old Ouachita Mountains hold one of the few coking coal deposits in the United States. The coal seam runs west to east from Heavener into Arkansas and has touched off an under-the-radar land run.
Oklahoma has vast deposits of coal with an estimated 1.6 billion tons beneath 19 counties in northeastern and southeastern portions of the state. The coal industry employs 250 Oklahomans directly, according to statistics provided by the Oklahoma Department of Mines.
Most of the coal is bituminous coal beds, and some have a high sulfur content.
Oklahoma's peak year in coal production was 1981 when 5.7 million tons were taken out of the ground.