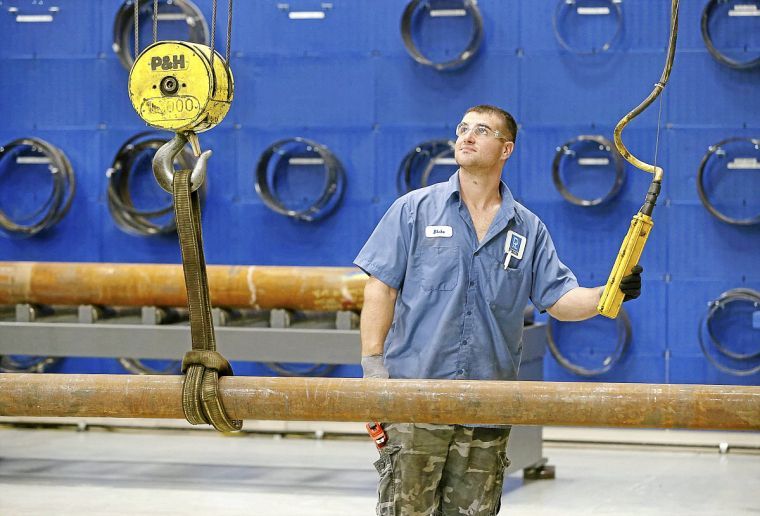 Next week D&L Oil Tools will celebrate the grand opening of a new 62,000-square-foot facility across the street from its west Tulsa headquarters.
Rapid growth that the manufacturing company has been experiencing during the past half decade made the new building at 1924 S. 49th West Ave. necessary, leaders said. Since the late 2000s D&L's workforce has increased 250 percent, and yearly volume production has tripled.
D&L Oil Tools designs, manufactures and assembles down-hole equipment for service companies in domestic and international markets.
The company started in Tulsa nearly 25 years ago with just two people, but now employs about 350, founder and President Lee Eslicker said.
A huge portion of that growth has taken place very recently. Until six or seven years ago, the company's staff numbers were at about 100, Eslicker said.
"I can't tell if we actually planned to grow this way," Eslicker said. "We kind of took what (the market) gave us and went with it."
The new building expands the companies total square footage to 153,000 square feet. The ribbon-cutting event to celebrate it will be Oct. 7.
The design and manufacturing of open-hole completion equipment is one segment of D&L that's really taken off in recent years, Eslicker said.
International business is another area that has increased significantly, he said. It now makes up 30 percent of D&L's business.
Increases in business and staffing meant the company needed more room to operate, but three additions over the years at its primary location on South 49th West Avenue hadn't left much additional room for expansion. Any other additions would pretty much eliminate parking.
Eslicker was planning a 40,000-square-foot addition behind the company's offices. Then the former Builders Steel building across the street went on the market.
"This became available and we jumped on that because it was pretty much perfect for what we needed," Eslicker said.
"It's bigger than what [the planned expansion] would have been, and there's room in the back if we need to expand again. We had been pretty much landlocked."
D&L purchased the facility and the 8.25 acres on which it sits for $4 million in November. Renovation of the building originally constructed in 1970 cost $900,000. One of the first things they did was install air conditioning, Eslicker said.
The building opened for operations around Memorial Day, and about 75 employees — 65 of them new — work there.
Assembly, warehouse, shipping and receiving and saw and raw materials operations have all moved to the new facility, making up to three times more room for each of those activities and allowing the building that previously housed all those operations to be used exclusively for manufacturing. Quality assurance and engineering are also in the new building.
During the next year D&L plans to earn its thread-cutting certification from the American Petroleum Institute to bring that operation in house, which will result in significant savings, Eslicker said.