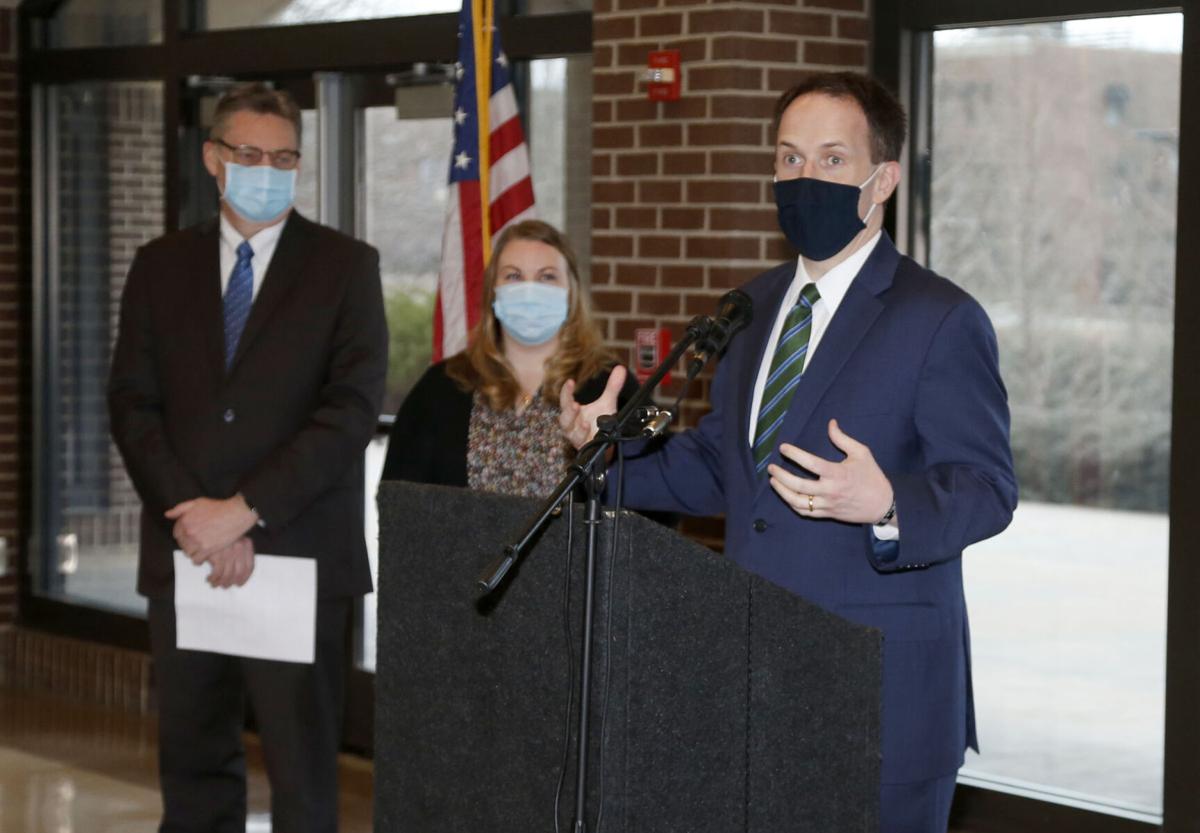 Tulsa Mayor G.T. Bynum celebrated the righting of wrongs Wednesday during the launch of his Pay Equity Pledge.
Created in partnership with the Mayor's Commission on the Status of Women in 2021, the Pay Equity Pledge is a voluntary, employer-led initiative designed to close the gender pay gap in the city of Tulsa.
The pledge grew from an annual pay equity audit established a few years ago for city of Tulsa employees. Though not a mirror of the pledge, that audit makes municipal employees eligible to have their pay increased if it's found to be outside their pay equity comparison group as determined by Human Resources.
"They (Commission on the Status of Women members) made a great point and said that should not end with the city government," Bynum said during a news conference at the Central Center in Centennial Park. "That should be something that we challenge every organization, every employer in town, to do the same way."
Thirteen employers have signed the pledge thus far.
"This, we hope, is just the very beginning of a tidal wave of organizations and great employers here in Tulsa saying that they, too, ought to do what they can do to make their organizations a place of equal pay for equal work," Bynum said.
Although the percentage of the working-age local women who are working or actively looking for work is 73.8% and women account for 51.2% of the population, women in Tulsa County earn only 84 cents to every dollar earned by men, according to information from the city.
Pledge-takers must commit to three things:
Banning questions about previous salary history to candidates for hire or promotion;
Taking part in ongoing diversity, equity, and inclusion training for employees responsible for recruiting, hiring, on-boarding and promoting;
And reviewing employee pay to ensure compliance with the federal Equal Pay Act.
"Signing the pay equity pledge is one step to ensuring women are paid equitably, which we know leads to increased efficiency, creativity and productivity for organizations by helping them attract and retain the best talent," said Meg Morgan, vice chair of the Mayor's Commission on the Status of Women.
Karl Neumaier is North America chief operating officer for Hilti, which already has signed the promise.
"We want the outcome to be better for everybody, including our communities, because if we (build) a stronger community and a more equitable community, it creates a better environment for all of us in the business community when it comes to recruiting, developing and promoting women," he said.
---
Photo gallery: Find out which businesses have survived at least 100 years in Tulsa
Photos: Find out which businesses have survived at least 100 years in Tulsa