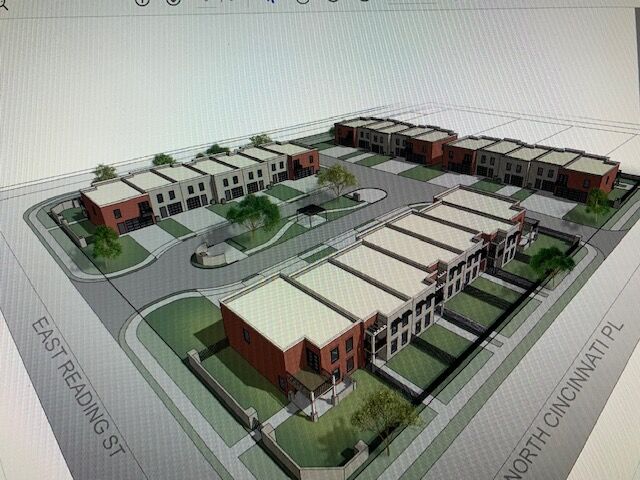 Plans are underway for roughly a $4.7 million townhome project called Black Wall Street Square in Tulsa.
At a virtual meeting Thursday, the Tulsa Development Authority voted to negotiate a redevelopment agreement with the Tulsa developers of the project: McGee Enterprises Inc. and Boomtown Development Co., an affiliate of Green Country Habitat for Humanity.
Twenty-four town homes ranging in price for buyers from $150,000 to $200,000 are expected to be built. The McGee-Boomtown plan was chosen from six TDA requests for proposal to design single-family housing on TDA-owned land at Martin Luther King Jr. Boulevard between North Cincinnati Place and East Reading Street.
"I think it is exciting," TDA's Casey Stowe said. "I think it is something that is different. I think it is going to be positively transformative for the neighborhood."
The development partners solicited feedback from District 1 City Councilor Vanessa Hall-Harper and the Phoenix District Neighborhood Association to address the community's desire to increase housing density and address an unmet demand for quality mixed-income housing.
Black Wall Street Square will include a common area and incorporate the brownstone architectural style commonly used in the 1920s-era Greenwood and Black Wall Street districts.
Eight homes will be 2,000 square feet and have three bedrooms, two bathrooms with a two-car attached garage. The remaining 16 residences (each 1,600 square feet) will feature three bedrooms, two bathrooms and a one-car attached garage.
Groundbreaking is anticipated in April 2022, with completion of the project eyed for June 2023.
Currently zoned Single-Family Higher Density, the 1.76-acre site in the Dunbar neighborhood will need to be rezoned to Residential Townhouse.
McGee Enterprises has nearly 35 years experience in all aspects of residential and commercial construction, renovation, real estate sales and leasing.
Boomtown Development Company was created several years ago through a $6.7 million grant from the Anne and Henry Zarrow Foundation. Its mission is to develop a housing solutions for people who make too much money to qualify for Habitat housing but not enough to qualify for traditional mortgages.
Boomtown projects under construction include a 23-unit townhome development in north Kendall-Whittier and Peace Pointe, a 10-home development near 36th Street North and North Lewis Avenue.
"We think this can be a real showpiece and something that not only north Tulsa, but Tulsa at large, can very proud of," said Cameron Walker, CEO of Green Country Habitat for Humanity …" We really think that this will create a very vibrant mixed income community that will obviously be able to add density and provide some units of different price points that are sorely needed in north Tulsa."
---
Announcing rebuilding Tulsa's Black Wall Street