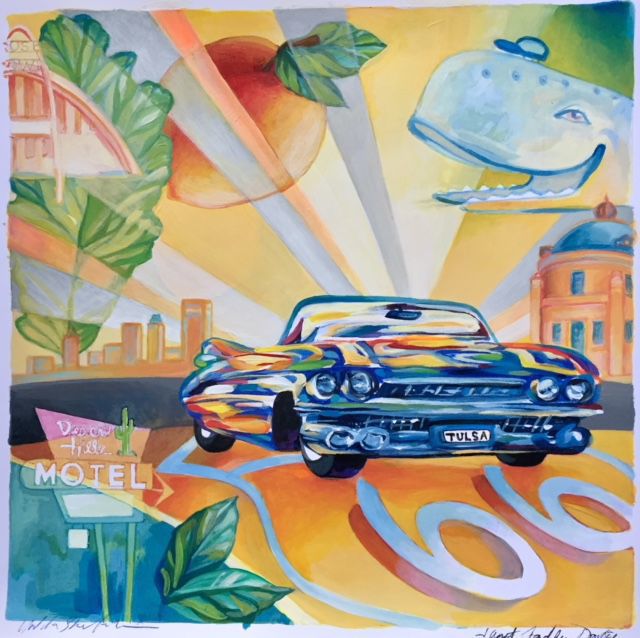 Yatika Starr Fields, a Tulsa Artist Fellow, painter and muralist, and local artist Janet Fadler Davie have been selected to paint a mural outside Mother Road Market, the new food hall going up at 1124 S. Lewis Ave.
The two will begin their work early next month in hopes of completing the 20-by-20-foot, Lewis Avenue-facing mural by the end of July.
Mother Road Market, a 27,000-square-foot collection of about 20 entrepreneurial concepts, is expected to open in August.
In 2000, Fields attended the Art Institute of Boston, where he became interested in graffiti aesthetics and landscape painting. He also is experienced in large-scale projects and studio works. Originally from Oklahoma, Fields is currently living and working in Tulsa in conjunction with the Tulsa Artist Fellowship.
"This image for the mural depicts the heart and spirit of Route 66, while also communicating the sustenance that Mother Road Market will provide to the Tulsa community," Fields said in a statement. "This mural invites viewers to see the new frontier that exists, while paying homage to Route 66's iconic and historical gateway."
Davie has taken art into private homes and businesses throughout the Tulsa area and beyond for more than three decades. Her artwork has been published in Better Homes and Gardens, Traditional Homes, Southern Living, Tulsa World and TulsaPeople Magazine. Best known for her commissioned sweeping wall murals, she also does decorative painting on furniture.
"The Lobeck Taylor Family Foundation was thrilled to receive over 20 highly qualified applicants in our public submission process for this mural, which speaks to the dynamic nature of our local creative economy," Natalie Deuschle, Lobeck Taylor Family Foundation director of grants and impact, said in a statement.
"It was important to us to select a local artist that could express the feelings of community, history, agriculture and art into one mural — and our team felt Yatika and Janet's application did this best."
Elizabeth Frame Ellison is CEO of LTFF, developer of Mother Road Market.
"This public art installation not only supports two local artists within Tulsa's creative economy, but it also serves to honor the significance of the rich history of Route 66 as we work to restore the mother road to its former glory," she said.
Rhett Morgan
918-581-8395
Twitter: @RhettMorganTW