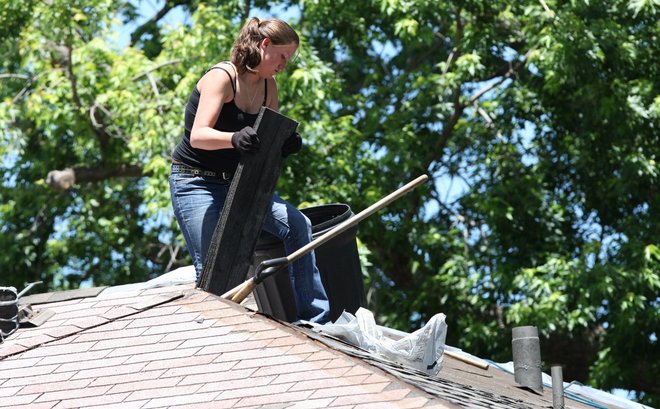 Home maintenance chores are daunting for new homeowners unfamiliar with the repair and upkeep requirements of older homes, says the Bankrate.com website.
When the list of home-repair chores outgrows its notebook, due to expense, homeowners must prioritize. What is most important?
Maintenance involving water intrusion or safety issues should take top priority, and here's a starter list.
Roof inspection: Water intrusion is issue No. 1. Periodic roof inspection is a must as undetected leaks cause myriad costly home repairs: ceilings, insulation, flooring and the roof itself.
Frequency of professional inspection depends on the roof's age and type and local weather conditions. In these parts, hail damage is a major problem that has spawned a roofing contractor population in the hundreds. For a comprehensive rundown on roofing, roofing contractors and roofing contracts, see May 4, 2011, Action Line (tulsaworld.com/Action050411 ).
Older roofs exposed to severe weather should be inspected more often than newer roofs, and in these parts (once again) we have severe winters with roof ice-damming problems and summer-long, extreme-heat periods that dry out asphalt shingles. But don't wait until you see telltale stains on ceilings to have your roof inspected.
Drainage issues: The most important element is "anything having to do with drainage or water flow."
Gutters or drainage problems contributing to foundation problems are issues you should not defer. Clean out rain gutters and downspouts, repair stucco cracks, and use good-quality exterior paints to keep wooden siding and roof trim safe from dry rot and mildew invasions.
Water appliances: Next is recaulking showers, bathtubs, sinks and toilets to keep water out of the walls and floors. Repairing and sealing window leaks prevent mold damage to the structure. Cut back plants that have grown too close to the foundation or whose foliage is pressing against the house or up under the soffits. Vegetation must be trimmed back so rain runs away from the house, not up to it.
HVAC system: Next on the to-do list should be the home's heating, ventilation and air-conditioning system, whether that means a furnace, air-conditioning unit, heat pump or other components. These systems should be serviced at least once or twice a year because poor maintenance practices lead to costly repairs. Dirty air filters lead to myriad problems.
---
Some improvements make better investment
With houses remaining on the market for months, or even years, it's obvious that now is not a good time to be selling your home, says BankRate.com.
It has become the trend that short of short-selling it, making attractive upgrades and renovations make all the difference to potential buyers with many homes to choose from.
The recession discouraged home sellers from spending on home improvements, and many big remodeling jobs have gone away because people are not sure about the economy and are afraid to sink money into a gamble. As a result, lots of good contractors are available.
But one problem is raising the cash for a big remodel. Many homeowners have missed payments or let their credit scores slide and can't qualify for home equity loans or lines of credit for remodeling or upgrading.
Even so, the top five midrange renovations, listed by order of "return on investment," according to Remodeling magazine's "Cost vs. Value Report 2010-2011" (tulsaworld.com/upgradecostvsreturn ) involve decks, siding, kitchens and windows. They are listed below with renovation, its cost, its resale value and the percent recouped once the home sells.
Deck addition (wood): $10,973 cost, $7,986 resale value, 72.8 percent cost recouped.
Minor kitchen remodel: $21,695 cost, $15,790 resale, 72.8 percent recouped.
Siding replacement (vinyl): $11,357 cost, $8,223 resale, 72.4 percent recouped.
Window replacement (wood): $12,027 cost, $8,707 resale, $72.4 percent recouped.
Window replacement (vinyl): $11,066 cost, $7,920 resale, 71.6 percent recouped.
Contractors are ready and willing to do the job, and many can be hired at a discount right now. The law of supply and demand is still on the books. Builders used to doing one or two $300,000 projects per year are doing $25,000 to $50,000 projects and pricing them competitively. Keep in mind buyers judge houses by their exteriors.
---
Finance 101
Financing repair and maintenance needs can be done one of two ways: with a home equity line of credit (HELOC) having an adjustable rate of interest tied to the prime rate, or a home equity loan (HEL) with a fixed rate of interest (tulsaworld.com/BANKHEL ).
HELOCs are loans with teaser rates on HELs (promotional rates remaining in force a short time and going up in a few years). But for most people, these loans are hard to get these days.
Bankrate's average for an HEL in Tulsa is 7.613 percent - averaging loans available from Great Western Financial Services, Bank of Oklahoma and Bank of America (tulsaworld.com/BANKHELrates ). Based on the amount of equity owners have in their homes, they have terms of five to 15 years, starting with minimum loan values of $30,000, for applicants with good FICO scores - 660 and up. The maximum amount available is 80 percent of the loan value to home value, called the LTV ratio.
---
Tulsa World consumer writer Phil Mulkins wants to know which topics interest you. Call 918-699-8888, email your suggestion to phil.mulkins@tulsaworld.com or mail it to Tulsa World Consumer, P.O. Box 1770, Tulsa, OK 74102-1770.
SUBHEAD: Water intrusion is the No. 1 problem and can crop up in myriad ways.
Original Print Headline: Prioritizing home-repair issues