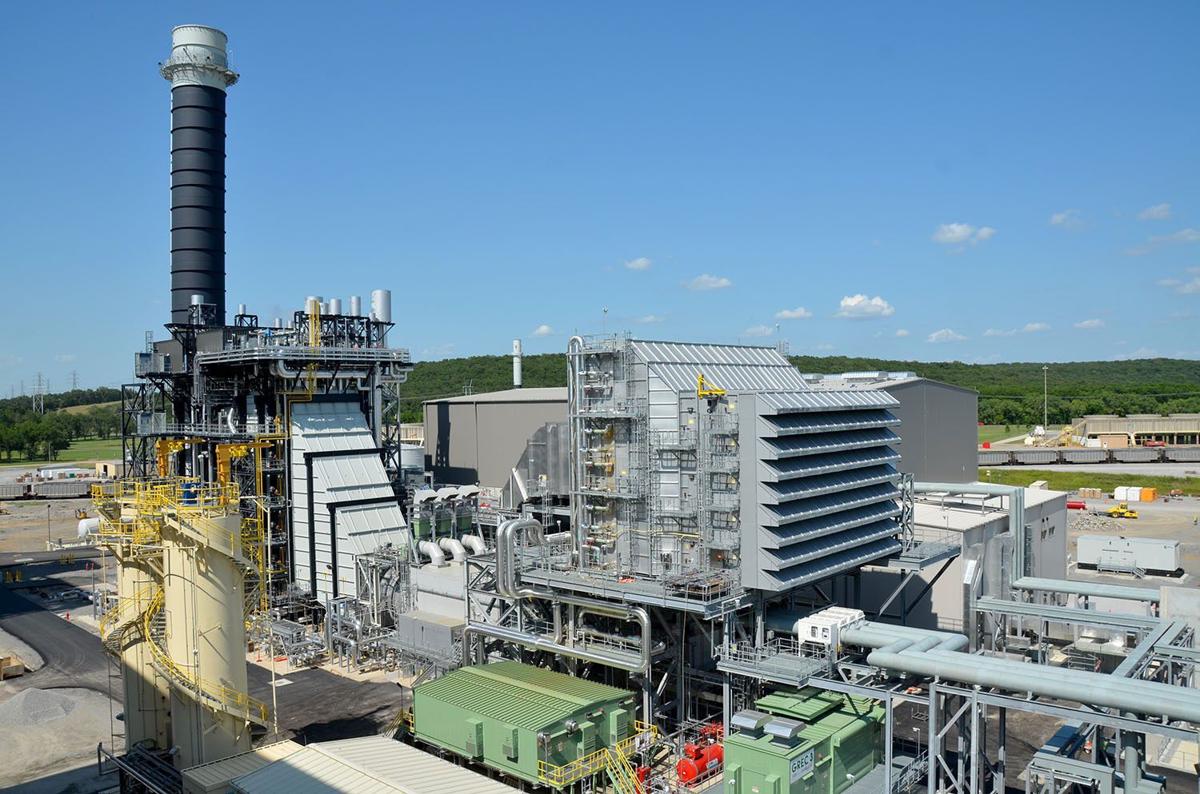 CHOUTEAU — A new $500 million Grand River Dam Authority power generation plant was touted on Friday as the most energy efficient electric generator in the world.
The GREC 3 combined cycle unit, GRDA's newest addition to the Grand River Energy Center, is designed to provide low-cost, clean, reliable electricity for decades using natural gas turbine, steam turbine and heat-recovery steam generators.
"It's the most efficient in the world," said Paul Browning, president and CEO of Mitsubishi Hitachi Power Systems Americas.
GRDA, a state agency, now owns the first 60-hertz combined cycle power plant to make this claim, he said.
Browning bragged on the GREC 3's 62 percent combined cycle efficiency during its dedication ceremony Friday. "Those are hard numbers to fathom," he said.
"Actually, it's the most efficient in the universe," GRDA President Dan Sullivan told an overflow crowd.
Output from Unit 3 will bolster reliability and will further diversify GRDA's generation portfolio and position the company as a leader in the transformation of the U.S. energy sector, he said.
"We are leading the industry — and this is in our own backyard," said U.S. Rep. Markwayne Mullin, R-Okla.
The Grand River Energy Center's Unit 3 has a 495-megawatt design capacity and will be driven by Mitsubishi's first M501J gas turbine in the Western Hemisphere.
"What an incredible team effort," said Michael Teague, state secretary of Energy and Environment.
The two-year construction project partnered Mitsubishi Hitachi Power Systems, The Industrial Company-Kiewit, Enable, Nooter/Eriksen, Hitachi-HVB and Black & Veatch. It is also the first generation facility constructed by GRDA since it completed work on its two coal-fired units in the early 1980s.
"Oklahoma gas, Oklahoma water, Oklahoma wind — we have a diversity in fuels," Teague said. "But our No. 1 resource is Oklahoma people."
"Clean and affordable energy is a building block," said Ken Wagner, U.S. Environmental Protection Agency senior adviser for regional affairs.
The plant successfully achieved its first fire in its first attempt, and two days later it was synchronized to the grid to produce electricity for GRDA and Southwest Power Pool customers. The turbine exceeded its performance guarantee, and GRDA was able to sell power to the grid ahead of schedule, officials said.
"This capital investment further diversifies GRDA's power generation options and ensures we remain a primary, reliable source of electricity for our current and future customers," said Joe Vandevier, GRDA board chairman.
"With this new unit, GRDA can now capitalize on one of our greatest assets in natural gas and further increase the return investment to Oklahoma."
Directly or indirectly, GRDA electricity reaches into 75 of 77 counties in Oklahoma as well as Kansas, Missouri and Arkansas.
The business news you need
With a weekly newsletter looking back at local history.