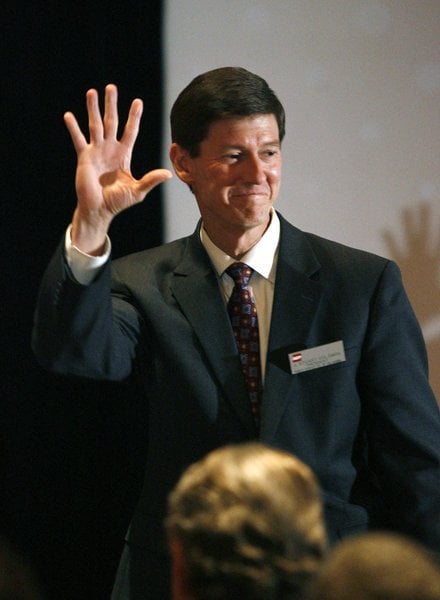 ---
Read more energy stories that impact Tulsa.
---
AEP-PSO and the U.S. Environmental Protection Agency have agreed in principle on a plan that will eliminate two coal-fired generation plants in Oologah within 15 years to help the company meet federal air quality rules, utility and state officials said Tuesday.
The agreement, which also includes the state of Oklahoma and the Sierra Club, gives "clarity" to meeting federal mandates on regional haze, mercury and other air toxins, officials said.
American Electric Power-Public Service Co. of Oklahoma also will drop its federal lawsuit against the EPA that challenged the regional haze rules and timelines.
"It gives us plenty of time," Stuart Solomon, chief operating officer of Tulsa-based PSO, said shortly after parent company AEP's annual shareholders meeting Tuesday at the Renaissance Tulsa Hotel and Convention Center.
AEP-PSO will retire one of its Northeastern Station coal-fired units by late 2016 under the deal. The company also will install emissions control equipment on the other coal-fired unit at the Oologah complex, then retire it by 2026.
Solomon credited Gov. Mary Fallin and other state officials with playing an "essential role" in negotiations with the EPA. The governor herself emphasized the agreement's "acceptable" cost impact and timeline.
"This agreement provides much needed certainty for PSO and its utility customers, ensures manageable and acceptable costs to consumers, transitions PSO's fleet to be cleaner and more efficient, and provides real environmental benefits for all Oklahomans," Fallin said in a statement.
Final settlement documents are expected in 30 to 60 days, after which the agreement will be subject to public review and comment.
U.S. Sen. Jim Inhofe, R-Okla., and a ranking member of the Senate Committee on Environment and Public Works, sounded far less accommodating than the governor.
"I am disappointed that the more costly and less flexible Obama-EPA federal regulations prevailed over the reasonable and affordable plan developed by the state and local stakeholders," Inhofe said. "I will continue to do everything I can to fight EPA's war on affordable energy and ensure we strike a more appropriate balance between a strong economy and healthy environment."
The costs for both replacing the retired plant's generating capacity of about 460 megawatts and putting in the equipment on the other will result in a 10 percent rate increase for utility customers by 2016, AEP-PSO estimated. Any rate increases would need state approval.
AEP-PSO also will spend about $175 million to install a dry sorbent injection and activated carbon injection to deal with toxins such as sulfur dioxide and mercury on the surviving coal-fired unit.
Whitney Pearson of the Sierra Club said AEP-PSO is leading the way among the state's two largest electricity providers. Oklahoma Gas & Electric Co. is still contesting the federal haze rules.
"Oklahoma must move beyond coal, and AEP-PSO is taking a strong first step here," said Pearson, a native Oklahoman and field organizer for the organization's Beyond Coal campaign.
"Today's announcement paves the way for resolving long-standing public health concerns about PSO's Northeastern coal plant," Pearson said. "EPA has done a great job here working with a utility to create a responsible retirement plan. AEP-PSO has set a good example for OG&E, which is now the biggest polluter in Oklahoma."
OG&E spokesman Brian Alford said the state's largest utility's federal lawsuit against the EPA on the regional haze issue was not affected by the AEP-PSO deal. That case is at the 10th Circuit U.S. Court of Appeals.
"We continue to believe that the state put forward a very viable plan that was less costly to our customers than the federal plan," Alford said.
The EPA's original regional haze edict also focused on OG&E's three coal-fired units in Muskogee and Sooner plant in Pawnee County. OG&E is not in discussions with the EPA about a separate settlement, Alford added.
Despite its initial opposition to the EPA's timeline for compliance and the lawsuit, AEP-PSO met with state Attorney General Scott Pruitt and decided that negotiation with EPA was the best path forward.
"We started talking to them early," said Bud Ground, the utility's manager for governmental and environmental affairs. "We knew there was a better way to do this, and that led to this agreement."
Nick Akins, AEP-PSO's new CEO, also applauded the deal while leading the parent company's shareholder meeting in Tulsa.
At the same time, Akins noted that the Obama administration still needs to work with industries on a "rational energy policy" that doesn't completely turn its back on the nation's vast coal reserves.
"The settlement will provide a clear mandate," Akins said.
AEP-PSO companywide is trying to prepare ratepayers for 10 percent to 35 percent increases due to meeting all of the federal rules on coal-fired emissions.
"The president in his State of the Union said he was for 'all of the above' on energy," Akins said. "Yet we're turning our back on an indigenous resource that we are the Saudi Arabia of."
Coal-fired generation units typically have a 40-year lifespan, and new ones are "outrageously expensive" to build, said Shane Woolbright, general manager for the Municipal Electric Systems of Oklahoma, a lobbying group for municipal utilities.
The AEP-PSO's plants in Oologah "were getting close to that, he said. "Rebuilding would probably be more expensive than new gas plants."
Tyler Powell of the Oklahoma Department of Energy said the state is "prepared to work with others who want to move forward" in negotiations on air quality standards but that he did not know of any such negotiations at this time.
Other coal-fired plants in the state include the Western Farmers Co-Op at Hugo and AES-Shady Point at Panama. The latter is the newest, built in 1990.
---
Randy Krehbiel 918-581-8365
Original Print Headline: PSO to retire coal plants