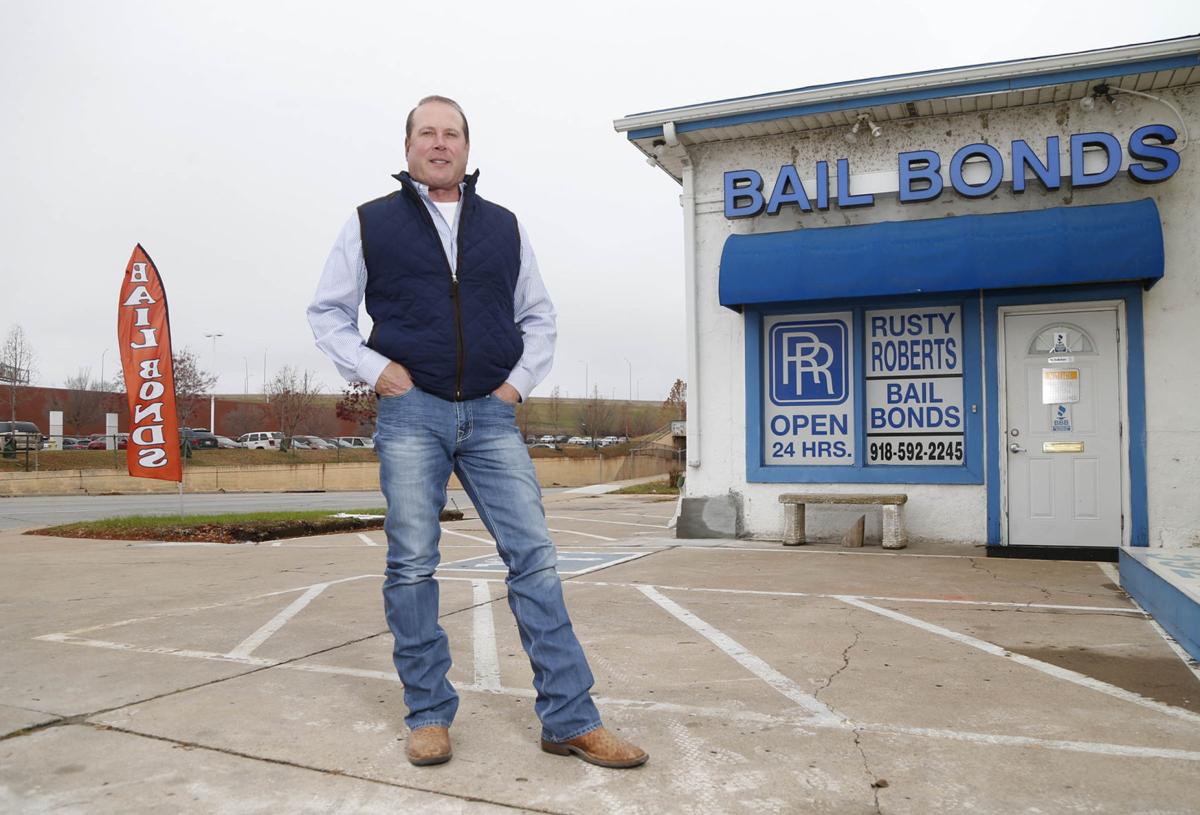 Rusty Roberts owns Rusty Roberts Bail Bonds, which is across the street from the Tulsa Jail, and is vice president of the Oklahoma Bondsman Association.
1. What makes a good bail bond agent?
I think first and foremost you must be a good communicator and have the ability to listen to people and their stories, validate their concerns, find answers to their questions, and have compassion for them, their needs and fears.
A bail agent is one of the first lines of contact when a person is arrested or has a warrant of arrest issued for them, so you have to be patient and realize this is usually the first time the defendant or their family has ever gone through this process. So, to sum it up, compassion and patience make a good bail bond agent.
2. From your experience, what time of year is your busiest and why?
There are two times of year that the need for our services increases. We always have a spike in crime and arrests during the summer months. This is a result of longer days and more consumption of alcohol, all the students being home, and spending time at the lake and parks. The normal career criminals have more hours of the day to get into trouble and better weather to do it in.
We also usually see a spike in the need for our services around the holidays. Family members that were committed to tough love and were going to teach their loved one a lesson by leaving them in jail always seem to have a change of heart on the night before Thanksgiving and on Christmas Eve.
Our No. 1 weekend for DUI arrests is always Thanksgiving weekend. Everyone is home and having fun — sometimes too much fun — that by the end of the weekend we start seeing a spike in domestic assault and batteries. Thanksgiving to around the first of the year, we see a lot of petty crimes like shoplifting, larceny, bogus checks and similar type of crimes.
3. You were recently appointed vice president of the Oklahoma Bondsman Association. What are the biggest issues facing your industry?
I have served on the OBA board for the last 12 years, so not much will change now that I am the VP. I have also been the president of Associated Bail Agents of Tulsa for the past 14 years.
Probably the biggest issue facing our industry is to educate the community on what a bail bondsman actually does and the benefits to the community as a whole.
The other issues we are facing as an industry are bail reform and addressing the scare tactics of some of the bail reform groups by providing citizens with true and dependable research and facts regarding the bail industry.
4. What's the biggest misconception about what you do?
The biggest misconception is that bondsmen make a lot of money and don't do anything to earn it. There could be nothing further from the truth. We provide a great service that has stood the test of time, and what is even better is the service we provide is at no cost to the county or state. We have a huge financial and personal safety risk in our business for what has become a very shrinking rate of return lately.
For each defendant we post bond on, we are required to have funds on deposit with the state of Oklahoma to cover those bonds. We charge a premium of 8 percent to 10 percent of the actual bond, and we usually have to finance that with no interest to our clients.
If a defendant misses court, it is then our responsibility to return them to jail or to take them in front of the judge to explain why they missed court. We encounter great expense and often are put in very dangerous situations, risking our lives to make sure the defendant is returned to answer for their charges.
If we are unsuccessful in returning the defendant, we are required to pay the entire amount of the bond.
I think the biggest problem we have today is determining who is an offender and who is a career criminal and identifying the ones who truly are willing to accept help and the ones that have no intention of changing their behavior.
5. With so many people in this line of work, how important is name recognition to your brand?
Well, the best answer I have for this question is: Over 80 percent of my business comes from referrals from previous clients or attorneys and civic leaders. My agents and I hold ourselves to the highest of standards. We treat everyone with respect. We have been in the same location for over a decade. All my agents have been with me for years, and we have earned the trust and respect of not only our clients but our judicial system and law enforcement. So, as far as name recognition goes, you can associate our business with trust and honesty. What else could you ask for?
Rhett Morgan
918-581-8395
Twitter: @RhettMorganTW