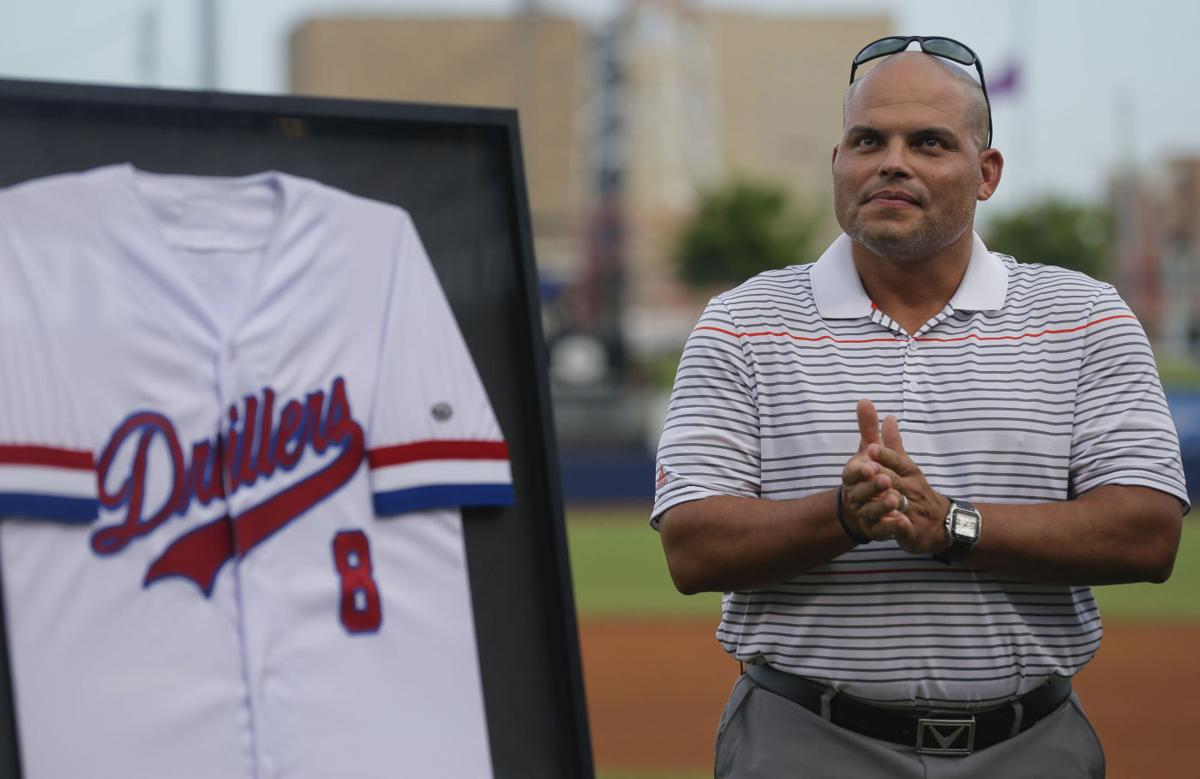 After 40 seasons, for the first time the Tulsa Drillers are sending one of their former players to Cooperstown.
On Wednesday, this year's Baseball Hall of Fame voting results were announced and 1991 Drillers catcher Ivan "Pudge" Rodriguez was selected in his first year of eligibility after being retired for five years. Also voted in were Jeff Bagwell and Tim Raines.
Rodriguez made it by four votes -- 332 of 432 votes from BBWAA members were needed for election. He joins Oklahoma native Johnny Bench as the only catchers to be elected in their first year on the ballot. Bagwell, in his seventh year of eligibility, received 86.2 percent and Raines 86 percent in his 10th and last year.
Last summer, the Drillers retired Rodriguez's Tulsa uniform No. 8. He was the first person to receive that honor primarily for his playing ability.
Drillers general manager Mike Melega said a few minutes after the election results were revealed, "We're so thrilled. We've been counting it down for five years waiting for this moment. It's a proud moment for our organization.
"We're so glad he came to see us last year. He is such a professional and what a great guy. What an honor for him. This is so awesome."
Rodriguez spent 21 seasons in the majors from 1991-2011. He won more Gold Gloves (13) than any major league catcher, received 14 All-Star Game selections, and won American League and NLCS MVP awards. He also was on a World Series champion with Florida in 2003 and played with Detroit in the 2006 World Series. His career offensive stats rank highly among catchers in major league history.
Two other former Drillers were on this year's ballot – Sammy Sosa and Larry Walker. Walker received 97 votes and Sosa 38 -- enough to remain on the ballot next year.
Rodriguez, Bagwell and Raines will join Today's Game Era committee off-the-field selections John Schuerholz and Bud Selig in the HOF class that will be inducted July 30.
The Tulsa Oilers, who were Tulsa's pro baseball team for most of the years from 1905-76, have several former players in Cooperstown – Dizzy Dean, Jesse Haines, Frank Robinson, Warren Spahn and Steve Carlton plus a manager, Jake Beckley, and coach, Satchel Paige.
Below are portions of an article I wrote last June 23 when Rodriguez was honored by the Drillers that give more details about his time as a player in Tulsa......
Twenty-five years ago this week, Ivan "Pudge" Rodriguez was scheduled to be married during a ceremony between games of a doubleheader at Drillers Stadium.
Rodriguez, a 19-year-old catcher at that time for the Tulsa Drillers, was widely regarded as one of the top prospects in the minors.
But the night before the scheduled wedding, the parent Texas Rangers' management threw a curve ball and the home-plate wedding didn't occur.
After a 21-year major league career, Rodriguez returned to Tulsa for a special ceremony of a different kind as the Drillers retired his uniform No. 8.
Rodriguez joins his Tulsa manager, Bobby Jones (33), and Mike Coolbaugh (29) as those whose numbers have been retired by the team.
"It's good to be back after a lot of years," said Rodriguez, who is currently a Rangers television analyst. "Tulsa fans support their baseball."
Rodriguez recalled the moments before the postponed wedding, that was scheduled for June 20, 1991, -- also a Thursday night that turned out to be the night of his major league debut in Chicago against the White Sox.
"The night before Bobby told me they were going to call me up," Rodriguez said. "Bobby asked, `Do you want to stay here and get married or do you want to go to the big leagues?' I said, `I'm going to the big leagues.' I postponed my wedding until the next year."
Rodriguez threw out 59 percent of opposing basestealers and batted .274 with 28 RBIs in his 50 games with Tulsa in 1991.
Drillers co-owner Jeff Hubbard was a coach that year for Tulsa and also coached Rodriguez at Charlotte in the Florida State League the previous year.
"Coaching guys like Pudge Rodriguez made guys like us look good," Hubbard said.
Hubbard remembers watching a 16-year-old Rodriguez in spring training.
"We would have the (radar) gun on him and stand behind second base, and he would throw down there and everyone would be looking at each other with big eyes because he was putting up such big numbers that he shouldn't have been able to put up," Hubbard said. "It was amazing.
"From Day One when we saw him play, you knew he was a big leaguer. He has always been a hard worker. Usually when you have a catcher you get one of three things – great footwork, great release or a great arm. And Pudge had the best footwork of any catcher in the game, the best arm and a quickest release of any catcher in the game, and that's why he's a hall of famer."
Drillers manager Ryan Garko was with Cleveland when he played against Rodriguez.
"He was quite a competitor, he had that fire," Garko said. "Anybody my age who was a catcher and grew up watching him, we all had the Pudge Rodriguez glove. We all wanted to be like him, so to compete against him was always a lot of fun. He played so hard."
Hubbard's favorite Rodriguez moment with the Drillers came in Arkansas and involved Travelers manager Joe Pettini a friend of Jones.
"Jonesy said to him before the game, `I want to let you know we have a phenom behind the plate and I can tell you right now, don't run on him,' " Hubbard said. "The first inning, they get a runner on first base, they send him and Pudge throws him out. Eight innings later, he is 6-for-6 throwing out runners.
"After the game, Jonesy goes to him (Pettini) and says, `What the heck were you thinking?' And he (Pettini) said, I kept sending my kids so I could watch that kid throw. That's how good he was, the other teams appreciated watching him. We saw greatness."
Be the first to know
Get local news delivered to your inbox!