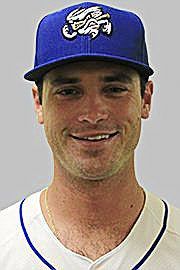 For the second consecutive year, the Los Angeles Dodgers were active in the Rule 5 minor league draft with four selections.
Three of last year's four selections were sent to their Double-A affiliate Tulsa Drillers in 2015 — Peter Lavin, Randy Fontanez and Nate Samson. Four of Thursday's five draft choices have the potential to play for the Drillers in 2016, although they officially are on Triple-A Oklahoma City's roster.
A selection somewhat familiar to Drillers fans is catcher Micah Gibbs, who has spent parts of the past two seasons in the Texas League with Kansas City affiliate Northwest Arkansas.
Gibbs, 27, batted .291 in 18 games for the Naturals last year. In his season debut on May 1, he went 4-for-4 with four RBIs against Tulsa. Overall, he batted .400 in five games versus the Drillers. He also played in 13 games for Triple-A Omaha, where he batted .147. His only homer, however, was against Dodgers' affiliate Oklahoma City.
The most intriguing is injury-plagued outfielder Julio Morban, who has spent time on Seattle's 40-man roster after receiving a $1.1 million bonus in 2008. But his career has stalled over the past two years after batting .295 with seven homers and 44 RBIs for Double-A Jackson before suffering a broken leg in 2013. Morban, 23, batted a combined .206 with one homer and 13 RBIs for Jackson and Triple-A Tacoma this year. He is a career .270 hitter.
Two pitchers were selected from the Miami Marlins — right-hander Felipe Gonzalez and lefty Alex Burgos.
Gonzalez, 24, was 8-6 with a 3.28 ERA as a starter and reliever for Single-A Bradenton, a Pittsburgh affiliate. He signed last month with the Marlins as a minor league free agent. Burgos, 25, was a combined 5-2 with a 2.12 ERA for Single-A Jupiter and Double-A Jacksonville this year, primarily spent with Jupiter.
The only selection who is not a strong candidate to play for Tulsa is reliever Logan Bawcom, selected from Seattle. He has spent the past three years at Triple-A Tacoma, going 2-4 with a 4.64 ERA in 2015.
A notable selection in the major league phase of the draft was San Diego picking up former Drillers reliever Blake Smith from the Chicago White Sox. Smith, who had a 1.62 ERA in 16 appearances with the Drillers in 2015, was impressive in three games for Tulsa against San Diego affiliate San Antonio. He was traded to the White Sox in May and posted a 3.30 ERA in 24 appearances for Triple-A Charlotte.
Another notable former Drillers player, infielder Angelys Nina, signed as a minor league free agent with Philadelphia and was assigned to Triple-A Lehigh Valley after batting .300 for Triple-A Albuquerque this year. Nina played for Tulsa in 2012-13 and was a TL All-Star in '13.