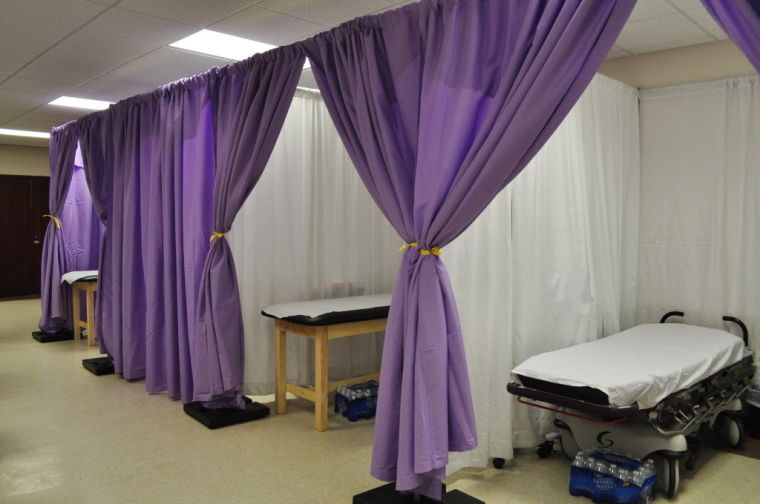 In writing a story about the media tour I took last week of the housing area for undocumented children and teens, details were important.
My goal was to give specifics about what it looks like and sounds like inside the Fort Sill facility. It is housing up to 1,200 youth who have been detained at the Mexican border trying to cross illegally.
The tour was scheduled for 40 minutes but lasted a bit longer.
The two people giving the tour read from scripts and were instructed not to answer questions. The scripts contained a great deal of information, and the officials were as helpful as possible.
Here are a few details that did not make the final story but may be of interest to readers.
Kate Migliaccil, of the U.S. Public Health Service Commissioned Corps, said the youth are screened for physical and mental health needs before being placed in a facility.
These exams include screenings for communicable diseases such as tuberculosis, mental health trauma and well-child exams. Vaccinations are given to all the youth to ensure they have updated immunizations.
Any youth who tests positive for a communicable disease or has been exposed to a disease is quarantined in a facility not located on a military base, Migliaccil said.
Also, if a child or teen exhibits mental health trauma, the youth is placed into a special facility to get the medical help needed, Migliaccil said.
No information was given on where these facilities are located.
The U.S. Centers for Disease Control and Prevention has stated it does not believe children presenting at the border pose a public health risk to the public, Migliaccil said.
Upon entry to Fort Sill, all youth go through another screening upon arrival before assigned a bed and given clothing. This screening includes a check for lice, scabies and chicken pox.
If the screening detects an infections, the youth is sent to a quarantine.
Fort Sill has 50 contracted medical professionals to handle the needs of the undocumented youth. The medical unit has four beds and there are two observations rooms.
The illnesses tended to at Fort Sill are minor respiratory problems, dermatology concerns, GI tract problems, fevers and headaches, said the nursing manager.
The state health department is updated daily on epidemiology data, the manager said.
Youth are allowed two, 2-minute phone calls each week.
The case managers have telephones with international-code access to facilitate communication for the youth. There are 215 case managers at the Fort Sill and Texas sites working on reunification efforts.
Each day, about 250 youth visit with Fort Sill intake workers to get updates on their case.
Each person working in the area wears different color clothes depending on the role being provided.
For instance, food workers will wear one color while medical workers wear another. This is in line with typical disaster response so people can quickly identify each other.
Each dorm has 60 beds in each. Girls and boys are separated.
One supervisor is assigned for every 12 youth. The adults lead the youth in games, lessons in English and math and arts and crafts.
The day has a set schedule of activities, which includes meals, language instruction, arts and meetings with intake workers. Some time is set aside for movies, board games and outside sports.
Sundays offer a worship service from an area chaplain, and youth voluntarily lead daily prayer and Bible study.
Water is always available to the youth, and hand sanitizers are located throughout the facility.
Ginnie Graham 918-581-8376