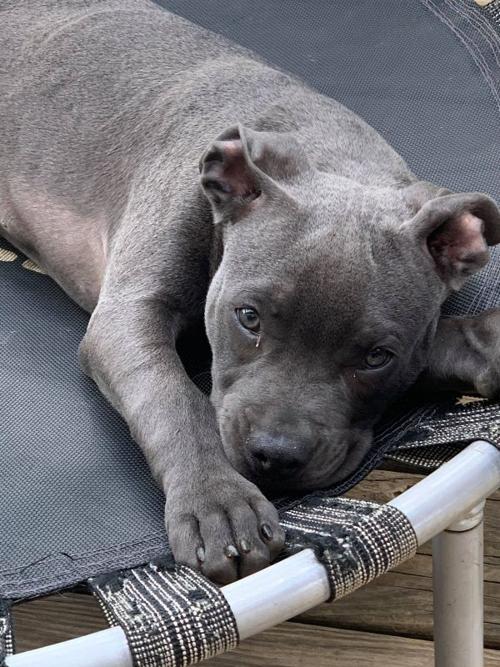 This is Biggie. He's a handsome blue-nosed blue pittie mix. He's his foster moms' favorite. He loves to be held... View on PetFinder
Buyer DRP Tulsa Hills Property Owner, LLC, is owned and managed by Direct Retail Partners of Dallas.
Arctic Salt will open Thursday and Earthbound Trading Company Friday.
A Kansas, Oklahoma, man died Sunday afternoon after being injured in a two-vehicle crash Saturday night in Delaware County, the Oklahoma Highw…
A jury found Malik Omar Vance, 23, guilty and recommended a 13-year sentence, which District Judge Sharon Holmes opted to suspend when she sentenced him Friday.
Tulsa County Sheriff Vic Regalado needs to show more discretion about who he speaks to and who he appears with, the editorials says. Further, he should leave his uniform in the closet and wear a business suit when attending speaking engagements where there's any chance that his comments or his appearance with a controversial organization could be misread. 
The state's largest member-owned health insurer and Tulsa-based Saint Francis Health System failed to agree on a new contract by the April 30 deadline, meaning Saint Francis will no longer be part of the BCBSOK network as of July 29.
Soon, Dillon Stoner and that chip on his shoulder will begin to represent the Allan Trimble-era Jenks Trojans in an NFL mini-camp.
It remains to be seen how much the final project will resemble early plans for it, but Santa Fe Square could be one of the most important downtown developments since Oneok Field.
The Tulsa metro area joins the Fresno, California, metro area as newcomers to the 1 million-plus club with Tuesday's release of the 2020 population estimates by the U.S. Census Bureau.